Seminar looks into new model for China-Africa cooperation
MAO LI
|
2018-09-06
(Chinese Social Sciences Today)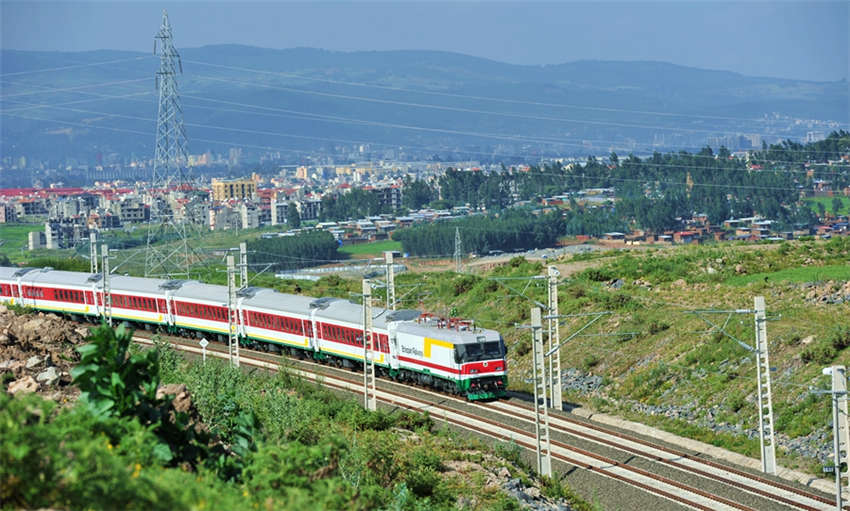 Linking Ethiopia's capital with the Port of Djibouti, the Addis Ababa-Djibouti Railway is a standard-gauge international railroad constructed by China Railway Group Ltd. and China Railway Construction Corporation Ltd. It started commercial operations in January this year. Photo: BEIJING REVIEW
---
The Forum on China-Africa Cooperation (FOCAC) is about the modernization of one-third of the world's population, according to a retrospective and prospective report on the FOCAC released at a conference at Renmin University of China (RUC) on Aug. 20.

The trade volume between China and Africa has increased from $765 million in 1978 to $170 billion in 2017. China's investment in Africa now sums to $110 billion. Looking at the next five to ten years, Wei Jianguo, vice chairman of the China Center for International Economic Exchanges, predicted that "the trade volume and investment amount between China and Africa will grow at a double-digit rate, and the bilateral trade is expected to reach $300 billion by 2020."

Chinese companies in more fields are choosing to invest in Africa, Wei continued, adding that the investment field has expanded from a single processing industry to a wider range of services, tourism, culture and education. In the past, only manufacturing enterprises were investing in Africa. Nowadays, however, many companies in the high-tech fields such as network communication and biotechnology are preparing to set up R&D bases in Africa.

The China-aided agricultural technology demonstration centers in Africa will promote featured agriculture and export-oriented agriculture, which will help Africa achieve self-sufficiency while making greater contributions to global agriculture, Wei said.

Enhanced China-Africa cooperation will facilitate sustainable development in Africa. Ma Jun, director of the Center for Finance and Development at Tsinghua University, said that China and Africa's green financial cooperation has great potential. To facilitate it, Ma suggested encouraging Chinese financial institutions and enterprises to make green investments in more fields in Africa, including clean energy, clean transportation and green buildings.

Ma also recommended helping African countries build green financial capacity. African countries have great demand for developing green finance. China has accumulated a lot of experience in establishing incentive mechanisms for green investment in social capital, developing a green bond market and strengthening environmental information disclosure, which can provide reference for African countries.

The key to rebalancing the world economy is the economic growth of the vast majority of developing countries, especially those of the African continent, said He Yafei, director of the Global Governance Research Center at RUC. "The new model for China-Africa cooperation can help African countries better enter the global development track, integrate into the global economic system and find their own development path."
(edited by JIANG HONG)