China-Africa cooperation on intangible cultural heritage has potential
MA QIANLI
|
2021-09-02
|
Hits:
(Chinese Social Sciences Today)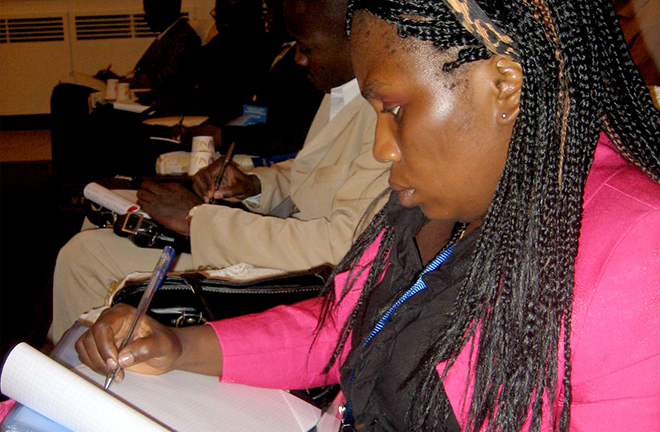 African officials receive training courses offered by Chinese departments. Photo: Wang ZhaohuanCNSphoto
---
Conducting international cooperation is one of the goals specified in The Convention Concerning the Protection of the World Cultural and Natural Heritage (hereafter simplified as the Convention) adopted by UNESCO. Since it joined the Convention on December 2, 2004, China has carried out exchanges and cooperation with other countries in the field of intangible cultural heritage protection through various forms. However, from holistic points of view, China's international exchanges in this sector still linger on traditional forms of publicity or heritage display, as well as the discussion of theory and practice concerning protection. There is still much room for improvement for joint efforts with other countries to carry out protective activities.
Activities still monotonous
It is worth mentioning that, as important participants of China's "Belt and Road" (B&R) initiative, African countries and China have cooperated a lot on protecting intangible cultural heritage. This bodes well for even deeper cooperation in the future.
In recent years, the exchanges and cooperation between China and African countries in this sector have kept up a steady pace. Activities fall into two major categories: publicity activities about Chinese intangible cultural heritage, organized by the Ministry of Culture and Tourism; and training courses for African personnel organized by the ministry. Comparatively speaking, China has carried out more diversified activities in North America and Southeast Asia regarding the publicity and communication of intangible cultural heritage—there are summer camps and other activities in various forms. But in Africa, the activities are monotonous, mainly taking the form of performances, exhibitions, lectures, and other superficial undertakings. These activities include Happy Spring Festival activities (mainly performance), and the week-long overseas Chinese Culture Festival (exhibition and performance), etc.
Training courses have been effective
In December 2015, the Johannesburg Summit of the Forum on China-Africa Cooperation was convened. China promised to implement the Thousand Talent Plan for training a thousand cultural managers and art workers for Africa. In September 2018, the 2018 Beijing Summit of the Forum on China-Africa Cooperation adopted action plans which proposed to expand human resources training for Africa to satisfy its needs in the cultural sector.
In practice, such training courses were held inside China and have been productive in terms of effects. Held once each year from 2016 on, they were opened to English-speaking and French-speaking African countries. It was noteworthy that the training courses in 2019 covered a broader range of content, including the introduction of China's experience in integrating intangible cultural heritage with tourism. There was also face-to-face communication between African learners and staff from China. Learners from the Democratic Republic of the Congo (DRC) also expressed the desire to invite Chinese experts to visit the DRC and conduct further trainings, and also hoped that the two sides could sign cooperation treaties by drawing upon the current successful experience.
Other means of cooperation
African countries can also draw upon China's experience in legislation concerning intangible cultural heritage protection. Given that some African countries lack enough capital and have strong demand for improving the economy and people's livelihood, China can also offer useful lessons for helping them to achieve economic and social growth by means of intangible cultural heritage protection.
Translation of representative works of both eminent Chinese and African scholars in this area also has much room for improvement. Some African scholars' research has been substantial, which needs the attention of Chinese academia. For example, the Moroccan anthropologist Ahamed Skounti who contributed to the drafting of the UNESCO Convention and has been dedicated to the protective activities launched by UNESCO, has done profound and insightful thinking on intangible cultural heritage.
Ma Qianli is a lecturer from the School of Foreign Language at Yangzhou University and a researcher from the Research Center of the Republic of the Sudan at the same University.
Edited by BAI LE