China and Latin America share common basis of development
Song Xiaoli
|
2021-08-26
|
Hits:
(Chinese Social Sciences Today)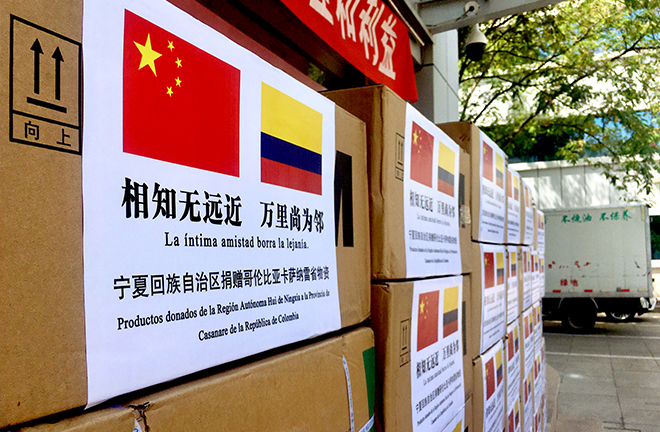 The anti-pandemic medical supplies donated by the Ningxia Hui Autonomous Region to Casanare, Colombia Photo: Shi Yujia/CNSphoto
---
As the Chinese saying goes, "True friends have no distance even though they are thousands of miles apart." China and Latin America share much in common despite their geographical distance and linguistic, cultural differences. Since diplomatic ties were established in 1960, the two have kept up stable relations. Particularly since the start of the 21st century, their relations have achieved considerable progress.
In his speech at a ceremony marking the centenary of the Communist Party of China (CPC), general secretary of the CPC Central Committee Xi Jinping iterated that peace, concord, and harmony are ideas the Chinese nation has pursued and carried forward for more than 5,000 years. The Chinese nation does not carry aggressive or hegemonic traits in its genes.
Indeed, there is a philosophical saying in China that "the harmonious existence between the Heaven and the Earth is fundamental for the creation of all living creatures." The idea of seeking a "harmonious symbiosis" is the core of traditional Chinese culture, which represents the relationship between man and nature and man and society as well as between people. Due to the more than 100 years of disgraceful diplomacy and humiliation in modern Chinese history, the CPC knows full well that peace doesn't come easily. China thus proposed the Five Principles of Peaceful Existence and advocates neither aggression nor hegemony.
Latin America has a splendid history of ancient civilization. Its uniquely inclusive culture is formed on the basis of the American Indian culture, integrated with European culture and African culture. Throughout the over 300 years of colonial domination by Europe, heroic figures arose in the Independence Movement such as Simon Bolivar and Jose de San Martín. There is also a cultural demand among Latin American countries for pursuing peace. Since the end of the 19th century, Latin America has been deeply influenced by US regional hegemony. Such power politics was strongly resisted by countries on the continent.
It is those similar histories of suffering from invasion and bullying by foreign powers and common pursuits for peace and development that decide the basis for the China-Latin America Community of shared future. Since the outbreak of the financial crisis in 2008, Western countries have declined in their overall national strength, while the power of emerging countries has been on the rise. China and most countries in Latin America, both as developing countries and emerging economies, have cooperated with each other in improving global governance, maintaining international order, and upholding multilateralism. Their efforts have facilitated the formation of a new global political pattern and effectively fostered world peace.
Model for South-South cooperation
As the coverage of the "Belt and Road" (B&R) initiative was extended to Latin America in 2017, the continent has become an indispensable participant in the initiative. At the Second Ministerial Meeting of the China-CELAC Forum that took place in Santiago, capital of Chile, in January 2018, China officially invited Latin American countries to join the B&R initiative. It also clarified the action plans in such sectors as safety, infrastructure and transportation, trade, investment, finance, agriculture, industry, science, technology, environment, and cultural exchanges. So far, 19 countries in Latin America have signed memorandums of cooperation on the B&R with China. The Asian Infrastructure Investment Bank (AIIB) also made breakthroughs in cooperation with Latin American countries in 2020. The Senate of Brazil and the House of Representatives of Argentina consecutively passed the agreements for the AIIB. In view of these, China-Latin America relations are a model set for South-South cooperation, playing a positive role in advancing global development.
Despite the heavy blow caused by the COVID-19 pandemic, economic and trade cooperation between the two has maintained a steady pace. According to data released by the General Administration of Customs in China, Latin American exports to China were about US $165.879 billion in 2020, which grew at a rate of 0.1% compared with 2019. In the first half of 2021, trade between the two sides increased by 45.6%. From January to May in 2021, Chinese investment in Latin America increased by 40.2%. It can be said that trade between China and Latin America has recovered and is in full swing, even exceeding the level before the pandemic struck. The steady growth of economic and trade cooperation between the two has undoubtedly imparted positive emotions into the current South-South relations, which had been severely hit across the globe by the raging pandemic.
Technology becomes primary concern
As China's strength in science and technology as well as innovative ability considerably improves, the sci-tech factors in China-Latin America cooperation also keep growing. Investigations have shown that sci-tech accounts for a large part of Latin America's basic understanding of China.
In February 2018, the Peru Research Center at Hebei Normal University issued questionnaires themed "China in the eyes of Peruvians" in Lima and Arequipa, Peru. According to the survey, technology ranks first as the most influential Chinese sector in Peru (accounting for 40.5%). It can be concluded that sci-tech transcends political, cultural, and social factors, and has become the core issue and primary concern of China-Latin America relations.
Given its ascending role, sci-tech thus should be given a high premium by China and its position in public diplomatic systems should also be further enhanced. Meanwhile, though sci-tech has become a brand that represents China's national image, Latin American people are still vague on their feelings about Chinese policies in this area and those about diplomacy. To resolve this, media, universities, think tanks, and NGO organizations in China should be supported and guided to conduct dialogues with their Latin American counterparts.
Song Xiaoli is a research fellow from the Peru Research Center at Hebei Normal University.