People remain at core of CPC's social policy making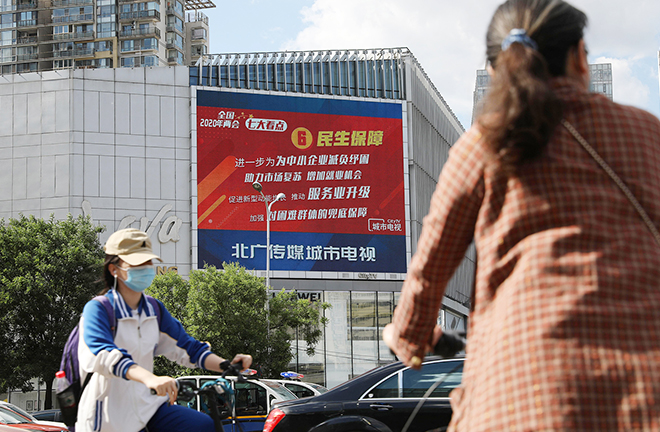 Photo taken on May 27, 2020, shows an outdoor LED screen in Chaoyang District, Beijing, displaying key information about ensuring public well-being, a focus of the "Two Sessions" that year. Photo: CFP
---
"Since the very day of its founding, the Communist Party of China (CPC) has made seeking happiness for the Chinese people and rejuvenation for the Chinese nation its aspiration and mission," said Xi Jinping, general secretary of the CPC Central Committee in his speech at the recent grand ceremony marking the Party's centenary on July 1.
This historical mission has been embodied throughout the CPC's 100-year history. For example, it secured national independence and liberated the people by leading them to topple the three mountains of imperialism, feudalism, and bureaucrat-capitalism. It established a socialist market economy brimming with vitality through reform and opening up, thus achieving the historic leap to an overall level of moderate prosperity, and then ultimately to moderate prosperity in all respects. Moreover, the Party has been practicing a people-centered development philosophy in all stages, uniting and leading the Chinese people to work ceaselessly for a better life, while formulating and implementing various social policies to ensure and enhance public well-being, thereby sharing the fruits of national development with all the people.
Chinese social policy refers to a policy system aiming to guarantee and improve people's living standards through government interventions under the leadership of the CPC, which covers social security, employment, health, education, housing, the protection of disadvantaged groups such as seniors, children, and the disabled, and so forth.
In its early days, the CPC was determined to engage in political and economic struggles to benefit the people. To realize political objectives, it was essential to organize and mobilize the masses to participate in revolution, while economically they strived for rights and benefits for the working class and the poor.
Therefore, the CPC Central Committee and Party-led organizations, like China Trade Union Secretariat and the All-China Federation of Trade Unions, called for labor legislation concerning the protection of labor rights, women's equality, and the establishment of social insurance on behalf of the working people, bringing forth concrete policy proposals including pertinent legislative outlines or drafts.
Conforming to long-term revolutionary goals and serving the interests of the laboring masses, the CPC's early social policy practices promoted its political and economic struggles, and laid the foundation for later social policies.
During the period of the Land Revolution, the War of Resistance against Japanese Aggression, and the Liberation War, the CPC together with its bases and border region governments drew up and carried out a wide range of social policies within its governing areas, according to the need for armed struggle and the construction of its bases.
In the Land Revolution, the Party's social policy was extended to farmers. The Central Soviet Area, revolutionary base areas in southern Jiangxi Province and western Fujian Province where the CPC engaged in military affairs, enacted such documents as the Labor Law of the Chinese Soviet Republic. These documents included specific requirements on social policies to improve workers' lives, allocate land to farmers to guarantee their basic livelihoods, provide relief to farmers without working abilities, safeguard laborers' rights, institute social insurance, and promote education and health causes.
During the War of Resistance against Japanese Aggression, the government of the Shaanxi-Gansu-Ningxia Border Region promulgated an administrative program to reduce rental prices and interest rates, support refugees and natural disaster victims, and facilitate mutual aid in production under Party leadership. Meanwhile, the border region's government also energetically pushed for education, building a multi-dimensional educational system incorporating cadres' education, science education, primary education, and social education. Health policies were further developed, with medical, health care institutions, and organizational systems for all aspects of public health established.
When the Liberation War was underway, the CPC led newly liberated areas to help people in difficult conditions by resuming production and providing relief, and piloted the labor insurance system in northeastern regions.
After the PRC was founded, many cities and the countryside faced serious economic difficulties in post-war reconstruction, when vigorous efforts were made across the nation to resume production and stabilize people's basic lives.
In cities, the social relief system was built by reducing unemployment with a fast resumption of production, by persuading refugees and natural disaster victims to return to rural areas and participate in agricultural production, and by offering aid to disadvantaged groups.
In the countryside, land reforms and agricultural production were all accelerated to guarantee farmers' subsistence. At the same time, to meet the working people's basic needs and the demand for national industrialization, the Government Administration Council (1949–1954) released labor insurance regulations for employees of enterprises.
During the Planned Economy period starting from the mid-1950s, the Chinese population grew rapidly, but productive forces lagged behind. In particular, the production of living materials and service supplies were rather slow, highlighting the shortage of basic living materials and services.
In this context, the CPC set up a relatively complete system to ensure people's well-being based on socialist public ownership and the planned economy system. For example, a policy to supply urban residents with basic living materials at low prices in a rationed manner was implemented to ensure that all households had access to basic material supplies. Furthermore, job opportunities were arranged for urban residents to stabilize employment and assure each worker a basic income. In rural areas, the land collective ownership and collective labor system was instituted to grant each laborer a distribution of agricultural products. In addition, policies for public education, public health, medical services, labor insurance, and social relief were introduced in urban and rural areas, respectively, in light of actual conditions.
However, under the planned economy system, these measures failed to boost economic vitality and efficiency, which is the foundation for national prosperity and for improving people's living standards. Thus in the late 1970s, the CPC began to shift from the highly centralized planned economy to a vibrant socialist market economy, and from a closed and semi-closed state to an all-around opening up.
In the initial phase of reform and opening up, the disintegration of traditional collective economic organizations in rural areas and the overall weakening of urban state-owned enterprises' social functions presented an urgent need to build a new social policy system better suited to the socialist market economy.
Social policy reform started in the 1980s and 1990s, when a new social insurance system and a system of subsistence allowances for urban residents were built. Nonetheless, general welfare levels were quite low. The market mechanism indeed expedited economic growth, but widening income gaps, inadequate social security, and ordinary people's difficulties in accessing medical treatment, education, and affordable housing, were increasingly prominent.
Facing grim challenges, the CPC Central Committee proposed the Outlook on Scientific Development along with guidelines to strengthen social construction following the 16th CPC National Congress, paying more attention to ensuring and enhancing public well-being.
In the subsequent 10 years, the Party and the government substantively strengthened and optimized social policies. Apart from further improvement of the whole social policy system, social welfare coverage expanded, granting endowment insurance and medical insurance (which were originally enjoyed only by a minority) to all people. In addition, social policy became fairer, and the shares of expenditures in public finance of the government at all levels, and in regional GDP, increased considerably.
Since the 18th CPC National Congress, the Party committee with Comrade Xi Jinping at the core has continued to value people's livelihoods. Although the Chinese economy has entered a new normal, the ever-changing international environment and COVID-19 have posed challenges to economic development, which put new requirements on social policy.
Under such circumstances, the Party and the government have laid more emphasis on the people-centered guiding philosophy, putting forward such requirements as "ensuring and enhancing public well-being in the course of development" and "empowering social policy to meet basic living needs."
At the same time, new policies were unveiled in areas such as social insurance, social aid, social welfare, health, education, employment promotion, housing guarantees, as well as old-age care, children's welfare, and the protection of the disabled.
Urban and rural integration of social policies has been conducted in multiple fields, as previously differentiated systems were unified to further enhance social policy's fairness. Large-scale poverty alleviation campaigns have contributed to the historical eradication of absolute poverty in China. More attention has been paid to optimizing the structure of systems to improve people's well-being, with higher requirements to ensure that public services are inclusive, meet essential needs, and guarantee basic living standards for people in need. Such actions have solved many difficulties in people's lives and cemented the foundation for economic and social development.
All in all, throughout its 100-year history, the CPC has stayed true to its original aspiration of seeking happiness for the Chinese people, and adhered to their people-centered philosophy while formulating and implementing social policies according to major goals and tasks at each stage. As such, it has not only benefited the majority, particularly the working masses of the past and people in difficulty at present, while pushing ahead with revolutionary and socialist construction causes. By continuously summarizing experience from policy practices, and adjusting and perfecting various policies, the Party and the government have matured the social policy system, bringing benefits to the Chinese people and providing Chinese experience to the world in the development of social policies.
Guan Xinping is a professor and director of the Institute of Social Development and Administration at Nankai University.