Sci-tech to drive modernization of rural governance
ZHANG CHENGSU
|
2021-07-01
|
Hits:
(Chinese Social Sciences Today)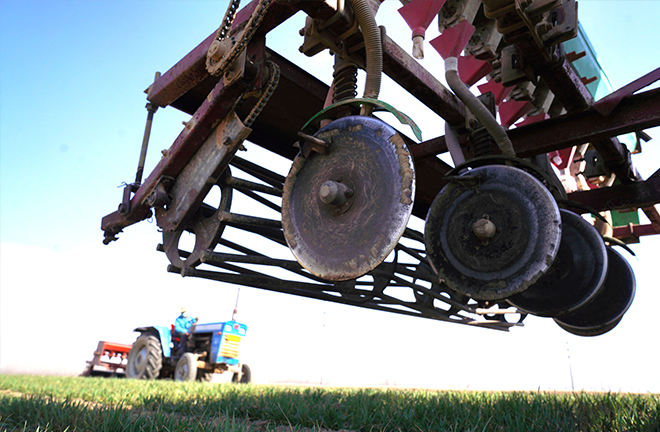 Fertilizer spreading machines are applied to help farmers on the wheat field in Zouping City, Shandong Province, on Feb. 21. Photo: CFP
---
With the wide application of advanced technologies such as biological engineering, information science, new materials, artificial intelligence, and new energy in agricultural and rural areas, sci-tech innovation has made profound changes in rural areas. As sci-tech innovation comprehensively boosts the transformation of rural governance in terms of the concepts, systems, and mechanisms, as well as governing methods and tools, it also creates problems which urgently need to be resolved, among which new risks associated with ubiquitous technology must be carefully screened and treated rationally.
As an important pillar of agricultural and rural modernization, sci-tech innovation is reshaping the rural landscape from multiple dimensions such as industrial development, quality of life, ecological progress, and cultural inheritance, so as to draw a new road map and create new prospects for rural modernization.
To start with, sci-tech innovation is the fundamental driving force for high-quality, green agricultural development.
For a long time, China's sci-tech innovation and industrial upgrades gravitated toward urban areas. In the new era, to cultivate and expand the domestic market, it is imperative to stimulate the huge potential of rural areas by innovation-driven and high-quality development, as proposed by the 14th Five-Year Plan (2021-2025) for National Economic and Social Development and the Long-Range Objectives Through the Year 2035.
The role of agriculture in food and ecological security is irreplaceable, making the technical demands urgent for improving crop varieties and propagation, disease prevention and control, energy conservation and emission reduction, soil improvement, comprehensive utilization of hay, agricultural mechanization and equipment, and intelligent agriculture.
In this process, it is vital to ensure the minimum effective supply line for grain and important agricultural products, adhere to food security strategies supported by science and technology, build and improve the production, processing, circulation and storage systems, improve crop yield and utilization rates, and reduce the loss rate of grain and important agricultural products.
With sci-tech innovation and investment, agricultural production's focus should shift from maintaining and increasing quantity to improving quality and efficiency. Establishing a resource-conserving and environment-friendly agricultural system based on green technologies should be highlighted to better protect the environment, and improve the quality of agricultural products and food safety, and make sure agriculture is more green and eco-friendly.
The core role of sci-tech innovation in cultivating new products and new drivers, and exploring new models and new forms of business must be valued to meet people's demands for green, healthy, high-quality, and diversified agricultural products. At the same time, agriculture's supply-side structural reform is also crucial to accelerate the integration of the primary, secondary, and tertiary industries via the internet and modern information technology, so as to increase farmers' incomes and achieve common prosperity.
Second, sci-tech innovation is an important means to enhance rural residents' quality of life. The application of new energy technology, modern information technology, artificial intelligence, and big data in various fields improves people's livelihoods in rural areas, enhances public services in villages, and promotes harmony and stability in rural society.
For example, the redesign of rural residential buildings, the improvement of drinking water quality, the treatment and resource utilization of sewage and domestic garbage, and the transformation of rural toilets cannot be separated from advanced technology's support. Meanwhile, the internet and modern information technology not only can effectively extend the primary agricultural industry chain, improve circulation efficiency for agricultural products, and increase agricultural efficiency, but also fully tap into rural consumption potential, and bring convenience and benefits to rural life.
Not to mention, with the aid of "Internet Plus," the popularization of smart medical treatment, smart education, and smart government administration in rural areas can also effectively enhance professionalism levels, precision, and smart applications of rural governance, thus largely boosting residents' sense of happiness, fulfillment, and security.
Third, sci-tech innovation is indispensable in managing rural ecological environments and strengthening rural ecological conservation. Respect for nature and harmony between man and nature is the wisdom of the Chinese nation. Sci-tech innovation plays a promising role in village and town planning, village layouts, rural greening and ecological landscape construction, humane treatment of livestock and poultry, waste treatment and comprehensive utilization of hay, development and use of clean energy, and other aspects of rural production and life.
In the meantime, sci-tech innovation also helps strengthen the management of mountains, rivers, forests, farmland, lakes, grass and sand systems, and restores the countryside's natural, harmonious, and green ecological appearance. In this way, rural residents' living environments can be effectively improved, the green and sustainable development of rural areas can be promoted, and the countryside can remain a source of nostalgia for urbanites.
Villages' ecological conservation and recreational functions are important to promote the integration of these three industries, which enhances the endogenous power of rural modernization.
Finally, sci-tech innovation is key to inheriting and carrying forward the excellent rural traditional culture. For thousands of years, the fine traditional culture of the Chinese nation has been rooted in vast rural lands. The spirit of loyalty, filial piety, integrity, fraternity, good-neighborliness, and mutual assistance has been passed down from generation to generation through tools, ancient Chinese texts, and traditional festivals and rituals.
The rapid spread of radio, television, and the internet in rural areas greatly enriches the entertainment and cultural life of rural residents and enhances their understanding of the outside world. In this light, the cultural leading role of folk customs, good family traditions, and fine family instruction could be better explored with the help of the internet, big data, cloud computing, artificial intelligence and other advanced technologies, to regain the essence of excellent traditional cultures and boost cultural confidence.
To this end, rural cultural vitalization will lead the overall vitality of rural areas, and rural cultural industries will be vigorously developed to provide momentum for the construction of a rural social governance system that combines self-rule, rule of law, and rule of virtue.
In rural governance, sci-tech innovation is a double-edged sword. As it comprehensively boosts the modernization of rural governance in terms of economic development, social progress, cultural inheritance, and ecological governance, it also creates new problems, which requires overall planning, scientific prediction, and long-term mechanisms to help this innovation serve the greater good.
Sci-tech innovation makes agricultural industrialization and large-scale production possible. However, when it comes to ensuring the supply of major agricultural products, such as grain, oil, cotton, sugar, milk, and meat, we must always safeguard grain security. Some agricultural products should not be produced or production should decrease due to lower economic value. In the context of large fluctuations in the international market and the impact of COVID-19, it is more important to uphold bottom-line thinking to ensure grain supply security.
In terms of the infrastructure construction to facilitate the introduction of science and technology to the countryside, two aspects require special attention. First, urbanization highlights the population outflow and decline, even decay, of some villages and small towns. Next, rural areas have a scattered, dispersed spatial distribution. Both require scientific prediction and reasonable planning in rural investment to prevent blind massive expansion and waste of resources due to lack of facility use.
Agriculture cannot blindly copy the experience of industrial scale and assembly line production from industrialization. At present, it is essential to realize family operation on a moderate scale, and drive the effective connection between family operation and modern agriculture with the help of modern production technology and management.
Technology's effect depends on users' abilities. According to the 7th national census, those aged 60 or above accounted for 18.70% of China's population in 2020, with more severe aging in rural areas. In reality, it is difficult for these groups to adopt and use advanced technologies. Therefore, sci-tech innovation must take into account the increasingly prominent inter-generational digital divide in rural societies, in particular, the rural elderly's capacities and level of technological acceptance.
In this aspect, both agricultural production technology and technology aimed at improving and enhancing the quality of rural life must be compatible with rural residents' abilities. Otherwise, sci-tech investment will be a waste of resources.
It is also worth noting that despite the narrowing household consumption gap between urban and rural areas in China, we must remain cautious regarding the excessive consumption of rural households, while tapping into this strong domestic demand and consumption potential. In the face of imperfect social security, an increase in debt for rural households comes with great risks.
Though modern information technology and the mobile internet have broadened access to information for rural residents and enriched their daily entertainment, they are also swamped with negative information. The appeal and cohesion of traditional culture has declined to varying degrees, resulting in a rural cultural imbalance and value desertification, seriously threatening the security, stability, harmony, and order of rural society, which is an important issue that cannot be overlooked in rural governance.
In sum, the popularization and use of technology should be based on rural standards rather than urban standards. It is necessary to accelerate the formulation and improvement of rural governance systems, mechanisms, policies, and measures, and introduce enterprises, social organizations, and other technology and public service providers into the governance system to solve the unsustainable problem of government input.
Zhang Chengsu is from the School of Management at the University of Sanya.