China-LAC ties continue to deepen despite pandemic
FANG XUFEI
|
2021-04-22
|
Hits:
(Chinese Social Sciences Today)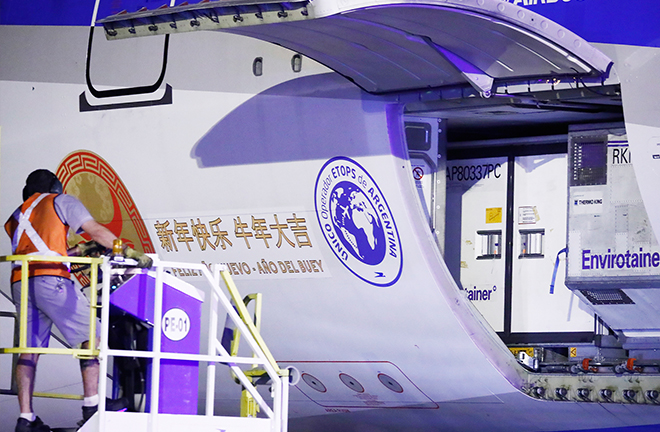 An Airbus 330-200 carrying 904,000 doses of Sinopharm vaccines from China arrives at Ezeiza International Airport on Feb. 25, 2021, in Ezeiza, Argentina. Photo: CFP
---
Since Chinese President Xi Jinping proposed building a China-Latin America and the Caribbean (LAC) community with a shared future in 2014, the cooperation between these sides has been deepening, with continuous progress made in the building of a China-LAC community.
After the COVID-19 crisis broke out, new achievements have nonetheless been made in this joint undertaking, as all parties involved have proven with concrete actions that China-LAC ties can withstand violent storms and waves. In the post-pandemic era, the China-LAC community with a shared future will face various challenges, but it will reach new levels as well.
The year 2020 was unusual to both China and the LAC region. In the wake of the COVID-19 outbreak, the region's economy was plunged into a deep recession, while political and social stability were at stake. However, China-LAC cooperation never ceased advancing. Instead, bilateral political exchanges and mutual trust have continued to deepen, and economic and trade cooperation have become closer. Fruitful results have been achieved in the building of a China-LAC community with a shared future.
Although the COVID-19 pandemic seriously obstructed direct exchanges between the Chinese and Latin Americans, it didn't stop related countries from maintaining high-level exchanges in flexible ways.
On July 23, 2020, foreign ministers from China and LAC countries held a special video conference on COVID-19. These nations had an in-depth exchange of views on containing the coronavirus, and recovering economic and social development. Chinese proposals on deepening cooperation against COVID-19, protecting growth and livelihoods, advancing Belt and Road (B&R) cooperation, catalyzing overall cooperation, and working together for global governance received positive responses from LAC countries.
Head-of-state diplomacy was a highlight during the pandemic. By such means as phone calls, correspondences, and video conferences, President Xi kept in close touch with top leaders of more than a dozen LAC countries, including but not limited to Chile, Cuba, Brazil, Argentina, and Mexico. Consensuses were reached on uniting to fight COVID-19, pragmatic cooperation, and promoting joint development, guiding the building of a human community with a shared future.
On March 20, 2021, the third batch of Chinese COVID-19 vaccines arrived in Bogota, capital of Colombia, when President Xi delivered a speech via video link to the Colombian people by invitation of Colombian President Ivan Duque, saying that "Nothing, not even mountains and seas, can separate people with common goals and ideals."
The persistent exchanges between top leaders laid a solid political foundation, opening up a vast space for China-LAC cooperation in harsh times. When China was plagued by COVID-19, LAC countries offered valuable support in different forms. After the epidemic was effectively curbed domestically, China immediately began working to bolster LAC countries to combat the coronavirus in various ways, donating much-needed medical supplies, holding video conferences to exchange experiences, and providing vaccines to LAC countries in need. The aid helped guarantee a sustainable reserve of medical supplies in Latin America and the Caribbean, playing a crucial role in controlling the epidemic and winning wide acclaim from all sectors of the LAC region. In February 2021, a second batch of 800,000 Chinese vaccines arrived in Mexico.
Furthermore, the B&R initiative gave a boost to bilateral cooperation during the pandemic. By the end of 2019, a total of 19 LAC countries signed the memorandum of cooperation on the B&R.
In 2020, Brazil and Argentina ratified and passed the Agreement of the Asia Infrastructure Investment Bank. They became the founding member state and formal member state, respectively, of the China-proposed bank.
In August 2020, China and Argentina inked a currency swap agreement equivalent to $18.5 billion. This is the fifth currency swap agreement between the two nations. The renminbi has become an important foreign reserve for Argentina. The agreement is conducive to consolidating Argentina's financial system, and strengthening trade and investment cooperation between the two sides.
In addition, China actively cooperated with multilateral institutions, such as the Organization of Central American States, Inter-American Development Bank, and Caribbean Development Bank.
During the joint COVID-19 fight, economic and trade cooperation between China and LAC remained steady. China has been the most important trade partner and source of investment to many LAC countries.
In 2020, LAC's exports dropped by 13%, and exports to the United States and the European Union declined by 14% and 13%, respectively. Nevertheless, exports to China rose instead. According to statistics from the General Administration of Customs of China, exports from LAC countries to China amounted to $165.879 billion approximately in 2020, up 0.1% from 2019.
While many LAC countries and other regions were hit hard on the trade front, exports to China remained strong. From January to November 2020, the trade volume between China and Peru totaled $20.7 billion. Peru's exports to China amounted to $12.8 billion, accounting for 33.85% of its gross exports.
Exports from Mexico, Chile, and Brazil to China grew to varying degrees, while China's direct investment in LAC accelerated. Data from the Chinese Ministry of Commerce shows that China's direct investment in LAC countries registered a year-on-year growth of 21%, far higher than the 4.1% growth of China's global investment.
Furthermore, China-LAC infrastructure cooperation further expanded. On Dec. 2-3, 2020, the Sixth China-LAC Infrastructure Forum was held in Macau. By the end of 2020, the total value of Chinese construction contracts in the LAC region exceeded $210 billion. From January to October 2020, Chinese companies worked hard to overcome COVID-19 impacts. As a result, the value of their newly signed contracts in LAC increased by 22% year-on-year. This resilient and robust economic cooperation, even during the pandemic, indicates that the China-LAC community with a shared future is highly promising.
Ideological frictions have long enveloped Latin America and the Caribbean. Since the inception of the 21st century, the "Pink Tide," or left-wing politics, has had ups and downs. In the last two years, the left has begun to resurge after experiencing low ebbs, as left-wing parties successively took office in Mexico, Argentina, and Bolivia. On the other side, Brazil, Colombia, Chile, and Uruguay have been dominated by right-wing parties.
In 2021, new changes will take place in the political pendulum of the LAC region. Ecuador, Peru, Chile, Nicaragua, Honduras, and Haiti will have general elections, while Mexico and Argentina will see mid-term elections. The region's political ecology is being reshaped as regimes change and ruling parties rotate.
In recent years, many LAC countries have been beset by fragmentation of the political landscape, and partisan bickering. Divergences in ideology, political stances, and policy positions have made it difficult for parties involved to build consensuses, for government bills to be smoothly passed in parliament, and for major political agendas to move forward. Conflicts between administrative departments and parliaments have escalated in some countries, posing severe challenges to political stability.
Moreover, an undercurrent of social protests has been surging in many LAC countries. Before the COVID-19 outbreak, massive protests erupted in Chile, Ecuador, and Colombia. Later the wave of protests experienced a temporary suppression by control measures like forced quarantine and curfews, related to infection risks for the coronavirus.
Due to problems brought on by the pandemic, such as deep economic recession, entrenched poverty and inequality, corruption, and worsening public security, popular discontent has been brewing. Social protests are likely to see a comeback, on an even larger scale, after the pandemic is contained, threatening political and social stability.
In response to COVID-19, most regional organizations in Latin America and the Caribbean simply delivered pandemic information and policies from their member states. As Latin America's largest regional block, the Community of Latin American and Caribbean States (CELAC) has not yet achieved substantive results despite their anti-pandemic measures. Due to weak coordination abilities of multilateral organizations and disunity in the region, LAC countries formulated epidemic control and prevention measures based on national rather than regional interests.
For a long time, China has vigorously maintained formal and informal dialogues with regional organizations such as the Pacific Alliance and the South Common Market, alongside their member states. The China-CELAC Forum, in particular, assumes the significant tasks of communication, coordination, and cooperation on the B&R initiative, and Chinese development philosophy.
Following the COVID-19 pandemic, LAC will face daunting tasks like economic recovery and stabilizing society. The United Nations Economic Commission for Latin America and the Caribbean pointed out that China is a major trade partner for Latin America, and China's quick economic recovery will add momentum to economic recovery in the LAC region. The political foundation cemented, and the fruitful results of cooperation achieved during the joint COVID-19 fight, will have long-lasting effects on the diplomatic orientation of LAC countries.
China will never interfere in other countries' internal affairs or draw ideological lines. Whether LAC countries are governed by administrations that lean left or right, China will engage with each of them based on mutual benefits and friendship between the nations.
The Fourth Session of the 13th National People's Congress adopted the 14th Five-Year Plan (2021-2025) for National Economic and Social Development and Long-Range Objectives Through the Year 2035, mapping out medium- and long-term strategies for national development and putting forward specific guidelines for building a human community with a shared future. By accelerating the new economic development pattern, which smooths domestic circulation and lets domestic and international circulations reinforce each other, China will play a greater role in helping the LAC region cope with developmental challenges.
With the implementation of the 14th Five-Year Plan, LAC countries will see more new development opportunities from China. China's sustained, stable growth will open up new spaces for China-LAC cooperation and push the China-LAC community with a shared future to a new level.
Fang Xufei is an associate research fellow from the Institute of Latin American Studies at the Chinese Academy of Social Sciences.