China to play bigger role in post-pandemic global governance
SUN JINGXIN
|
2021-03-17
|
Hits:
(Chinese Social Sciences Today)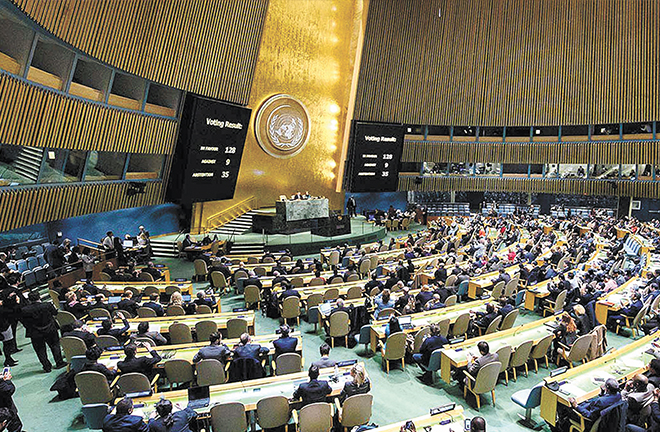 Pictured above is the General Assembly Hall of the United Nations. In the post-pandemic era, China will have increasing opportunities to participate in global governance. Photo: FILE
---
In recent years, calls for the improvement of global governance have been louder, particularly as the COVID-19 pandemic has dealt a heavy blow to global governance, highlighting deficiencies in the current system.
Problems in global governance
The COVID-19 pandemic was like a pressure test, revealing the polarity of our current world: globalization and anti-globalization; multilateralism and unilateralism; openness, inclusiveness and seclusion, exclusion; consultation, cooperation and conflict, confrontation, and so forth. In global governance, maladjustments and incompatibilities have become more apparent due to the novel coronavirus outbreak.
On the governance demand side, new problems have arisen, compounding old ones. Amid the pandemic, many countries enforced quarantine restrictions and sealed their borders, blocking global industrial and supply chains, hindering coordination among international macroeconomic policies, and throwing the global economy into deep recession.
In non-traditional security spheres, such challenges as climate change, cybersecurity, public health, and refugee crises have presented urgent needs for global governance reforms. According to a UN report dated Jan. 8, 2021, COVID-19 reversed progress in human development and widened inequalities, making better access to basic services such as healthcare, education, water, and sanitation the number one priority of people across the world in the short term.
On the supply side, most Western countries have been absorbed with domestic governance, and increasingly feel discouraged from participating in global governance. COVID-19 has further exposed malfunctions in global governance, with international organizations under question and the free order breached by some of its creators.
For example, the United Nations Security Council didn't come to an agreement on Resolution 2532 concerning the COVID-19 pandemic until three months of deliberation had passed, by that time, tens of millions had been infected. The fallout for the World Health Organization was even more immediate, marked by the withdrawal of the Trump administration.
Moreover, inequalities are evident in the global governance system that has basically been dominated by the West since WWII. Over the past few decades, profound changes have taken place in international economic competition, but the governance system has failed to reflect the new landscape, falling short of equal representation and inclusion.
The problem of equality is increasingly prominent, as the North-South gap remains wide, posing severe challenges to sustainable development. Take the COVID-19 vaccine as an example. It is estimated that the global demand for the vaccines will exceed 10 billion doses. However, limited production capacities, huge supply gaps, and uneven distribution will make it difficult to meet the demands of most developing countries.
Also, cooperation between major countries, which are supposed to be key forces in global governance, has weakened. Torn by conflicting ideologies, practical interests, domestic politics, and other factors, international cooperation has been beset with difficulties, such as decoupling, supply disruption, and sanctions. The world has reached a crucial stage in its coping with the pandemic, so global coordination, public-private partnerships, and regional cooperation are particularly important.
Growing expectations of China
The year 2021 marks the 50th anniversary of the restoration of China's lawful seat in the United Nations and the 20th anniversary of the country's accession to the World Trade Organization. As it approaches the center of the world stage, China will have increasing opportunities to participate in global governance, raising global expectations.
In the post-pandemic era, the global economy will face great difficulties. It is widely believed that the global economic recovery will be challenged by growing unemployment, a lack of momentum, and entrenched poverty in 2021. The 2021 Annual Meeting of the World Economic Forum will be held around the theme of "The Great Reset" in May. In this context, the international community has pinned higher hopes on China.
In a survey of 35 economists conducted by Japanese business media outlet Nikkei, most of the respondents forecasted China's economy would expand 8% or more in 2021. The AFP news agency said that China seems to have become a barometer for the global economic recovery. A Russian media site predicted that China will continue to act as an engine of the world economy, as it did in the global financial crisis 13 years ago.
The strong confidence in China is inseparable from the remarkable results achieved by the Belt and Road (B&R) initiative amid the pandemic. The initiative has not only demonstrated resilience against risks, but also set the stage for related partners to fight against COVID-19, stabilize national economies and promote their development, showing strong vitality and extensive clout. In the future, when jointly building the B&R, China will actively take part in making global economic and trade rules and continue to advance global development governance.
The 2030 Agenda for Sustainable Development defines "ending poverty in all its forms everywhere" as the overarching goal of sustainable development, but the COVID-19 crisis has tremendously impacted global poverty reduction.
The 2021 Global Humanitarian Overview states that the Global Humanitarian Response Plan for COVID-19, together with existing humanitarian appeals, recently became the largest-ever financial ask: $39 billion. This sum aims to provide assistance to 264.7 million of the 441.5 million people in need. The World Bank estimated that by 2021, 40% of the world's population would live on less than $5.5 a day, and as many as 150 million people would fall into extreme poverty.
China has always been a vigorous advocate and promoter of the global poverty reduction cause. In 2020, China overcame grim challenges, eradicating absolute poverty and regional poverty as scheduled by the central government. Nearly 100 million poor people were lifted out of poverty, realizing the poverty reduction goal set in the 2030 Agenda 10 years in advance, and contributing 70% to global poverty reduction.
Furthermore, China has been trying its best to support the majority of developing counties, least developed nations in particular, to eliminate poverty. In 2020, it joined the United Nations' Alliance for Poverty Eradication as a founding member, and ranked first among the Group of 20 (G20) members in terms of debt deferral amounts under the Debt Service Suspension Initiative for the poorest countries. In 2021, China will also launch a workshop on digital technology-driven poverty alleviation to contribute to poverty elimination in the Asia-Pacific region by capitalizing on its edge in digital technology.
Global public health governance, particularly epidemic control, has been always been a vital issue. The worldwide outbreak of COVID-19 has underscored the importance and urgency of improving public health governance.
China has made substantive contributions to the global fight against the pandemic. As of January 2021, China provided anti-epidemic assistance to more than 150 countries and over 10 international organizations; sent 36 teams of medical experts to 34 countries; supplied more than 220 billion face masks, 2.3 billion protective suits, and 1 billion detection kits; joined COVAX and was the first to pledge to make vaccines it developed and deployed as a global public good. Chinese vaccines have been favored by such countries as Indonesia, Egypt, Turkey, Serbia, and Jordan. It can be foreseen that China will play a bigger role in health governance as anti-epidemic cooperation with other countries further deepens.
The novel coronavirus outbreak has again reminded people that wide consultation, joint contributions and shared benefits can be only achieved by adhering to equality, mutual learning, dialogue, and inclusiveness on the basis of respecting the diversity of human civilizations. In this regard, China has been working tirelessly.
In April 2017, it joined forces with Greece to initiate the Ancient Civilizations Forum, gathering 10 states to send an unequivocal message to the world that all civilizations are diverse and equal, and none is superior to others. In May 2019, China hosted the Conference on Dialogue of Asian Civilizations, when more than 1,000 representatives from 47 Asian countries focused on mutual learning and building a community with a shared future in Asia.
In recent years, non-traditional security threats such as biosecurity, cyberattacks, and terrorism have escalated, interweaving with traditional security issues like arms control. The COVID-19 pandemic has by no means halted turmoil and conflicts in war-torn regions around the world; in fact, military tensions have even been rising in some areas. Statistics show that 49 countries suffered from massive protests, riots, and even violent conflicts in 2020.
In the post-pandemic era, all countries are interconnected and will impact each other on the security front. Security issues will be more interactive, transnational, and diverse. China is committed to serving as a responsible member of the international community and a staunch force in safeguarding world peace and promoting development.
COVID-19 has also prompted deep reflections on the relationship between man and nature. In late 2020 and early 2021, many institutions put climate change on the top of their list of risks in 2021. For example, the Eurasia Group placed it in the third position among the top ten risks. According to the 2021 Global Risks Report, environmental concerns dominated the top long-term risks in terms of likelihood to occur.
In regard to tackling climate change, China has been proactively engaging in global climate governance. It was one of the first Parties to ratify the United Nations Framework Convention on Climate Change, and made crucial contributions to the conclusion and implementation of the Kyoto Protocol and the Paris Agreement. In December 2020, Chinese President Xi Jinping addressed the Climate Ambition Summit via video link and reiterated that China would increase its nationally determined contributions and adopt more vigorous policies and measures.
Looking forward to the post-pandemic era, China will meet challenges regarding its own development and participation in global governance. It will remain on the correct side of history, and stride forward along the course of building a community with a shared future for humanity.
Sun Jingxin is an associate research fellow and director of the Academy of Contemporary China and World Studies under China Foreign Languages Publishing Administration.