Crowdsourcing translation fuels Chinese films, dramas to go global
ZHU YIFAN
|
2021-02-04
(Chinese Social Sciences Today)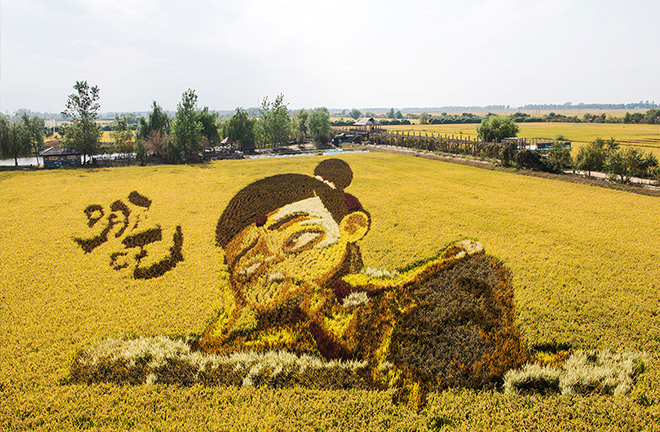 An earthwork image of Ne Zha created from wheat is displayed at a 1550 mu wheat crop art theme park at Shenbei New District, Shenyang City, Liaoning Province, on Sept. 22, 2020. Photo: CFP
---
In 2019, Chinese animation film Ne Zha smashed box-office records within the domestic market, but its release in North America failed to attract comparable audiences. A study of popular North American film review websites found that the overseas audiences of Ne Zha were mainly overseas Chinese, with a few foreigners who are interested in the Chinese culture and understand the Chinese language.
However, for audiences who know little about the Chinese language or culture, the film was difficult to understand. From the unfolding of the storyline to Ne Zha's gender, foreign audiences seemed to stumble on various obstacles.
To delve into the issue, the less-than-satisfactory translation is partially to blame, but more importantly, foreign audiences are unfamiliar with Chinese myths and narratives. The protagonist Ne Zha, as an outcast who is hated, feared, and destined by prophecy to bring destruction to the world, must choose between good and evil. The boy's choice encompasses the unique Chinese understanding of unity, opposition, and the reciprocal transformation of yin and yang in traditional philosophy, which is unsurprisingly exotic for foreign audiences. In a nutshell, the theory of yin and yang is the basis for ancient Chinese to explain and understand the universe and everything in it, social order, and human relations.
Chinese films, dramas go global
Similarly, in 2011, when Empresses in the Palace, also known as The Legend of Zhen Huan, one of the most watched dramas in China, streamed on Netflix in a condensed version, it baffled Western audiences and received low ratings. Apart from the imperfect subtitles, the Chinese version's 76 episodes had been edited and cut down into six 90-minute episodes, sacrificing a number of crucial details and classic scenes, and leading to incoherent storytelling.
While the audience may be happy to finish the whole series in a day rather than weeks or even months, they are left in confusion, because the Netflix version is too short for such a complex plot. It is evident that giving up Chinese storytelling methods to cater to foreign audiences will not achieve desirable outcomes.
In comparison, when Western films and TV dramas were introduced to China some decades ago, they were rarely edited in the same way. As a result, Chinese audiences gradually became familiar with the Western narrative and grasped Western philosophies and norms. Today, watching Western films and TV dramas, Hollywood blockbusters in particular, has become an indispensable form of entertainment for young Chinese viewers.
It is also crucial to remember that China's going global strategy is not solely aimed at the North American and European markets, rather, it targets audiences across the world. Different cultural traditions in different regions demonstrate that there is not a universally accepted narrative or way of thinking.
Therefore, for Chinese films and TV dramas to truly go global, the key is not attempting to blindly accommodate the viewing habits of foreign audiences, but to continuously export Chinese films and TV dramas to the rest of the world on the premise of improving cultural influence and piquing audiences' interest in Chinese culture.
At present, no national institutions, companies, or groups have a large enough team of language translators to undertake such a volume of translation. However, this seemingly impossible mission has been somewhat accomplished by the newly emerged media platform: Rakuten VIKI.
Crowdsourcing translation trend
VIKI is a popular streaming site for Asian television shows and films. Since it launched in 2007, VIKI has grown exponentially, with over 1 billion users worldwide and an average of 40 million monthly visitors. Users can curate collections of shows and many of the site's subtitles in more than 130 languages are generated by users and volunteers in a form of crowdsourced translation.
Crowdsourcing translation, known as "community-based translation" or "swarm translation," gathers enthusiasts from all over the world onto the network sharing platform to complete a huge amount of translation tasks. If we take a look at popular shows and dramas on the VIKI platform, it's not hard to see that a lot of shows and dramas have been translated into more than ten languages, not only English, Arabic, Spanish, French, and German, but also other languages, including Indonesian, Italian, Japanese, Polish, Romanian, Thai, Turkish, Filipino and Vietnamese.
According to VIKI's official statistics, there are more than 170 languages available on the platform. Judging by the languages in the comments and reviews, the audience not only includes English speakers, but also French, Spanish, Korean and other multilingual groups. How do these crowdsourcing translation websites manage to attract such a large audience with different language backgrounds? Their experience may offer some insight into China's efforts to promote the global circulation of Chinese films and TV dramas in recent years.
Shows and dramas on VIKI are either open for translation or locked for translation. For the former, all registered users are allowed to work on translation. VIKI segments the timeline and allows multiple users to edit subtitles online, with typically more than 500 users taking part in the translation of each show and drama. Each subtitle is edited more than five times on average, which ensures a certain degree of accuracy. At the same time, each show has a channel manager who will lock down the subtitles when they reach a certain quality level.
In addition to individual volunteers, VIKI is home to a number of subtitle groups. For example, the Chinese-English translation subtitle team for the hit TV series Nirvana in Fire is named "Gone with the Shirt Team." They boast a relatively rigorous organization with two channel administrators, 10 subtitle segmentation staff members, 11 subtitle translators, two editors, three language coordinators and one page designer. Moreover, there are subtitle groups in Arabic, Thai, Hindi, and other languages.
Numerous volunteers from various backgrounds are involved in subtitle translation, and most of them are ordinary viewers without professional translation training. With their bilingual knowledge, they gather with a common fervent love for one genre of film or television series and temporarily work on translation. Some translators with the same language background form an interest group to participate in multiple translation projects.
It is precisely because of these amateur translators that many excellent Chinese films and TV series have more than 10 or even 20 subtitles in different languages within a short time frame. Wouldn't the Slovak version of Once Upon a Time be interesting?
On the VIKI website, project organizers are in charge of the translation's quality management, while the translation community is the external arm of crowdsourced translation activities. Since the translation community is loosely organized and is voluntary, the translation project organizers do not regulate translators with unified translation principles as in traditional translation work, but rely on online cooperation and collective wisdom to ensure quality.
In translation communities, the "assembly line" of translators, proofreaders, and coordinators collaborate without supervising each other. Compared with traditional translation projects, the process of crowdsourcing translation is more open and free. What brings translators together are their common interests and hobbies and their sense of identity within the translation community. This unique motivation drives community members to work together, influence and regulate each other, thus forming a set of invisible translation norms.
Since amateur crowdsourced translators are fueled by an interest and enthusiasm, their translation not only expresses the meaning of the original content, but is also embedded with their own emotional response. For example, they are not shy about praising heroes and do not hesitate to condemn villains. The dual identity of the translator as both spectator and translator equips crowdsourced translation with unique sentiments, and when coupled with interactions with viewers through comments and reviews, this generates an unparalleled charm.
In traditional translation, the translator has no contact with the audience and readership, and the translator usually does his work based on experience and an estimation of the audience's aesthetic taste. When the translation is done, it has to go through a long stage of proofreading and review before reaching the audience. Even if the audience members and readers want to praise or question the translation, they have no direct communication channels with the translator.
It is not the case with the VIKI platform, where viewers can give instant feedback in the comments section, and translators can modify a published translation at any time. Sometimes translators and audience members will discuss translation strategies in the comment section. VIKI's subtitle team often makes adjustments to subtitles based on viewers' questions. Therefore, the crowdsourcing translation product can truly be called the wisdom of the crowd.
However, crowdsourcing translation is by no means perfect. It is troubled by frequent low-level errors, unreasonable subtitle segmentation, and inconsistent translations. The pursuit of speed and multiple segments of translation inevitably take a toll on the translation quality. Thanks to images and sound in films and TV dramas, the language defect is somewhat compensated for, which explains the audience's high tolerance for translation errors. This gives crowdsourced translation an edge in film and TV drama subtitles over text translation.
In summary, crowdsourced translation has many advantages such as speed, interactivity, and zero cost. If we can further optimize the translation management process and avoid existing problems, it may hold the answer for Chinese films and TV dramas to truly go global.
Zhu Yifan is a professor from the School of Foreign Languages at Shanghai Jiaotong University.