Inheriting Baimao folk songs amid urbanization
CHEN JING
|
2020-12-31
(Chinese Social Sciences Today)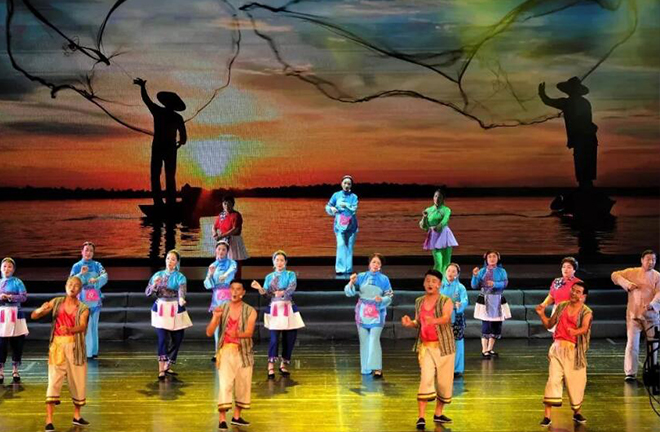 The fourth Baimao Folk Song Art Festival on Nov. 5th in Changshu, Jiangsu Province Photo: FILE
---
"Baimao folk songs" originated in the Baimao area, Changshu City, Jiangsu Province about 4,000 years ago. As an inimitable example of cultural heritage, it was listed in the first National List of Intangible Cultural Heritage of China.
Once an expression of emotions and a celebration of life, the Baimao folk song now faces existential threat as modernization continues to challenge its inheritance, protection, and development. It is therefore essential to safeguard local cultures while implementing new-type urbanization with Chinese characteristics.
Baimao folk songs have been sung for thousands of years. Folks sang them while working in the field or rowing boats. After the founding of the PRC in 1949, especially during the New Folk Song Movement in 1958, these songs become popular even outside the Wu dialect region, south of the Yangtze River. There are so many Baimao folk songs that it took the county government many years to gather, study, and eventually compile a Baimao folk song collection with 703 songs in 2002.
After the reform and opening up, more new songs were composed, as more scholars began studying the Baimao style. In 1995, Baimao Folk Song Hall, the first folk song hall in China, was established. In 1998, a research society for Baimao folk songs was founded. In 1999, an album of Baimao folk songs was released as a CD. In 2000, Baimao Town was named the "Home to Chinese folk art." In 2006, the Baimao folk song was inscribed on The National List of Intangible Cultural Heritage of China as an essential part of Wu songs. In 2007, inheritor Lu Ruiying delivered a speech at Peking University. In the same year, "Lu Ruiying's folktale song collection" was released. Between 2002 and 2018, the local government held many art festivals for Baimao folk songs. In 2016, inheritors taught locals sing Baimao folk songs in Zixia Village, Guli Town. In 2017, together with Peking University, the local government set up a practice base to collect folklore and Wu dialect folk songs.
Years of efforts made by inheritors and the government managed to keep the blood of Baimao folk songs flowing.
When the Baimao area was still countryside, its agricultural production was closely linked to its natural ecology, river networks, and landforms. These unique townscapes have been frequently described in its folk songs, from the local paddy fields to expansive fields of cotton. Folk songs depicted farming activities such as weeding, tilling the land, loosening the soil, and other bucolic activities.
However, when urbanization and modernization began to offer new opportunities for the Wu area, local cultural heritage and living conditions were irrevocably changed. First, the local cultivation methods changed. Modernized agriculture has replaced conventional agriculture with mechanization, automation, and electrification. These shifts have inevitably altered the background conditions for Baimao folk songwriting.
In addition, arable land has decreased, while building clusters rise up, one after another, pushing the boundaries of cities further into rural areas, which was made possible by ever more convenient transportation. Consequently, Baimao people's production mix and consumption structures have greatly changed. Baimao folk songs have their roots in the culture of cultivating rice, and the change in cultivation methods has undoubtedly made it more difficult for the locals to compose songs, or easily connect to their inherited intangible cultural heritage. The songs that used to be heard everywhere have become outdated, and are now rarely heard.
The Baimao area used to depend on an agricultural economy, especially intensive land cultivation. In the past, locals used to draw materials from their way of life and production methods when composing Baimao folk songs. They sang about weaving, embroidering, knitting, building houses, as well as at weddings and funerals. However, modern agricultural production makes traditional manual work redundant, resulting in a change in rural people's occupations, and naturally leading to a sharp population decline in the area. Fewer people means fewer potential inheritors and listeners for Baimao folk songs. In the meantime, urbanization has led to local disinterest in traditional music. Inheritor Xu Xueyuan said that very few young people are now interested in learning Baimao folk songs. Inheritors are getting older, and finding it harder to pass down their knowledge to the younger generations.
In recent years, the local government has built folk song halls, established research societies, encouraged more songs to be written, and also held folk song festivals. While these endeavors have helped preserve and develop Baimao folk songs, they failed to realize that folk songs are supposed to be sung instead of protected as cultural relics. If we want to inherit, and further develop Baimao folk songs, we need to start with the following preservation initiatives.
First, we need to set up supporting facilities for folk song halls, and blend them with China's national culture. While the Baimao area is undergoing construction and development, local governments may consider setting up an "ecological field" to preserve the original farming industry. For instance, the cultural elements of Baimao folk songs can be embodied in the design of new streets and architecture. Meanwhile, the government could designate a cultural ecology preservation area, in which the birthplace of Baimao folk songs would be preserved, and thus remain as an inspiration to folk song creation.
Second, we need to protect inheritors. As China is pursuing urbanization that puts people first, we we need to realize that inheritors are the main bodies of Baimao folk songs. Therefore, it is necessary to properly protect and nurture inheritors by keeping records of inheritors, relevant research results, and music scores of their songs. We should also provide more financial and material support for inheritors, while helping them increase their audience. Meanwhile, we should discover more potential singers for Baimao folk songs.
Third, we need to develop youth interest in Baimao folk songs by developing folk song singers among all age groups. In particular, Baimao folk songs should be taught in middle and primary school music classes. This will help the younger generation acquire a better understanding of their local music culture. Nurturing inheritors should start with children.
Fourth, we should explore the value of Baimao folk songs in the new era. As the Baimao area deepens its urbanization, the small town should learn to confront the struggle between social development and preserving their intangible cultural heritage. This requires us to untap the economic value of Baimao folk songs. We could help Baimao folk songs seek development in the modern music industry with the help of new media. Meanwhile, modern science and technology also allow us to record and preserve inheritors' performances for future generations to appreciate.
Fifth, it is advisable to design a touring route for Baimao. Innovation is needed when trying to sustain culture. By combining local scenes with local folk art, we can produce a live-action performance with unique national features.
Sixth, we should bring Baimao folk songs into colleges and universities. Local departments of culture or Baimao folk song halls could invite representatives from colleges and universities for a visit, so that they can better appreciate and understand the local music. In addition, higher education institutions can set up research centers or practice bases in Baimao to collect folklore. What's more, colleges and universities can work with their local counterparts to set up optional courses on Baimao folk songs within their music courses. Inheritors can perform or discuss the folk songs in these classes. Researchers at institutions of higher education should also be encouraged to participate in theoretical and practice activities centered on Baimao folk songs.
Seventh, we can encourage composers to borrow elements from Baimao folk songs. The contemporary world has seen more cultural exchange between the East and the West in the arena of music. It is rather common to hear elements of world music in today's Chinese musical pieces. Baimao folk songs can also become a source of inspiration for contemporary composers. We should call on composers to blend elements of Baimao folk songs into their songs, and bring out piano music, chamber music, or even music dramas with distinct Chinese style.
The Baimao folk song is China's intangible cultural heritage, and it is essential to keep it alive. Only when we unleash people's subjective initiatives and organically embed folk art into their contemporary social lives will the songs continue to be sung for a long time to come. To preserve and develop China's culture, it is essential to protect and modernize tradition.
Chen Jing is from the School of Music at Suzhou University of Science and Technology.