A distinctive written history of literature
ZHANG XIANGRONG
|
2018-09-20
(Chinese Social Sciences Today)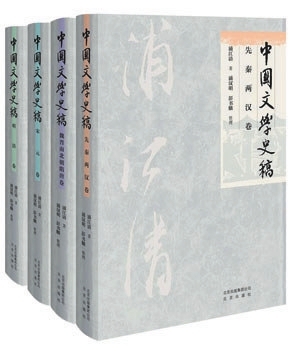 A Draft of the History of Chinese Literature
---
Almost every teacher who has taught literary history has their own understanding of the history of Chinese literature. Pu Jiangqing's A Draft of the History of Chinese Literature is a collection of lecture notes based on his teaching in the Chinese department of Peking University.

The most remarkable feature of this book is that it constantly compares Chinese literature with foreign literature. Generally speaking, contemporary writers often adopt some foreign literary theories when giving an account of ancient Chinese literature. But Pu never fails to find a corresponding foreign literary object for comparison when he explains an ancient literary phenomenon, analyzes a literary work or introduces a writer to readers. His purpose is to establish a delicate and specific relation between different pieces of literature, from which readers can understand ancient Chinese literature more broadly. For instance, Pu tends to elaborate on the origin of literature from the perspective of anthropology, and he compares Qu Yuan's "Nine Songs" with ancient Greek dramas and sacrificial ceremonies. He even draws related star images based on his knowledge of astronomy.

His effective integration of the history of literature and the history of literary criticism is another outstanding feature. In fact, literary history has now become not just a subject but a challenge. That is, should one pay more attention to the literature itself or to the historical facts? If the answer is literature, the emphasis must be placed on the aesthetics of the text. If the answer is history, a sketch of chronological clues and verification of historical figures and texts should be more crucial. However, it is difficult to break through the shackles of history and philology. Owing to changes over time in the aesthetics and criticism of ancient literary works and the reconstruction of the literary value system, what literary history actually shows readers is the history of literary criticism.

Therefore, a purely and absolutely independent literary history is difficult to present. Only through combining historical facts with literary criticism can writers achieve three-dimensional and effective literary history writing. As early as the 1950s, Pu presented a special discussion on the essence of literature in the first chapter of A Draft of the History of Chinese Literature. In each chapter, he combines the texts and literary criticism with historical research. Readers can easily follow the points of the book with no outside effort needed to distinguish historical fact from literary theory.

Some historical textbooks use an ideological approach to weave rich content from both the past and the present into a narrative. But Pu did not go with the tide. He created a wonderful and distinctive writing style by blending Chinese literature with foreign literature, historical facts with literary criticism, and made it an excellent history of literature via his individual approach.
(edited by CHEN ALONG)