University museums transform heritage into social knowledge
LU HANG
|
2018-08-02
(Chinese Social Sciences Today)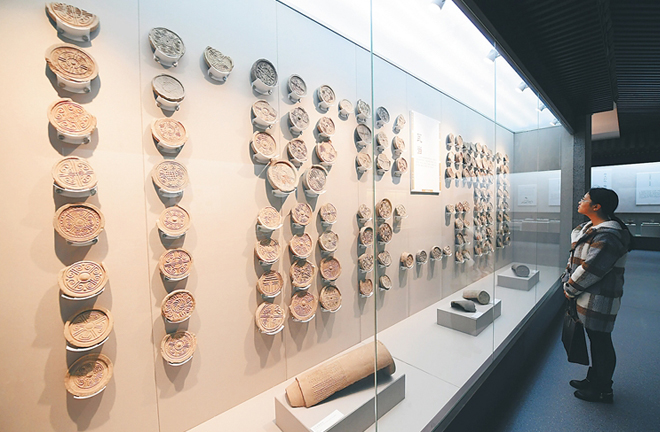 A student visits the gallery of history and culture inside the Shaanxi Normal University Museum in northwest China, the country's first comprehensive museum of education, which was opened to the public in November 2017.(XINHUA)
---
University museums—agencies specialized in the collection, authentication, preservation, research, interpretation and publicity of cultural heritage—are adopting unique features to attract students, faculty and the public. How to explore cultural meanings of collections, tell audiences the stories behind exhibits, and bring cultural heritage to life are questions many university museums are exploring.

The museum of Northwest University in Xi'an, Shaanxi Province, has more than 5,000 cultural relics and specimens, showcasing the university's teaching and research results from multiple aspects. The museum combines collection, scientific research, publicity and education into its operation. "University museums have always been a treasure trove for academic research. We've attempted to utilize academic heritage, improve social service functions and revive cultural heritage," said Liu Feng, executive deputy curator of the Northwest University Museum, which currently has four branches—university history, earth, biology and history.

China's first comprehensive educational museum is located in the Chang'an Campus of Shaanxi Normal University in northwest China. It has nearly 10,000 exhibits and collections in five display areas—the pavilions of Chinese education, women's culture, calligraphy and painting, history and culture, and university history. "The exhibition itself is a dialogue between the museum and the public, but such interaction doesn't just come from better introductory texts on exhibits. A university museum can give viewers an intuitive feeling of the cultural atmosphere of a higher educational institution," said Zhang Chi, curator of the Shaanxi Normal University Museum.

"In the old days, Chinese museums paid far more attention to research than education. As time goes by, focus has shifted towards the educational function, a change reflecting improvement in the perception of museums," Liu added. Now giving lectures is a norm for university museums, turning a museum into a great "lecture hall" for more and more people. The public has also transformed from onlookers to participants. By using the internet and digital technology, many university museums have opened accounts on mobile platforms. Followers can see the latest exhibits on apps and read historical tales in WeChat official accounts. Museums of old objects are getting new stories.

"After nearly ten years of exploration, more and more archeologists in China have changed their conventional views. They now recognize and respect the public's right to learn about, have access to and make use of archaeological cultural heritage. They also agree the results of archaeological research should be translated into social knowledge, because that is the only way by which professional academic research can produce real social value," said Hang Kan, a professor from the School of Archaeology and Museology at Peking University (PKU). The Arthur M. Sackler Museum of Art and Archaeology at PKU was the first archaeological museum in China's higher education institutions.

Hang believes that "teaching" and "scientific research" are the unique missions of universities. "The world's prestigious universities all have wonderful museums of their own, and some countries even incorporate museums into university assessment standards. But for China, presently neither the State Administration of Cultural Heritage nor the Ministry of Education supports a specialized authority for managing university museums, leading to a lack of funds and independent identity for the museums. This is an enormous obstacle to the development of university museums," Hang said, adding that as Chinese universities are striving to reach the world-class caliber, the construction of university museums is essential.