Modern elements help to revive traditional papermaking
LI SHENGCHENG, JIANG QINGLIN
|
2017-09-27
(Chinese Social Sciences Today)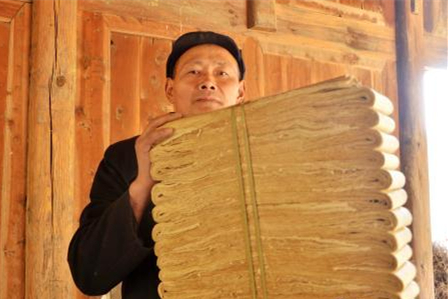 He Xiaoxian holds paper he made.
---
"Now, my household is the only one in my village to specialize in the traditional papermaking trade. This traditional technique will soon disappear if we give up," said He Xiaoxian, a traditional papermaker in Cangling Village of Youyang County, Chongqing Municipality. At 61 years old, He is among just a few inheritors of the ancient technique in his village.

People in this area with the family name He originated in Jiangxi Province, then moved to Hongjing Village in Tonggu County, Chongqing, and finally settled in Cangling Village. Here, traditional papermaking, a technique with more than a thousand years of history, has been rendered to a form of art by the industrialization process.

In AD 105, Cai Lun, a Chinese civil servant, invented the first plant fiber paper by boiling, mashing and pounding silk rags, mulberry bark, bamboo and hemp, thus writing a new chapter of human civilization.

Now, as the ninth-generation inheritor of traditional papermaking in his family, He tries to sustain this ancient technique by perfectly recreating papermaking scenes from ancient times.
Reporters saw He working at his own workshop in Cangling Village.

Standing in a waist-deep pit beside a stone cistern, he used bamboo blinds to drag wet paper from the pit and then piled them up to squeeze water. Then this paper was moved to the foot of the walls to dry out.

"In my workshop every piece of paper is made strictly according to the traditional technique. Taking fresh bamboo as raw materials, the whole process involves 72 steps which are all man made."

He began to learn the technique when he was 12 years old. Traditionally-made paper has strong flexibility and apparent lines on the surface. Cut open, one can see hairy cotton fibers on the edge.

He said with a smile that "At the time of my grandfather, man-made papermaking was a necessary technique for villagers."

At that time, paper made with traditional techniques had various functions. Wrapping cooked meat with the paper in summer time could prevent it from betting moldy; when actors removed their makeup with this paper it was said to protect their skin from allergies; using this paper in containers for liquors in distilleries was said to make the alcohol more mellow; and using it in writing papers means the ink does not easily blot or fade, which allows the writing to last for thousands of years.

But for many young people in the village nowadays, traditional papermaking yields low profit. Many of them have chosen to give up this technique. However, He said his family will stick to it.
"Now, both of my sons have learned this technique. I hope they can try combining it with modern elements and create more functions of these papers, so that traditional papermaking can be better carried forward," he said.