Traditional papermaking in Shiqiao Village regaining vitality
WANG ENHUI
|
2017-09-27
(Chinese Social Sciences Today)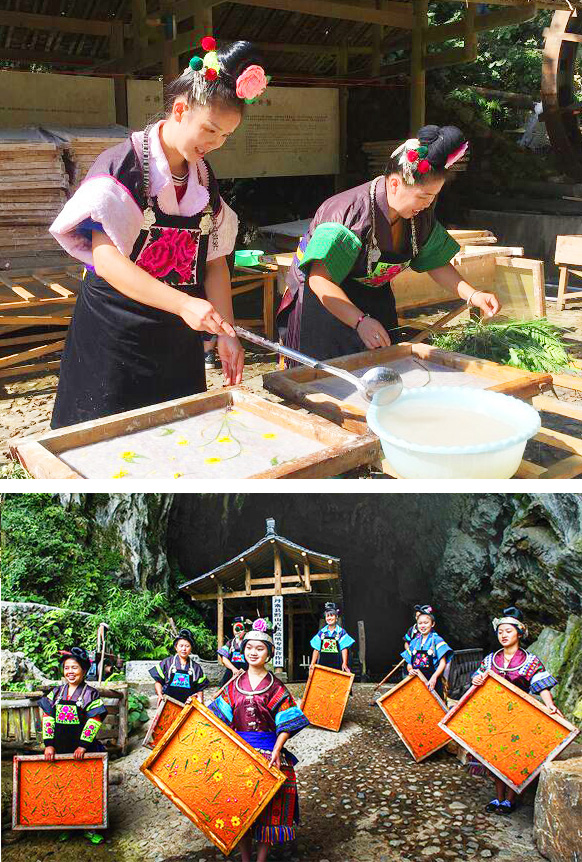 Local people, mostly are from the Miao ethnic group, in Shiqiao Village are making papers with the traditional method and displaying their products.
---
Wang Xingwu, from Shiqiao Village in Danzhai County, Guizhou Province, is a 19th-generation inheritor of the Shiqiao ancient papermaking technique. Born in a family of papermakers, his previous 18 ancestors all engaged in the trade of papermaking. Though the times have changed, the technique for traditional papermaking still exists today. In 2006, the craft of traditional papermaking was listed in the first batch of National Intangible Cultural Heritage. Wang feels proud of this.

Wang is not talkative, but when it comes to traditional papermaking, this 50-year-old man becomes excited. He told reporters that with a history of 1,400 years, Shiqiao traditional papermaking mainly produced white and colored papers with strong flexibility and pure quality.

"Papers made by Shiqiao traditional papermaking methods are particularly favored by masters of calligraphy and paintings, because it can be preserved for 1,500 years," he said. Moreover, it is also the paper adopted by National Library and National Museum for the restoration of ancient books.

So how can this craft produce such quality paper? Villagers said the ancient craft of papermaking in Shiqiao is different from modern-day mechanized production. The raw material includes the bark of a special kind of tree and paper mulberry, which can be easily found in the local area. From collecting tree bark, to pulling off the dry paper from the baking wall, it involves 14 steps to produce a finished piece of paper. All the steps are operated by hand, with no industrial chemicals used during the whole process.

Reporters went to the caves where Yingchun Paper is produced, and saw the paper used for the restoration of ancient books. Craftsmen were doing the forming and pressing procedures at the paper channel. The water used was natural water from the caves. According to environmental monitoring, this kind of water contains alkalescence and is pollution free; therefore, it is a key element for preserving papers.

Wang said it took at least 45 days to make paper pulp from raw materials. Therefore, the cost of traditional papermaking is much higher than that of the ordinary papermaking methods.

Though the price is high, papers made via Shiqiao traditional craft are popular on the market.

Selling 5,000,000 RMB worth of paper each year, craftsmen gain substantial benefits from their skill. In recent years, this paper has gone overseas and been favored by foreigners.

An ancient technique is regaining vitality in modern times. Wang and local people have realized how important to protect and inherit this incredible craft.

Cherishing steadfast determination, they shoulder the responsibility of sustaining this ancient craft and training inheritors. They have built ancient papermaking cooperatives to attract more people to engage in this technique. The local government also attaches great importance to protecting this item of cultural heritage.