Uncatalogued Tripitaka from early Qing Dynasty discovered
LU HANG, SHU JIANJUN
|
2017-08-03
(Chinese Social Sciences Today)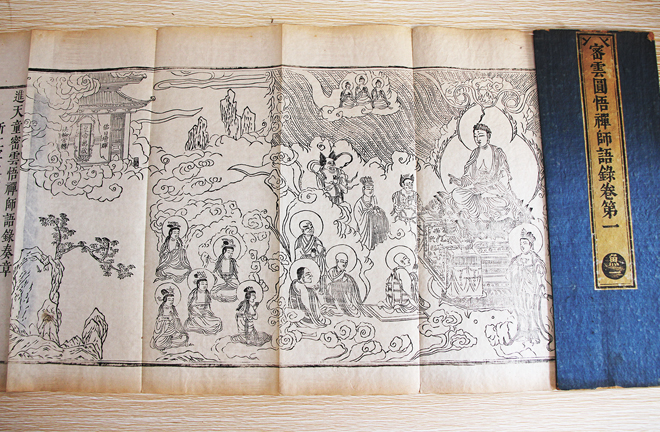 Pictured above is a painting depicting the teaching of Buddha-Dharma printed in the front of a volume of "Yulin Tripitaka," an uncatalogued early Qing Tripitaka found in Yulin City, Northwest China's Shaanxi Province.
---
A hitherto unknown edition of the Chinese Tripitaka was found in Yulin City, Northwest China's Shaanxi Province, the Institute of Ancient Books Collation at the Shaanxi Academy of Social Sciences (SASS) announced recently.

The institute discovered this edition of the Chinese Tripitaka, a collection of Buddhist classics, at Xingyuan Library in Yulin while it was searching for ancient books in Shaanxi Province as part of the compilation work for the Bibliography of Ancient Books Collected in Shaanxi Province. Based on field investigation and preliminary authentication, the new Tripitaka, tentatively dubbed the "Yulin Tripitaka," is believed to have been printed before 1727, the fifth year of the reign of Emperor Yongzheng in the early Qing Dynasty.

The oldest known Chinese edition of Tripitaka was printed in the Kaibao Period (968-976) of the Northern Song Dynasty (960-1127). There are more than 20 editions of Tripitaka written in Chinese that have been handed down throughout the ages. The existence of this unknown edition was never mentioned in any historical literature before, which makes it a significant find for bibliography and Buddhist studies.

The Triratna, or the "Three Jewels of Buddhism," includes the Buddha, the Dharma and the Sangha. And the collections of Buddha-Dharma are the material forms of the Jewel of the Dharma, said Wang Yarong, former director of the Institute of Religious Studies at the SASS. Dazangjing, the Chinese word for Tripitaka, was first used during the Sui Dynasty (581-618) to refer to the collection of sutras, the teachings of the Buddha; the vinaya, which means the disciplines; and sastra, which includes later exegesis, he said.

The compilation and printing of the Tripitaka was a significant event in the history of Chinese culture and Buddhism, Wang said. The spread of Buddhist influence in China relied heavily on the dissemination of the Buddhist classics. The compilation and preservation of the Tripitaka as well as the compilation of the Tripitaka catalogue played a significant role in accumulating, summarizing, preserving and studying Buddhist literature.

The Yulin Tripitaka has an accordion-style binding. A painting depicting the teaching of Buddha-Dharma has been printed in the front of every volume. And a depiction of the defense of the Buddha-Dharma has been printed at the end of each volume. The names of the donors who sponsored the printing of the Tripitaka were also recorded on the front pages of each.