A case study of Yangtze River city clusters
NI PENGFEI
|
2022-05-12
|
Hits:
Chinese Social Sciences Today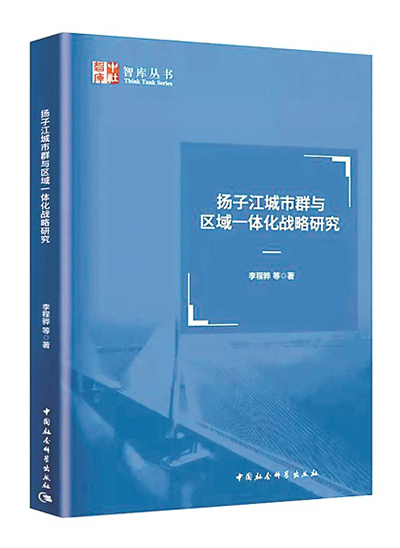 Research on the Yangtze River Urban Agglomeration and Regional Integration Strategy
---
Research on the Yangtze River Urban Agglomeration and Regional Integration Strategy, written by Li Chenghua, deputy editor-in-chief of Qunzhong Publishing House, is a vivid description of how Jiangsu Province has built a Yangtze River city cluster to serve the regional integration of the Yangtze River Delta.
The book deepens research on the new form of regional modernized city clusters and metropolitan areas. According to the phase characteristics of urban agglomeration development in contemporary China and the new requirements of growth driver recreation, Li demonstrates the overall construction strategy of the Yangtze River urban agglomeration within the larger spatial picture of the Yangtze River Delta, the paradigm shift from "production space" to "production of space," and the spatial reshaping of new Jiangsu construction with "a strong economy, wealthy people, beautiful environment, and a high degree of social civility." Building a modernized economic system and promoting the coordinated linkage and integrated development of large, medium, and small cities, and small towns is the scientific path and strategic choice for new-type urbanization with Chinese characteristics.
The book focuses on the layout optimization of key functional areas and verifies the feasibility of building a regional innovation highland to improve the regional development level against the grand strategy of super urban agglomerations. The Yangtze River urban agglomeration is a core area of Yangtze River Delta world-class city clusters, and the international gateway and landmark area for Jiangsu to enter the world urban system. Since the 13th Five-Year Plan (2016–20) period, Jiangsu has implemented the "1+3" strategic layout of key functional areas, with the Yangtze River urban agglomeration as the "one" core [the three referring to Jiangsu's coastal economic belt, ecological economic zone, and Huaihai economic zone]. It has raised the regional development level against grand layouts such as Belt and Road construction, the coastal economic belt, and the Yangtze River economic belt. This reflects the new orientation and new breakthrough regarding the strategy of functional areas, and conforms to the law of constructing the urban agglomeration system in an echelon form.
Through the example of Jiangsu's Yangtze River urban agglomeration, the book shows that the "Chinese scenario" of urban agglomeration, or the urban agglomeration with Chinese characteristics, plays a larger role in the global urban system. It portrays a promising Chinese scenario for modern urban agglomeration—the high-quality development of new space forms, innovation cluster highlands supported by the modern industry system, and platforms and hubs that substantially link with the world and integrate into the global city system, as well as how all these contribute to happy communities allowing the harmonious coexistence between man and nature and the pursuit of green and low carbon living.
Ni Pengfei is director and research fellow of the Center for City and Competitiveness at the Chinese Academy of Social Sciences.