An incisive analysis of literary criticism
MA ZHENG
|
2022-04-28
|
Hits:
Chinese Social Sciences Today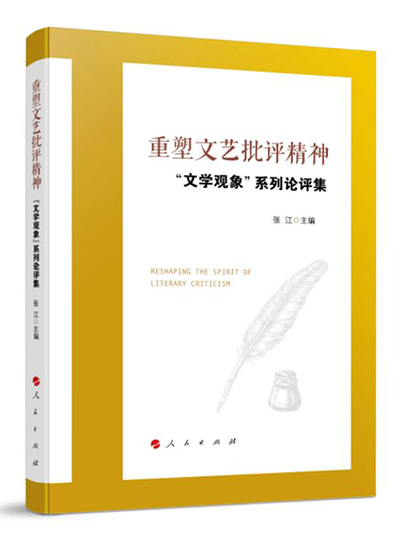 Reshaping the Spirit of Literary Criticism
---
Reshaping the Spirit of Literary Criticism, edited by Zhang Jiang, a professor from the School of Chinese Language and Literature at the University of Chinese Academy of Social Sciences, is composed of two parts: wenxue guanxiang [literally, observing literary phenomena] and haishang guanchao [literally, watching the sea tide].
The former is a special column of literary theory criticism co-sponsored by the Chinese Academy of Social Sciences and People's Daily, with Zhang in charge of planning topic selection and hosting the column, which lasted from January 2014 to 2018. The latter is a column co-sponsored by the Zhang-led team of the CASS Marxist Literary Theory and Criticism Innovation Project and Shanghai's Wen Hui Bao newspaper.
More than 60 articles are compiled from the above two columns. Each of them, in the form of dialogue, has invited several scholars to have in-depth discussions on specific topics, comprehensively analyzing the important issues facing literary creation and criticism.
These articles confront diseases of contemporary literary criticism directly and outline a sharp anatomy of criticism itself. Under the influence of marketization, popularization, globalization, and mediatization, literature and art are constantly undergoing changes, urgently calling on criticism to perform its discriminating and leading function. Nonetheless, the universal reality is that literary critics neither try to, nor are they able to, perform those functions. In terms of criticism, "propaganda is more than research," "praise more than criticism," and "micro more than macro." Critical discourse is ungrounded, rigid, outmoded, and lifeless. The most serious disease lies in the loss of critical spirit and vitality, lagging behind the times and literary creation.
The book diagnoses various "difficult diseases" that stifle the vitality of criticism, such as the disconnection from vivid literary practice, the restriction of various interest relationships, the side effects of marginalization in literature and art, the small internal circulation of criticism in a small professional circle, and its failure to be considered as genuine scholarship. In view of this, criticism needs to work on multi-dimensionality, quality, and empathy.
"Multi-dimensionality" means to pursue diverse literary criticism methods, and expand the breadth and sensitivity of perception, enhancing the artistic quality of language. "Quality" means improving the quality of literary criticism so that it can truly influence creation and play the role of a good teacher and friend. "Empathy" emphasizes enhancing the influence and radiating power of literary criticism, interacting closely with creators, influencing and leading readers' spiritual world, and producing positive social effects. These require literary critics to step out of their small circle and ivory tower and become "ferrymen" between literature and readers.
Ma Zheng is from Social Sciences in China Press.