Digital economy bolsters common prosperity
ZHAO YUAN
|
2022-03-10
|
Hits:
Chinese Social Sciences Today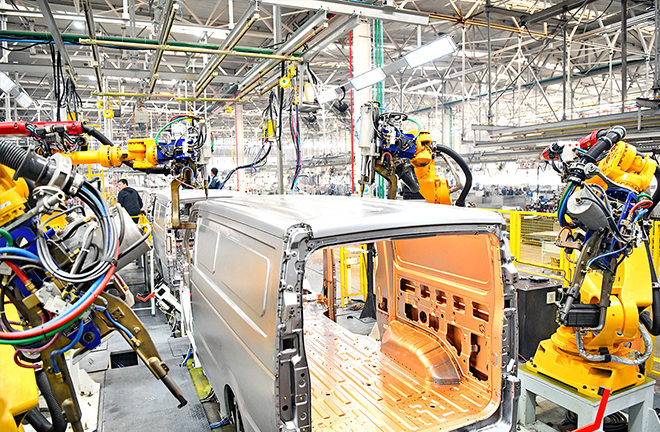 A smart assembly line for electric vehicles in Ganzhou City, Jiangxi Province, March 3, 2022 Photo: CFP
---
Today, systems around the world are digitalizing. The digital economy enables more people to connect to the internet in China, which will open a world of possibilities for socio-economic advancement. China has the largest market globally, with enterprises that have a strong innovative drive, and great development room for digital spending and investment. China's booming digital economy will drive the nation's pursuit of common prosperity.
There are new abundant opportunities in the new round of sci-tech revolution and industrial transformation. The sound development of the digital economy will cash in on these opportunities. Therefore, it is necessary to grasp the digital economic development trends and laws, to advance its sound development.
Jiang Xiaojuan, a professor from the School of Public Policy and Management at Tsinghua University, estimated that by 2025, the digital economy would account for half of China's total economy. She firmly believes in the huge potential of China's digital economy, and sees economic opportunities in the following three areas: online-learning, remote diagnosis, and intelligent sports. Digital technologies have enabled high-quality online learning, powered remote diagnosis in the medical field, and advanced intelligent sports. The digital economy, a major economic formation in the digital era, is becoming a vital engine of high-quality economic development and plays an obvious role in promoting socio-economic development.
Digital transformation has the potential to transform societies and drive common prosperity. New technologies harbor a promising digital future and require resilient and secure digital infrastructure that is open to all. It is therefore advisable to build a high-speed, comprehensive digital information infrastructure for the green, low-carbon, secure, and sound development of the digital economy.
A sound digital ecosystem should be cultivated for the sustainable development of the digital economy.
Ajay Banga, former executive chairman of the Board of Directors of Mastercard, believes that collaboration, transparency, empowerment, expertise, and a cyber security culture are key ingredients for a healthy digital ecosystem. Banga contends that public and private entities should partner to share information and best practices, and this will enhance the security and resiliency of our broader digital ecosystem.
Leveraging great connectivity in a sustainable digital ecosystem will provide more opportunities for people to achieve common prosperity. Brad Smith, president of Microsoft, believes that "this is a time in human history unlike any other….Seemingly overnight, entire industries have shifted to remote models. Virtual environments became the safest, preferred options for people to continue working, learning, and connecting with loved ones." Smith continued, "New and emerging technologies will transform the impact of innovation, helping us navigate risks and reduce the harm of threats such as climate change."