China-ASEAN relations stable with new momentum
LUO SHENGRONG, LIANG JINRONG
|
2022-02-10
|
Hits:
Chinese Social Sciences Today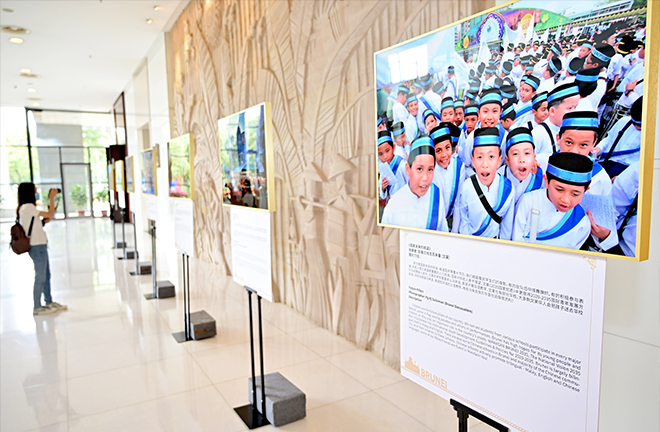 Photography exhibition as part of the 18th China-ASEAN Expo Photo: Yu Ping/CNS
---
At the Special Summit to Commemorate the 30th Anniversary of China-ASEAN (Association of Southeast Asian Nations) Dialogue Relations that took place on Nov. 22, 2021, it was announced that a comprehensive strategic partnership had been established. This marked a new landmark in relations between the two parties. After experiencing many challenges, the two continue to work together and turn crises into opportunities, which demonstrates the resilience and vitality of their neighborly relations.
With geographical connections, China and ASEAN are interdependent. It is for this reason that the two sides have identified common interests, and continuously expanded their scope of cooperation. China has actively participated in ASEAN-led regional cooperation mechanisms, including the ASEAN Regional Forum (ARF) and the ASEAN Defense Ministers' Meeting-Plus (ADMM-PLUS).
During times of financial crisis in 2008, and facing the COVID-19 pandemic today, China and ASEAN have maintained cooperation with strong momentum and taken the lead in economic recovery. In particular, they strengthened cooperation in e-commerce, big data, and the 5G digital economy, which has become the key to promoting regional economic recovery. In this process, their bilateral partnership has been further enhanced.
The CPC held its first dialogue with political parties of Southeast Asian countries, which reached important consensus on further establishing an efficient cooperation mechanism between political parties. This is an important symbol of enhanced political mutual trust between China and ASEAN.
In addition, since the China-ASEAN Free Trade Area's completion, bilateral economic and trade cooperation has accelerated. In spite of the combined impact of the pandemic and international trade's sharp decline, economic and trade cooperation has bucked the trend and increased. In 2020, bilateral trade reached $684.06 billion, making China and ASEAN each other's largest trading partner.
As the model of multilateralism, the "Belt and Road" initiative has boosted the prosperity of Southeast Asia and brought new opportunities to the mutually beneficial progress of both sides. The Regional Comprehensive Economic Partnership (RCEP, a proposed free trade agreement between the ten member states and its six partners including China) that took effect on Jan. 1, 2022, will mean improved and more stable regional cooperation and economic integration.
Over the years, China and ASEAN have remained focused on the fundamental interests of people in the region, and dedicated to improving people's livelihoods. In its vision for development, ASEAN emphasizes the concept of people-centered cooperation, and is committed to building a harmonious and shared society. This is highly in line with China's position that the nation places their people as the priority. In view of this, China connects the "Belt and Road" initiative with ASEAN's overall development plan, and a large number of projects that aim to serve the people's well-being have been facilitated. Platforms such as the China-ASEAN Expo are also playing an important role in bringing the fruits of development to the people.
China and ASEAN have insisted on replacing conflicts with dialogue, and coercion with negotiation. Based on the tenets and principles of the UN Charter and pertinent international laws, they resolve disputes between countries through peaceful means. With differentiated institutional systems and national conditions, the two respect each other's ability to independently choose their development paths. Based on clear rules, they maintain the regional framework and order. For many years, China and ASEAN have actively negotiated the Treaty on the Southeast Asia Nuclear Weapon-Free Zone (SEANWFZ), and cooperation has been conducted around public health, anti-terrorism, fighting against cross-border crime, cyber security, and so forth. At the same time, they implemented the Declaration on the Conduct of Parties in the South China Sea and substantial progress has been made in the negotiation of behavioral codes in the South China Sea. The two sides also cooperated on law enforcement on regional security in the Mekong River basin and further exchanged ideas on other hotspot issues.
Unfortunately, as protectionism and anti-globalization have not diminished today, the economies of many countries have been affected to varying degrees. Under these circumstances, China and ASEAN jointly shoulder the responsibility of promoting sustainable economic development, firmly opposing all forms of trade protectionism, and safeguard the multilateral trading system. Over the past 30 years, since the establishment of China-ASEAN dialogue relations, they have become the most successful model of Asia-Pacific regional cooperation. At the starting point of this new journey, they will inject stronger impetus to common prosperity in the Asia-Pacific region.
Luo Shengrong and Liang Jinrong are from the Institute of International Relations at Yunnan University.