Boosting rural cultural vitalization through languages
KANG ZHEWEN
|
2022-01-21
|
Hits:
(Chinese Social Sciences Today)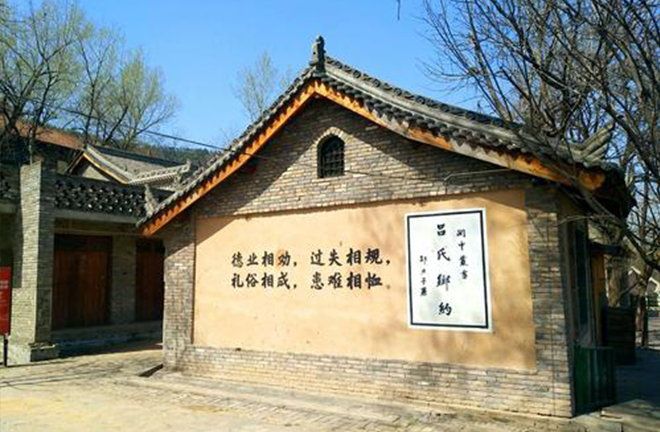 FILE PHOTO: The words stenciled on the wall are excepts from The Rural Code of Lyu Family, the earliest rural code with formally written text in Chinese history.
---
Language service denotes behaviors and activities that offer assistance to others with languages and words as the means. Language services targeting rural areas, therefore refers to assistance in language offered to farmers from rural areas that specifically helps satisfy their needs for production and living.
Language services offered
These services include, for example, exclusively provided training for rural citizens who do not have the ability to communicate in Mandarin smoothly, to improve their Mandarin speaking and formal writing competencies; language rehabilitation training for rural people with hearing and language impairments; and language services offered during natural disasters and other public emergencies.
Traditional rural culture in its various forms can be displayed through language products. For example, signage about language, the content of which involves family traditions, family disciplines, villagers' behavioral codes, and moral norms, can be regulated in a standardized way. The aim is to make signage easily understandable and acceptable to more rural citizens.
On one hand, social and cultural identities within villages have traditionally been strengthened by means of oral accounts, generation after generation. On the other hand, it is necessary to bring new life into cultural industries in rural villages through language technologies, language tools, translation, and other means. For example, multilingual brochures can be formulated using translation tools to publicize information about tour routes, distinctive food, folk handicrafts, agricultural, and animal products. These brochures can be further disseminated through new media channels.
Rural language resources can be regarded as a type of resource formed by interactions between the natural environment and the human environment within the specific scope of rural areas. With a variety of manifestations, such resources perform the function of cultural inheritance through the information they carry. For example, The Rural Code of Lyu Family formulated by the four brothers of the famous Lyu family of the Song Dynasty, from Lantian County, Shaanxi Province, was considered the earliest rural code with formally written text in Chinese history. The code was of pioneering significance for the emergence and development of primary-level communities throughout later generations.
Embodying enormous value and untapped potential, rural language resources should thus be treated with higher regard in terms of their protection and utilization. This can begin with greater efforts to protect those vulnerable rural language resources which are at risk. Scholars can conduct investigations and pilot studies on endangered dialects spoken by ethnic minorities, or make statistics and records of these languages with towns, villages, and rural communities as the basic units. The second way to protect this national treasure, is to expand the influence of rural language resources and improve their familiarity among the public by means of intangible cultural heritage communication, images and videos, live performance, and daily publicity themed activities. The next means, is to combine rural language resources with tourism and make these resources more interesting for visitors by using diversified linguistic forms—folk ballads, idioms, allegorical sayings, and riddles.
Finally, language education in rural areas should be tailored and adjusted to meet different demands of local conditions and particular groups of people. For the rural areas with a higher degree of modernization and rich tourism resources, foreign language training can be properly carried out, so as to broaden the ways that rural culture is spread.
Kang Zhewen is a post-doctorate from the Northwest Land and Resource Research Center at Shaanxi Normal University.