China's changing role in global governance innovation
LIU ZHENYE
|
2022-01-20
|
Hits:
(Chinese Social Sciences Today)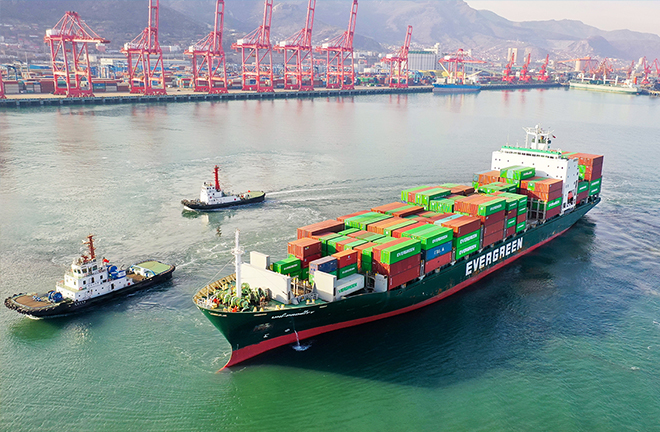 The port of Lianyungang in Jiangsu Province opens a new B&R route, Jan. 6, 2022. Photo: CFP
---
Global governance emerged as a vital issue in the global political arena after the end of the Cold War in 1991.
For China, before the reform and opening up, due to capitalist countries' policy of isolation and containment against socialist countries, China adopted the position of rejection or exclusion of governance affairs of international institutions. It was not until the reform and opening up that China gradually changed its stance to a cautious and comprehensive participation. Particularly during the 21st century, China's global governance practice has further deepened in many policy agenda fields. The adoption and signing of the Post 2015 Development Agenda and the Paris Agreement have realized the transformation of governance concepts initiated by China to leading solutions in global governance, and China's global governance practice has entered a new era of innovation.
Since the reform and opening up, China's global governance practice has demonstrated two features: cautious participation and comprehensive participation. China still cautiously examines the international political economic order led by the West. On the premise of actively safeguarding sovereign interests and political security, China began to fully participate in global governance, and even attempted to put forward governance initiatives and actively promote the governance process.
In global economics, in early 1980, China successively restored its lawful seats in the International Monetary Fund (IMF) and the World Bank Group. In 1994 and 1999, China provided $100 million special drawing right loans and $13.13 million special drawing right donations to the IMF, respectively.
In the field of environmental protection and climate change, in the 1980s, China took the initiative to join important international environmental protection treaties such as the World Conservatory Strategy. In the 1990s, 23 bilateral or trilateral environmental protection cooperation agreements were successively signed by China. China became the main supporter and promoter of, and among the first signatories to, the United Nations Framework Convention on Climate Change. China actively ratified and implemented the Kyoto Protocol.
When discussing control over weapons of mass destruction, China's position on nuclear non-proliferation adjusted and became cautious, with the restoration of China's lawful seat in the United Nations [in 1971]. In 1992, China officially acceded to the Treaty on the Non-Proliferation of Nuclear Weapons. In the field of UN peacekeeping, in 1988, China formally requested to join the United Nations Special Committee on Peacekeeping Operations. China has sent the largest number of peacekeepers among permanent members of the UN Security Council.
China's participation in global governance in this period can be summarized as active engagement and integration. As the largest developing country in the world, China has demonstrated the political vision, responsibility, and even the courage to innovate, since it stepped into the global governance arena.
Further examples include China's active participation in the negotiation of the Montreal Protocol on Substances that Deplete the Ozone Layer in 1987, and when China set the goal of completely eliminating ozone depleting substances by 2010 in 1994. After the outbreak of the Asian Financial Crisis, with a per capita GDP of less than $1000, China resolutely promised not to devalue the RMB to other countries in crisis, and provided assistance to countries in deep crisis, demonstrating its responsibility. Also in response to the Asian Financial Crisis, China, together with Japan and other Asian countries, jointly launched the Chiang Mai Initiative to establish a regional currency swap network, which was a vital step towards making up for the defects of the international financial governance mechanism. All these show China's courage of innovation in promoting the global governance development process.
Throughout the 21 century, China's global governance practice has gradually transformed from comprehensive participation to in-depth participation, actively promoting changes in governance related fields.
As the first developing country to formulate and implement a national plan to tackle climate change, China fulfilled its emission reduction obligations by means of independent emission reduction, and took the initiative to make credible commitments to the international community. President Xi Jinping announced at the 2014 G20 Brisbane Summit that China planned to peak carbon dioxide emissions around 2030. Advancing the field of UN peacekeeping forward, China's contribution to peacekeeping funds ranked second in the world as of 2016. China has taken the initiative to learn and adapt to the rules of international governance, and in 2010 fully fulfilled all the commitments it made when entering the World Trade Organization in 2001. To innovate reform of the international monetary system, China put forward a series of innovative proposals to encourage the IMF to shift more than 6% of its quota shares to dynamic emerging market economies and developing countries.
After signing the Post 2015 Development Agenda and the Paris Agreement, China's global governance practice entered a new era of innovation, facilitating greater change. China innovatively initiated the Belt and Road (B&R) initiative, which incorporates new South-South and North-South cooperation in the 21st century, and has become the major content of strategic matching and international development cooperation among major countries in practice. China has signed more than 200 B&R joint-construction agreements with 145 countries and 32 international organizations worldwide. In addition, China initiated the establishment of the Asian Infrastructure Investment Bank. As of October 2021, 147 projects have been approved, with a total investment of more than $28.97 billion, benefiting 31 members. The establishment of these new development cooperation mechanisms is of great significance for promoting a new round of industrialization in developing countries, and jointly steering the global economy toward greater openness, inclusiveness, balanced growth, and win-win outcomes for all.
The concept of "a community of shared future for mankind" and principle of "extensive consultation, joint contribution, and shared benefits" initiated by President Xi Jinping have earned increasing international recognition. In 2017, "building a community with a shared future for mankind" was written into a United Nations resolution for the first time. Meanwhile, in September, 2017, the principle of "extensive consultation, joint contribution and shared benefits" together with "a community of shared future for mankind" was written into the resolution adopted by the 71st United Nations General Assembly. This shows that China's global governance practice has reached the level of contributing wisdom and valuable concepts to global governance, which indicates that China's global governance practice has ushered in a new era of governance. China has become a promoter and shaper with more mature diplomacy, more confident strategy, and richer ideas in the international arena.
Liu Zhenye is a professor from the Globalization and Global Issues Institute at China University of Political Science and Law.