Analytical exploration of common prosperity
LI ZHE
|
2021-12-16
|
Hits:
(Chinese Social Sciences Today)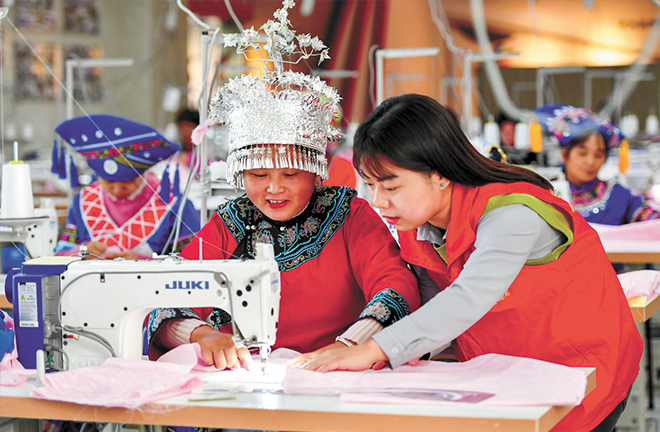 Residents are encouraged to hone their occupational skills to promote common prosperity, in Huzhou City, Zhejiang Province. Photo: CFP
---
Common prosperity has always been Chinese Communists' pursuit. Common prosperity is not only a goal in itself, but also the process with which to achieve this goal. In the process of socialist modernization, Chinese Communists have always followed the guidance of Marxism, uniting and leading the people to make unremitting efforts towards the goal of common prosperity. Realizing common prosperity is the essential requirement of the socialist system and a vital goal of socialist modernization.
Common prosperity is also a dynamic process of economic and social development. As an economic concept, prosperity is an important indicator to measure social wealth and living standards. China has become the world's second largest economy with a GDP of more than 100 trillion yuan today from 67.9 billion yuan in 1952, with historical developments in its composite national strength. However, common prosperity includes both prosperity and sharing. In order to realize the leap from prosperity to common prosperity, imbalanced and insufficient economic and social development in China should be addressed.
The pursuit of common prosperity should highlight both high-quality development and shared achievements in reform and development. In this process, a new development paradigm should be implemented, with the supply-side structural reform as the main task. The country should constantly optimize its industrial structure, innovate production, operation, and management modes for enterprises, build a sound business environment and provide more opportunities, encouraging competition and cooperation among diverse enterprises. The focus is to build a complete industrial system while promoting networking and intellectualization of production organization, enhancing brand influence and core competitiveness, shaping more innovation-driven development, and constantly meeting the personalized, diversified, and upgraded needs of the people. By accelerating the realization of high-level sci-tech self-reliance and self-improvement, continuously improving the contribution rate of sci-tech progress, enhancing the efficiency of various economic resources, and then continuously improving total factor productivity in society, China can inject lasting power into expanding resources and meet the people's growing needs for a better life.
The "pie" should be made bigger and divided better. We should deepen reform of the income distribution system and increase urban and rural residents' income through multiple channels. The inclusiveness of economic growth should be highlighted. Reasonably improving labor remunerations and its proportion within the primary distribution should be supported. It is advisable to promote the development of rural industries, allowing farmers to share more industrial value-added benefits. We will improve the redistribution system, focus on social fairness and justice, emphasize social responsibility, establish and improve assistance mechanisms for low-income groups and incentive mechanisms for high-income groups to give back to society, strive to improve the income levels of low-income people, expand the middle-income share, and gradually improve income levels and wealth accumulation levels for all. At the same time, we will promote the formation of a domestic demand pattern dominated by residents' consumption so as to achieve substantive progress in promoting common prosperity for everyone.
To realize common prosperity, both the advantages of the market economy and the socialist institution should be employed. Employing the market economy means using the law of the market to determine the allocation of resources, while further emancipating and developing social productive forces and solidly promoting common prosperity. The focus is to build a socialist market economic system, accelerate construction of a unified, open, and orderly market system with competition, realize smooth market access, openness, order, full competition and regulation, and promote the allocation of resources to maximize benefits and optimize efficiency. The key lies in properly handling the relationship between the government and the market, finding a better combination of efficient market and effective government , using market advantages in all areas, resolutely eliminating all systems and mechanisms that hinder equal exchanges and the two-way flow of economic factors, and connecting all links of production, distribution, circulation, and consumption. The new development paradigm of dual circulation, in which domestic and overseas markets reinforce each other with the domestic market as the mainstay, should be constructed quickly. Market entities should be cultivated with more creativity. It is advisable to effectively stimulate endogenous driving forces to achieve common prosperity and expand the social foundation of common prosperity.
People-centered philosophy
It is time to leverage the advantages of China's socialist system, by adhering to a people-centered development philosophy, to ensure and improve people's livelihoods. The focus is on balancing the development of high-quality compulsory education, promoting the balanced distribution of high-quality medical resources, continuously improving the living conditions of urban and rural residents, further improving the housing security system, vigorously developing the inclusive care service system, particularly elderly care services, and constantly working towards more inclusive and equal access to basic public services in urban and rural areas.
The crux lies in the exploration and establishment of an integrated urban-rural development paradigm with Chinese characteristics, effectively bridging the urban-rural regional gap, and realizing the people's all-round development and the common prosperity for everyone through joint efforts.
Li Zhe is a professor from the School of Marxism at Central China Normal University.
Edited by ZHAO YUAN