Cyberculture trends for high-quality development
YE LINGHAN
|
2021-11-11
|
Hits:
(Chinese Social Sciences Today)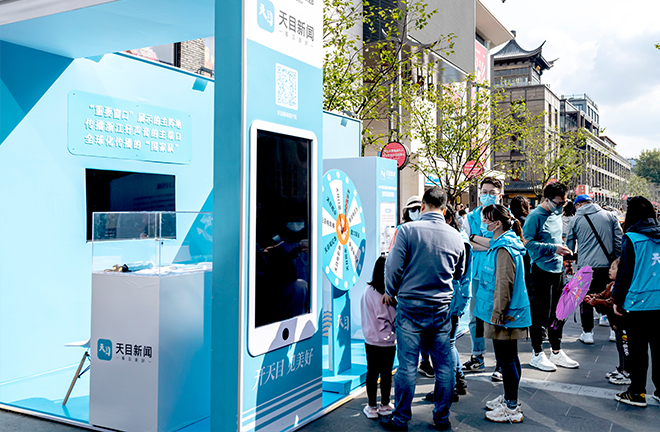 Visitors see exhibitions at the 2021 Zhejiang Cyberculture Festival in Hangzhou on Oct. 17. Photo: CFP
---
Chinese President Xi Jinping said at a symposium attended by experts and representatives from China's education, culture, health, and sports sectors on Sept. 22, 2020, that we should follow the development trend of digital industrialization and industrial digitization, develop new forms of business, transform and upgrade traditional cultural forms, and improve the quality, efficiency, and core competitiveness of the industry.
The Fifth Plenary Session of the 19th CPC Central Committee also clearly proposed to implement a digital strategy for the cultural industry and accelerate the development of new cultural enterprises, new businesses, and new cultural consumption models.
At present, the integration of the cultural industry and the internet is on the rise, giving birth to new forms and models of internet-based cultural enterprises and a large number of cultural products represented by online games, online music, online literature, online videos, and online live broadcasts.
The online cultural industry, riding on the deep integration of information technology, digital technology, and cultural creativity, provides people with intellectual and cultural products and services in digital form that cover online games, online music, online literature, online videos, livestreaming, digital learning, digital publishing, digital libraries, and digital art.
Under the impact of the 2020 coronavirus outbreak, the online economy and stay-at-home economy have seen explosive growth; so has cyberculture. According to the 47th Chinese Statistical Report on Internet Development by the China Internet Network Information Center, by the end of 2020, the number of online game users in China reached 518 million, accounting for 52.4% of total internet users. In 2020, the actual sales revenue of the game market reached 278.687 billion yuan, among which the market share of mobile games was as high as 75.24%, with a year-on-year growth of 32.61%.
The number of online music users reached 658 million, accounting for 66.6% of total internet users. The number of online literature users reached 460 million, accounting for 46.5% of total internet users. The willingness of users to pay has significantly increased, and the respect for authors' creation rights and copyrights has continuously improved.
The number of online video users (including short videos) reached 927 million, accounting for 93.7% of total internet users. The content quality of online video programs has been further improved. The number of livestreaming users reached 617 million, accounting for 62.4% of total internet users. In particular, the livestreaming industry represented by e-commerce livestreaming has achieved vigorous development.
According to data released by the National Bureau of Statistics, in 2020, 16 subcategories with obvious features of new forms of cyberculture, such as digital publishing, animation, games, digital content services, and network entertainment platforms, generated operating revenue of 3.1425 trillion yuan, an increase of 22.1% over the previous year.
With the in-depth application of new-generation information technologies such as big data, cloud computing, 5G, and artificial intelligence in the field of cultural industry, the platform and environment for the development of cyberculture are further optimized.
As a new form of business that deeply integrates culture and technology, cyberculture plays an important role in promoting the transformation and upgrading of traditional cultural industries through networking and digitalization, and has become a new engine for high-quality economic development in China. However, it should also be noted that there are still a series of problems in the sector that need to be addressed in a timely manner.
First, the supply of fine online cultural products is insufficient. At present, the scale of China's online cultural products is huge with a wide variety and a fast growth rate. However, online cultural products that are good or excellent are far from enough. To promote the creative transformation and development of fine traditional Chinese culture, we need to invigorate it with the spirit of the times.
Specifically, online cultural products that embody Chinese excellent traditional culture and reflect people's intellectual and cultural needs in the new era are in shortage. Simple imitation, homogeneity, and vulgarization lead to the oversupply of low quality online cultural products and inadequate supply of high-quality ones, which is an urgent issue to resolve.
Second, internationally competitive backbone enterprises are lacking. Most of China's online cultural enterprises are small and medium-sized ones, with only a few having global influence and international competitiveness. Different from other industries, the development of cyberculture requires internet thinking and cultural thinking.
An enterprise with high cultural value and characteristics needs a long time for accumulation and precipitation. The reality is that many online cultural enterprises excessively pursue "eye-catching" and "watercooler" moments for temporary benefits, which only brings about a brief spree of technology and capital, which is not conducive to the building of a brand and the improvement of innovation, nor the long-term development of the enterprise.
Third, there is a large gap of interdisciplinary talents. The high-quality development of the online cultural industry is inseparable from interdisciplinary high-level talents who are equipped with knowledge, creativity, and management skills. They also need a broad international vision and forward-looking thinking, so as to create high-tech content and high value-added cultural products for enterprises.
However, except for first-tier cities such as Beijing, Shanghai, Guangzhou, and Shenzhen, online cultural enterprises in most areas of China can hardly find these talents, which makes it difficult to provide sufficient intellectual support for the innovation of online cultural products and content creation.
Finally, some research suggests that the online cultural industry is haunted by issues such as data counterfeiting, infringement of intellectual property rights, private servers external infringement, blackmail crime, unfair trade, unfair competition, theft, and violation of cultural ethics, posing a serious threat to the ecological construction and sustainable development of the industry.
In particular, online livestreaming and online videos are intermingled with good and bad content. Some have problems such as ethics anomia and violating laws, and are even filled with many foreign decadent ideologies.
In the new era, the people's demand for a better life is stronger than ever, and culture plays an important role in meeting that ever-growing need. The high-quality development of the online cultural industry is closely related to the needs of people's better life. It is necessary to conform to the development trend of digital industrialization and industrial digitalization, and constantly improve digitalization, networking, and intelligent development of the cultural industry. At the same time, we should incorporate cultural values and promote creative transformation and development of fine traditional Chinese culture.
That said, improving the quality of online cultural products is a must. We should adhere to a people-centered creative approach, develop advanced socialist culture, apply internet thinking and modern scientific and technological means, to integrate traditional Chinese cultural factors into relevant products and services, and cultivate a number of original internet IP addresses with distinctive Chinese cultural characteristics. We should follow the trend of upgrading consumer spending, increase digital consumption of online music, online games, online literature, and online live broadcasts, to create new cultural consumption scenarios and online cultural products that can both meet people's cultural needs and uplift their spirit.
The leading and exemplary role of backbone enterprises should not be underestimated. We can actively promote the merger and reorganization of online cultural enterprises, speed up the cultivation of large enterprises with international competitiveness, constantly expand the scale of the online cultural industry, and create more online cultural brands with wide influence.
In the end, leading backbone enterprises drive the development of small and medium-sized online culture enterprises, to realize the coordinated development of key enterprises and upstream and downstream supporting enterprises, and build a sustainable ecological chain and value chain for the online cultural industry, so as to promote high-quality development of the online cultural industry.
In the meantime, to meet the rapid development of the online cultural industry for compound high-level talents, medium and long-term plans should be made to enhance talent training. An integrated talent cultivation system that involves the government, enterprises, colleges, and universities should be established. Among them, the role of higher education should be highlighted. At the same time, it is necessary to take note of foreign policies that are designed to attract talent in the industry and improve the policy environment for talent in China, in order to enlarge the talent pool and introduce excellent talents from around the world.
Finally, we should further strengthen the management of the online cultural industry. While internet platforms take major responsibility, we should strengthen the collaborative governance of law enforcement departments, social organizations, industry associations, and other subjects, and improve the governance efficiency of the online cultural industry.
On the basis of strictly implementing the existing national laws and regulations and industry rules, we will constantly improve internet legislation and industry management policies for the livestreaming industry, online game industry, and online publishing industry. Relevant systems and management methods should be constantly adjusted and improved to provide institutional guarantees for the governance of the industry chaos and order anomaly. An effective IP protection system will also help promote the sustainable and innovative development of the online cultural industry.
Ye Linghan is from the School of Economics at Fujian Normal University.