Common prosperity entails sound public services
HU ZHIPING and SHENG YAOTIAN
|
2021-09-30
|
Hits:
(Chinese Social Sciences Today)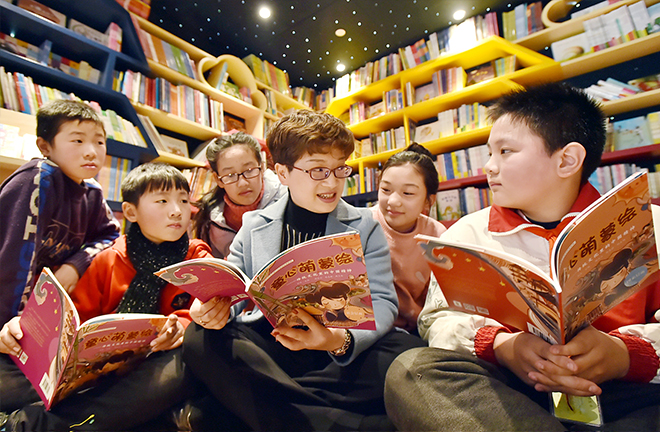 Liu Jia (Center), a professor from Yangzhou University, reads a picture book with children of migrant workers at a bookstore in Yangzhou, east China's Jiangsu Province. Improving human capital through public services is essential to promoting common prosperity. Photo: CFP
---
In the 10th meeting of the Central Committee for Financial and Economic Affairs on Aug. 17, China's top leadership stressed that common prosperity is the prosperity of all the people, both materially and spiritually. It is neither for a small minority, nor is it the pursuit of absolute egalitarianism, they added.
To promote common prosperity, it is crucial to improve public services, which will boost economic growth, facilitate income distribution, and contribute to people's good life.
Economic development is the premise and foundation to attain common prosperity. Modern economic growth relies heavily on human capital, and public services have a direct bearing on the quality of that human capital.
First, public services can raise the level of human capital, optimizing the human capital structure and increasing labor productivity. In doing so, economic restructuring will be advanced to accelerate growth.
Moreover, public services can enhance the efficiency of human capital allocation and invigorate innovation to drive economic development. Enterprises are main players in innovation. The equalization of access to basic public services will motivate more talent to flow to and gather in enterprises, thus unleashing the potential of innovation to spur economic development.
Second, public services can unblock the consumption mechanism of the domestic circulation. Consumption is foundational to the domestic circulation, and the growth of consumption largely results from income growth.
Consumption depends not only on incomes, but also the marginal propensity to consume (MPC), the proportion of an aggregate raise in pay that a consumer spends on the consumption of goods and services, as opposed to saving it. If people shoulder heavy burdens of education, healthcare, and elderly care, and face much pressure in future spending, they will be forced to "crowd out" the consumption on other commodities and services, leading the MPC to decline.
On the contrary, increasing spending in such public services as education, healthcare, and elderly care will make residents more secure about the future, decrease their precautionary savings, and enhance the MPC, causing "crowd-in effects" on their consumption.
In the pursuit of common prosperity amid high-quality development, the overriding concern should be to entrench the fundamental force driving modern economic growth, that is, to create high-quality human capital. According to the Statistical Communiqué on National Education Development in 2019, the gross enrollment rate of higher education was 51.6% that year.
Currently, half of the relevant-age population still has no access to higher education, highlighting the inadequate accumulation of high-quality human capital in the nation.
Upgrading human capital necessitates the supply of high-quality public services, which calls for the supply-side structural reform of related services. First, main service providers should be diversified to exert the advantages of the market and social forces, guide social capital to public services, and quicken the construction of public facilities, so as to enhance the capacity and efficiency of service supply.
Efforts are also needed to restructure government spending, to shift the focus from growth-oriented infrastructure to public services concerning education, healthcare, and culture that can improve human capital. In addition, the administration of public services should be reformed to make service supply more efficient. Given the significance of the balance between supply and demand, the mechanism for demand expression should be improved, and social organizations and big data technology should be leveraged to accurately capture service demands, so as to turn the fragmented administrative structure into a lean one.
The 10th meeting of the Central Committee for Financial and Economic Affairs underscored the need to make fundamental institutional arrangements for primary distribution, redistribution, and tertiary distribution, and intensify regulatory measures such as taxation, social security, and transfer payments. For the sake of common prosperity, public services play a critical role in adjusting income distribution.
First, equalizing access to public services can strengthen the public's ability to participate in primary distribution. Primary distribution is based on market competition. The human capital of laborers is vital in market competition and the basic factor for their participation in primary distribution. Many migrant workers have a low level of human capital, so their competitiveness in the primary round of distribution is weak. In addition to the edge of capital in labor-capital relations, the gap between labor and capital in primary distribution is wide. Providing equal access to public services can boost farmers' and migrant workers' ability to engage in market competition and further in primary distribution, therefore readjusting their income levels.
For a long time, the preference of fiscal expenditures to cities has resulted in a big gap between urban and rural areas in public services. As rural areas are characterized by low accumulation of human capital and weak competitiveness in primary distribution, rural residents and migrant workers are burdened with spending on public services due to low disposable incomes. Service equalization can cut rural residents' spending on public services and raise their real disposable incomes, so that the income gap between urban and rural areas will be narrower.
Moreover, regional disparities in economic development have caused differences in financial resources and the supply of public services, as well as in human capital. Bridging regional gaps naturally necessitates the equalization of access to basic public services, which also matters to urban-rural integration and coordinated regional development.
Income gaps are major challenges to China's push for common prosperity. Only by narrowing them can the motive for common prosperity be stimulated. First there are gaps between urban and rural areas. Pertinent surveys show that urban-rural gaps in some regions are further widening, for which the unequal supply of public services is to blame. To narrow urban-rural gaps, it is essential to make basic public services equally accessible, break the traditional urban-rural dual system, and scale up input in public services in rural areas.
As the aforementioned meeting emphasized, common prosperity is the prosperity of all the people, not that of some regions. Bridging gaps between regions and coordinating regional development are the path that must be taken to attain common prosperity. Imbalanced regional economic growth highlights the need for more transfer payment efforts in underdeveloped areas. It is particularly important to raise the proportion of general transfer payments that are oriented towards the equalization of access to basic public services, thereby narrowing regional gaps in financial resources and redistributing incomes.
Gaps between groups are likewise significant. In reality, groups from different types of organizations enjoy different public services, a situation consequently obstructing labor flow and inhibiting the vitality for innovation. Comprehensively equalizing access to basic public services can promote social mobility and narrow gaps between groups.
A good life not only indicates material abundance, but also spiritual wealth. This raises high requirements for the intellectual life of citizens including education and culture. High-quality supply of public services in these fields can better meet people's ever-growing need for spiritual and cultural life, so public services are crucial to people's good life. In modern society, public services can assure the public of the sense of gain, fairness, happiness, and security.
First of all, public services are essential to human survival. In the face of such life challenges as childbearing, childrearing, unemployment, aging, and disease, public services can provide all social members with basic guarantees, representing a sense of security that assures people of the rights to education, employment, medical and old-age care, and housing.
Furthermore, public services can bolster individual development. Equalizing access to public services offers social members rights and opportunities of equal-footed participation and equitable development, smooth channels for upward mobility, and enhance the sense of fairness and happiness.
According to the Seventh National Population Census, the domestic migrant population has continued to grow in China. Due to barriers hindering them from being registered as urban residents, some public services are inaccessible to migrants as compared to the registered urban population, which weakens the effect of public services in improving residents' sense of fairness and gain and helping them live a good life.
To solve this problem, attention should first be paid to upgrading public services. Traditionally, the growth of human capital relies on compulsory education. With high-quality economic development and improvement of human capital, the focus should be shifted to the supply of higher education services to lift people's education levels. From living needs to development needs, the level and quality of public services, covering education, medical care, culture, and sports, should be elevated as well, in order to fulfill requirements of common prosperity in the process of high-quality development.
Also it is necessary to standardize public services. Standards to ensure the quality of public services are indispensable. Optimizing resource allocation, regulating service procedures, and improving service quality by standards is the only way to satisfy people's ever-growing needs for high-quality public services, and substantively enhance their sense of gain, happiness, and security, so that common prosperity will bear the implication of quality standards.
Last but not least, targeted supply of public services is key to raising public satisfaction. New technologies like artificial intelligence and big data can be utilized to accurately identify weaknesses and peoples' specific needs in the equalization of access to public services, thus making service supply more intelligent and allocation more efficient.
Hu Zhiping and Sheng Yaotian are from the School of Political Science and Public Administration at East China University of Political Science and Law.