Dissemination of the epic Gesar requires multiple approaches
CHEN BOHAN
|
2021-07-08
|
Hits:
(Chinese Social Sciences Today)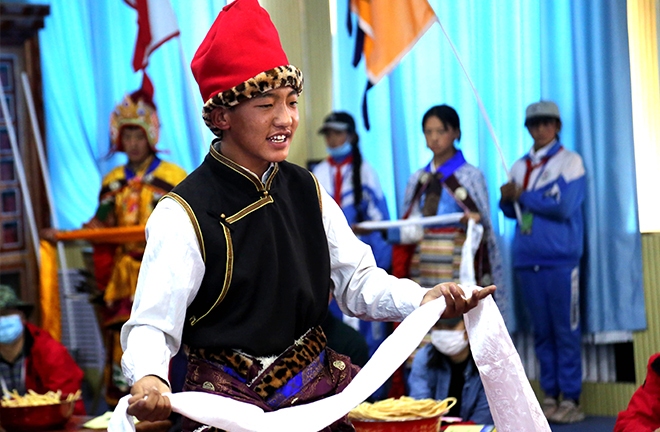 A Tibetan student from a primary school in Qinghai Province sings about the epic Gesar. Photo: Zhang Tianfu/CNSphoto
---
Collectively created by Tibetan people, Gesar is a great heroic epic. Particularly emotive, it is one of the three most honored Chinese epics. It was included into the National Intangible Cultural Heritage List in 2006 and added to the Representative List of the Intangible Cultural Heritage of Humanity by UNESCO three years later. With rich content and enormous volumes, it has been handed down till today among Tibetan, Mongolian, Tus, Yughur, Nakhi, Pumi and other ethnic groups. Gesar is not only disseminated in Tibet, Inner Mongolia, Xinjiang Uygur autonomous regions and Qinghai, Gansu, Sichuan, and Yunnan provinces, but also in Nepal, Bhutan, India, Pakistan, Mongolia, and Russia's Kalmykia and Buryatiya. It can be said that the epic is widely spread in cross-border, cross-regional, cross-ethnic and cross-cultural ways. Providing rich nourishment for the thriving the Chinese nation, it contributes a splendid chapter to global civilization.
Generally speaking, the epic of Gesar is disseminated in two basic ways: one is through oral narration and retellings in local cultural spaces; the other is through records and preservation in written texts. The former involves many art forms such as music and singing, and is the main way in which Gesar is handed down till today. With the rapid development of information technology, the dissemination of Gesar has now ushered in new opportunities.
The first is modern film technology, which is applicable for displaying magnificent, grand images of Gesar. Based on the narrative texts, modern technology can choose different scenes and adopt means such as 3D, 4D, giant-screen movies, circular-screen movies, and holographic imaging. The real-scene shooting and optical illusions are combined for viewing effects in which truth and fantasy are blended. For the legend of Gesar, this is almost a tailor-made means of presentation. There are numerous films and TV series on historical topics in China, but those about King Gesar are still rare, which is unfortunate for inheriting and carrying forward refined traditional Chinese culture.
More opportunities to advance Gesar exist in the clever use of acoustic-optic and electronic technology to provide viewers with immersive experiences, so that more people can truly tap into Chinese epic culture. Today, sophisticated modern technological means have already altered traditional concepts, which were confined to museum displays. The old pattern of pictures coupled a text description, hanging on the walls of an exhibition, can no longer satisfy people's growing need for real experience. Acoustic-optic and electronic technology enables people to participate in historical narratives in a real way so that their immersive perception and sensory feel is heightened. For example, through a virtual racetrack, spectators can race with "King Gesar" to experience the thrill of the throne contest. Meanwhile, the virtual figure of King Gesar can be created and the digital figure can be connected with the real world to create dialogues between the two spaces of the virtual and the real.
Cultural and tourism projects are also suggested to fully tap historical resources about King Gesar. As the central tourism area of Gesar culture, the Ganzi County of Ganzi Tibetan Autonomous Prefecture possesses over 120 cultural ruins and remains related to Gesar. To better inherit and protect these sites, the King Gesar City, which costs 0.63 billion RMB, began its operation in September 2019 under the guidance and support from the local government. This lays a foundation to extensively disseminate Gesar's epic culture. Equipped with cultural experience zones and museums, the King Gesar City is a cultural compound worthy of its reputation.
To promote the ethnic culture through technological means is of great significance for stronger recognition of a unified national identity. But technological means are not enough, and the following points also warrant attention.
Textual translation should be conducted with support from national major research programs. Despite the importance of modern technology, epic texts will always be foundational. Original texts, passed down within folk communities, together with subsequently collated oral or sung texts gathered by folklorists, are prolific. Mostly manuscripts in languages spoken by ethnic minorities, these texts tend to embody different views toward the nation and the history as time evolves. Therefore, authoritative Chinese-language versions of Gesar which hold unified political and historical views are in urgent demand.
Cultural identity is the most fundamental. The epic of Gesar is embedded deep in the minds of Tibetan compatriots and stems from their reverence for King Gesar, as they consider the king the essence of justice and wisdom. This tradition forges the great national spirit, with patriotism as the core. Therefore, to publicize the image of King Gesar, as a signal of Chinese culture shared by all ethnic groups, is of great value for contemporary dissemination of the great work's epic culture.
Chen Bohan is an assistant research fellow from the Institute of Ethnic Literature at the Chinese Academy of Social Sciences.