Ore resource protection boosts green, low-carbon transition
WU QIAOSHENG and CHENG JINHUA
|
2021-07-01
|
Hits:
(Chinese Social Sciences Today)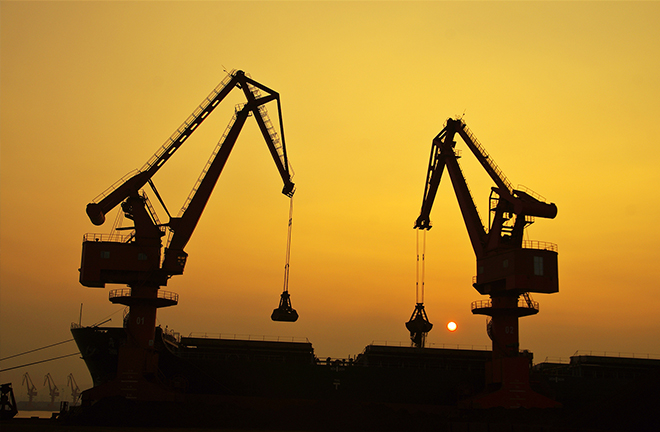 A cargo ship loading iron ore in the ore terminal of Rizhao City, Shandong Province Photo: CFP
---
As an important material basis for energy transformation, strategic ore resources are the key support for developing the low-carbon new energy industry. In the transformation from fossil energy to renewable energy, the new generation of green and low-carbon resource technology revolution inventions such as batteries, robotics, and AI systems, heavily rely on strategic ore resources including lithium, cobalt, and rare earths. The future supply security of strategic ore resources is crucial for China to achieve its two low-carbon targets of peaking its national carbon emissions by 2030 and achieving carbon neutrality by 2060.
In recent years, China has vigorously promoted the construction of an ecological civilization, incorporated decreases in carbon dioxide emissions per unit of GDP as a binding indicator in national and local development plans, and made progress by adopting measures such as industrial restructuring, energy mix optimization, energy conservation and efficiency improvement, promoting carbon market construction, and increasing carbon sinks. By the end of 2019, China's carbon intensity decreased by about 48.1% as compared with levels from 2005, which exceeded the target of a 40% to 45% reduction in 2020, as promised to the international community. Non-fossil fuel energy accounted for 15.3% of China's total energy consumption, rising by 7.9 percentage points from 2005. In 2018, China's forest area and forest volume increased by 45.09 million hectares and 5.104 billion cubic meters respectively from 2005, making China the country with the largest increase in forest resources in the world over that period of time.
However, it should be noted that China, as a big consumer of fossil energy such as coal and oil, is facing problems of high environmental pollution emissions and greenhouse gas emissions, which share the same origins. It proved difficult to solve these problems using only "end-of-pipe" treatment. Only by an in-depth adjustment of industrial and energy structures, land use structure, and transport structure can China realize the synergy between economic development, energy transformation, environmental quality improvement, and tackling climate change. The transformation from a major fossil energy consumer to a major country in green and low carbon development is not only an international responsibility, but also meets China's own sustainable development needs, and the people's needs for a better life. The two low-carbon targets proposed by China precisely indicate the necessity to take a coordinated path of green and low-carbon recovery and high-quality development for the current and future economy. It is of profound significance for China to find green and low-carbon ways to shape its long-term core competitiveness, to lead the revolution in the global energy economy, as well as to seek a high-end position in the global value chain.
The world today is undergoing "profound changes unseen in a century." Competition for strategic ore resources in the international market has become increasingly intricate both at global and domestic levels, and strategic ore resources' security faces many complex risks and uncertainties. International conflicts are increasingly characterized by geography, politics, and economics which are closely tied to natural resources, potentially destabilizing the supply of strategic ore resources. Global sustainable development and energy transformation have contributed to rapidly rising global concerns about the scarcity of such resources, which in turn has led to security concerns about supply guarantees and reasonable pricing. Moreover, China has entered a new stage of ecological progress as environmental and ecological restrictions on resource development are tightening, and the development of domestic ore resources are shrinking, building pressure on resource supplies.
First, to hit peak emissions before 2030 and carbon neutrality by 2060, we need to ensure a consistent mineral resource supply in a coordinated and strategic way, take an active part in transforming global mineral products and environmental governance systems, and push China's society and economy towards a greener low-carbon future. The world economy has entered an era led by value chains, when all economies have either joined in or established a value chain based on their own factor endowments and their choices regarding technologies and industries. International division of labor has developed from producing finished products on their own, to the vertical division of labor based on production factors. About 70% of international trade today involves global value chains. There are synergy loops in various fields among global economies. The massive market requires us to develop our own industrial chain and supply chain, instead of simply embedding ourselves to the value chains led by developed countries who are at the higher end.
For that to happen, we need to start with two emission goals as we seek strategic, high-quality development in the mineral industry and the energy industry. Specifically, we need to unblock all of the industry's domestic channels, including mineral exploration, mining, smelting, processing, utilization, recycling, and restoration. This will allow us to better guarantee our mineral products supply, and drive the transformation of China's economic structure, industrial structure, and energy mix through the strategic development and use of mineral products.
China's enormous market should also play a bigger role in stimulating innovation. More efforts should be made to encourage major innovations, independent research, and development. We should continue to explore the application value and range for the strategic use of mineral resources in helping the country realize its two low-carbon goals. We should also extend our industrial value chain, put resources into effective and integrated utilization, and increase the resilience of our supply chain.
What is more, China should fully leverage both the international and domestic markets, and their respective resources. We should actively take part in the transformation of the global ore industry and environmental governance system, while comprehensively improving the global capability to utilize ore resources. We need to cement our partnership with countries along the Belt and Road in terms of mineral acquisition, trade, deep processing, and division of labor. In particular, we need to stabilize the ore supply chain and industry chain. We need to continuously enhance our pivotal position and actively fit ourselves into the global value chain and aim for the mid to high end, and drive the global energy transition and green development.
Second, we need to bring in industrial policies to innovate and manage the entire industry chain. Guaranteeing strategic mineral resources must go beyond the scope of market supply aimed at quantity, scale, and cost. In fact, the global energy transformation is driving the issue into the geopolitical realm of the industrial economy and strategic interactions among major countries. Uncertainties have increased.
Countries' strategic moves in the resource market have developed into industrial policies. The goal of improving industrial policies is to ensure the industrial chain's safety and competitive edge, while channeling greater government support for the market. Industrial policies not only reflect relationships between the government and the market, but also direct technological innovation. Industrial policies help complete circulation between technological research and development, and market applications. Policies also influence the country's economic efficiency, international trade, and the world economy, while helping industries gather an invisible strength to compete globally.
Therefore, we need to establish a technological, industrial, and policy support system that covers the entire industry, including mineral exploration, mining, smelting, processing, utilization, recycling, restoration, and the market. Meanwhile, we need to improve the industry's strategy for maintaining rights and interests, mineral exploration, technological research and development, utilization, protection, international trade, and exportation. We also need to reconstruct the country's policy system for resource safety, improve the resource production chain, innovative resource trade and cooperation mechanisms, channel the consumption of resources, and build an ore reserve mechanism.
Third, the supply chain and industrial chain should be aligned for an energy transition, and strategic mineral resources need investment from green finance to provide financial support for the two low-carbon goals. The international energy and minerals markets have long adopted the US dollar as their settlement currency, leading to a strong correlation between the US dollar's index and resource prices. Consequently, maintaining the stability of strategic mineral supply chains and industrial chains is very costly. Innovation in green finance and policy instruments will be applied to improve renewable energy's market position, increase producers' and consumers' preferences for low-carbon raw materials and products, systematically reduce the cost of an energy transition, and promote further cohesion and extension of the strategic mineral industry chain into an energy transition.
It is necessary to create cost-effective opportunities for synergies between the energy transition and strategic mineral security, which enable conditions for green premiums. Carbon emission standards should be incorporated alongside traditional cost and service quality standards so that carbon emissions can be reduced or eliminated from the entire value chain, including from the perspective of its suppliers, as well as its full-life cycle.
It is essential to advance a comprehensive framework for the financial development of energy resources, including policy objectives, key areas and institutional mechanisms, with a focus on enhancing the capacity for raising capital and low-carbon development of the mining industry (including strategic mineral resources) and increasing the overall interest of the investment market in mining and energy transitions. In addition, the strategic mineral resources industry chain should be made more international and competitive. Capital market systems for trading carbon emission rights and mining rights should be promoted. Policy incentives coordinated with the green and low-carbon energy transition should be developed and facilitated through policy compliance and regulatory enforcement.
Wu Qiaosheng is from the School of Economics and Management at China University of Geosciences, and Cheng Jinhua is from China University of Geosciences.
Edited by WENG RONG