China steadfast in committing to balanced ecology
WANG DAQIAN, LI QINGSI
|
2021-06-24
|
Hits:
(Chinese Social Sciences Today)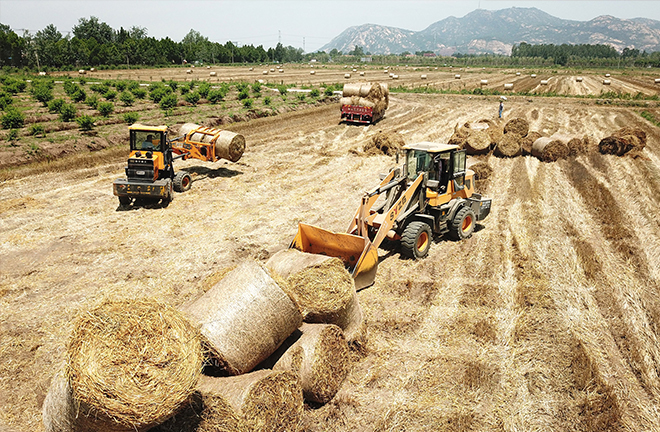 Hay bales on the farmland which will be utilized for resource conservancy and ecological protection. Photo: Geng Yuhe/CNSphoto
---
In his speech delivered at the Leaders Summit on Climate on April 22 this year, Chinese President Xi Jinping pointed out that the international community needs to come up with unprecedented ambition and action. We need to act with a sense of responsibility and unity, and work together to foster a community of life for man and nature, said Xi.
Putting forward the Chinese solution to global environmental governance, the concept of a community of life for man and nature clearly directs a cooperative path for countries to tackle environmental challenges and build a clean and beautiful world.
Advancing global environmental governance has become an important premise and common bond for countries in realizing sustainable development. However, impacted by multiple factors, the cooperation process and governance effect has been limited.
Structural contradictions come first, as serious imbalance exists between developed countries and developing countries regarding shouldering responsibility and resource allocation. Though advantageous in capital and technology, developed countries lack initiative to participate in global environmental governance, evading their due historical responsibility while asking developing countries to shoulder excessive obligations beyond their own capabilities.
To relieve developing countries' dual burdens in economic and environmental sectors, global environmental governance mechanisms require developed countries to offer aid to developing countries by utilizing their own advantages. But developed countries set stern additional terms for this aid, and have made aiding mechanisms into tools for profit gaining.
Some Western developed countries also brush aside and override the role of international environmental protection organizations and treaties coming with them. Up to now, the international community has set up a series of environmental protection organizations and formulated dozens of treaties and agreements that are beneficial to the global environment. However, the binding effects of organizations and treaties are disregarded by some developed countries, which set barriers on the course of global environmental governance cooperation.
The core concept of a community of life for man and nature is the harmonious coexistence of man and nature, which advocates for the international community to reexamine and understand relationships between man and nature. The concept also embodies rich political, economic, meanings and values. In conserving their own cultural values, countries should respect each other's development modes and social systems, expanding consensus and lessening disputes in the global environmental governance process. The ultimate goal is to gradually form pluralistic and interactive behavioral standards.
Since the 18th National Congress of the Communist Party of China (CPC), China has made remarkable, globally celebrated, achievements in the environmental governance sector. Especially the proposal of a community of life for man and nature has provided guiding principles for other countries to share experiences that China has accumulated. Guided by this concept, each country can choose the mode that fits their environmental governance needs based on their own national conditions.
The path toward building a community of life for man and nature includes the three aspects described below.
Unity and cooperation are becoming inevitable. Since the capabilities of human activity gradually transcend national boundaries, as modern science and technology develop, no country can live alone and remain detached from environmental challenges. In addition, China should provide strong guarantees for deepening international cooperation. In September, 2020, Chinese President Xi Jinping announced in the 75th Session of the United Nations General Assembly that China aims to have CO2 emissions peak before 2030 and achieve carbon neutrality before 2060.
The next aspect is advancing global environmental governance in a scientific and systematic way. Through advocating for multilateralism, which addresses structural imbalances, different governance subjects can draw complementary advantages from each other. The structural imbalances between developed countries and developing countries, for a long time, hindered the effects of global environmental governance. Therefore, one way for the international community to address this problem is to improve the global environmental governance system and coordinate differences between interests and resource allocation by systematically enhancing each country's comprehensive governance capabilities, and the other way is to urge developed countries to take developing countries' rational concerns into consideration while accomplishing their own governance goals. In particular, developed countries should offer necessary aid and guidance to developing countries by leveraging advantages in capital and technology.
In addition, global environmental governance mechanisms should be made more binding, and governance systems should be directed in a more rational and justifiable way by deepening the consensus on "common but differentiated responsibility." The effect of international treaties such as the Kyoto Protocol and the Paris Agreement needs also to be made more binding. Moreover, it is necessary to formulate a feasible and practical responsibility allocation system to break monopoly patterns dominated by developed countries in environmental governance systems.
Wang Daqian and Li Qingsi are respectively from the School of International Relations and National Academy of Development and Strategy at Renmin University of China.