New youth group powers socioeconomic development
LI CHUNLING et al.
|
2021-06-10
|
Hits:
(Chinese Social Sciences Today)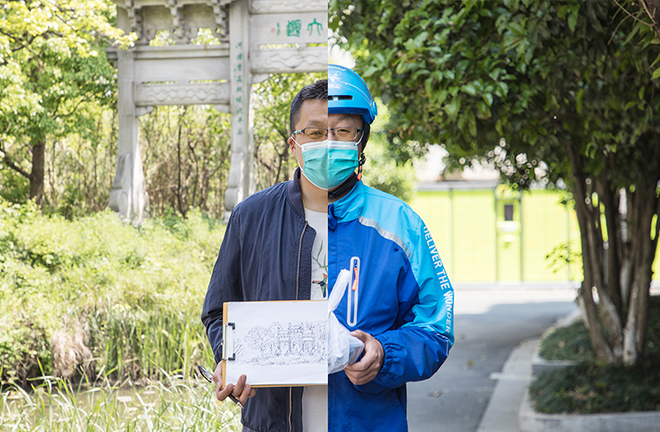 Food deliveryman Chen Jian poses for a camera in Hangzhou, east China's Zhejiang Province on April. 15, 2020. Chen is a millennial career juggler or "slash worker," who is a designer, painter, calligrapher, and delivery driver. Photo: CFP
---
The young people's actions are often the most direct reflection of a nation's socioeconomic changes. In recent years, with the transformation of China's economic structure and increasing diversity in social life, a new youth group is emerging, who displays distinctive characteristics in employment preferences, value orientations, and lifestyles when compared to their peers and the older generation.
Employer-free and platform-based employment is much sought after as internet technology advances and mass consumption upgrades. The new labor relationship features individualization, flexibility, part-time employment, and entrepreneurial workers. All contain the new youth group's multi-value orientation, which highlights the pursuit of different professional experiences for money, fun, passion or their personal values.
The emergence and expansion of this new youth group is an inevitable result of the internet's continuous development and the rapidly growing platform or "gig" economy. The rise of the internet has enriched working opportunities, triggering a wave of new platform-based knowledge and service startups with a flexible work schedule that attracts young people.
The internet breaks down temporal and spatial limitations to provide a borderless working environment, making it possible for young talent to become "crossover employees," who break into new industries outside their original areas of expertise. Internet platforms extend the physical world and extensively pool talent, relationships, knowledge and resources around the world to form a real-time sharing hub. People do not need to be "present" thus "absentee workers" can also participate, encouraging the cross-border flow of information and people. Self-employment has become increasingly popular among youth, as consumption upgrades bring about careers such as network broadcasters, live streamers, and WeMedia content producers.
In addition, internet platforms' decentralized nature promotes the development of a skilled, knowledge-based, and creative gig economy, offering new career options for young workers. These young people pursue autonomy, and flexible, instant payments, while "decentralized" internet platforms weaken hierarchical structures and often offer flexible contracts, which precisely meet workers' demands. As a result, both sides jointly promote flexible employment opportunities with a high degree of freedom. For example, young people can rely on online platforms to provide various life services to make a living, such as food delivery, ride-hailing, and more.
Finally, the new knowledge economy has inspired the rise of paid knowledge and skill sharing, which also opens a broad market for young workers. The free retrieval and extraction of internet knowledge, changing knowledge production, and the omni-directional and barrier-free flow of big data provides favorable conditions for young people to get involved in multiple fields and tap into different consumer demands. The new youth group often masters one or more knowledge-based skills that they can cash in on, such as writing, painting, editing short videos, and so forth. They can complete the production, distribution, exchange, and use of knowledge on the internet, and eventually turn this knowledge into cultural products and services that the public wants to pay for.
Diverse value orientations
In modern society, the emergence of this new youth group is a symbol of individualization and subjective values. The traditional, monotonous, and rigid working style is clearly unable to meet the growing material and cultural needs of contemporary youth, who crave independence and individuality.
When young people graduate from school and enter the labor market, their values and lifestyles become more open, and their learning channels and methods become more diverse. Compared with young people in other fields, those in emerging fields have fewer opportunities to interact with mainstream culture after entering society, so their ideology is more open-minded. Lifelong learning encourages many young people to develop a variety of transferrable skills that can be monetized. When a certain career cannot bring sustained motivation and vitality, they will embark on a new career path with little hesitance.
The new youth group rarely works a traditional nine-to-five day, and their various forms of employment don't fit into a standard career planning, they often work as freelancers, engage in side-work outside of their main jobs, or become career jugglers. Their career choices prioritize feedback and satisfaction.
Interest-driven employment
With the development of China's market economy, the new youth group, as a new social force, emerges amid profound social and economic structural changes. In recent years, a large number of new business forms and industries have emerged in China. High-tech industries, high-end service industries, and the digital economy have been developing at an accelerated pace, spawning a variety of informal employment, temporary employment, flexible employment, hourly labor, digital nomad work and other forms of employment.
While diversifying employment, emerging businesses have seen a significant increase in employment mobility, increased opportunities for two-way choices between enterprises and workers, greatly reduced workers' dependence on enterprises, and enhanced worker independence.
From the perspective of occupation and employment, young people engaged in emerging businesses can be divided into three categories.
First, young people who mainly rely on internet platforms to create cultural content and provide online cultural services, such as new media practitioners, network webcasters, online writers, and e-sports practitioners.
Second, young people who are active in offline culture, independent of traditional cultural and art institutions, and adopt flexible organizational methods to carry out literary and artistic creation and services. For example, independent filmmakers, independent theater workers, independent musicians, freelance artists, inheritors of intangible cultural heritage/handicraft artisans, and street artists.
The third category is comprised of young people who focus on new forms of the service industry. For example, young people who rely on online platforms to provide life services, such as online deliverymen, car-hailing drivers, and also young people who mainly provide offline life services, such as licensed caretakers, vets, and storage specialists.
Passions are the main motivators for the new youth group as they choose their current line of work. According to the Beijing Youth League Committee's 2020 "New Youth Group Survey," about 80% of the new youth are passionate about their work, and 38% of them choose their current job solely out of interest, whereas only 10.8% choose their current job simply to make a living. Therefore, they have a high degree of job satisfaction, 74% of the surveyed youth are satisfied with their current jobs.
Compared with the group employed in traditional occupations, the new youth group shows more prominent characteristics of career differentiation and part-time work. The career development of the new youth group presents a steep pyramid shape, with a small number occupying high-salary, highly stable careers at the top, while the majority of workers are at the bottom, earning relatively low salaries and doing unstable jobs.
Instead of making a living entirely from their jobs in emerging businesses, many young adults have to take part-time jobs to earn other sources of income. About 27% of the new youth take part-time jobs, becoming the so-called "slash generation," a term coined by Marci Alboher in her book One Person/Multiple Careers: A New Model for Work Life Success in 2007, which refers to people who hold multiple jobs.
Interest-driven and part-time jobs lead to high mobility for the new youth group. They often move frequently between different industries and regions. In addition, their employment changes from the traditional form of fixed contracts into flexible contracts, which in turn accelerates the frequency of occupational mobility.
The main source of income for the new youth group is content production and technical output, so their dependence on the market is high, making them vulnerable to external shocks. Since the outbreak of COVID-19, the new youth group's employment has been severely affected. According to the survey, 57% of this group said that the epidemic had a great impact on their employment, while only 15% percent said that they were not or were hardly affected.
In addition, most of the new youth work outside the system and are not dependent on any organization. Some 18.4% of the new youth have not signed any contracts or have only signed "freelance" contracts, and nearly 10% of them have no social security or commercial insurance.
Employer-free and platform-based employment in emerging fields sometimes comes with an unstable economic situation and a lack of social security, leaving the new youth to face a high risk of unemployment. Some 30% of the new youth believe they could lose their jobs in the next six months. The majority of these young people, who live in megacities such as Beijing, are not homeowners, with 70% not owning their own homes and paying high portions of their income in rent.
At the same time, many youth are also faced with career development anxiety, worrying about the sustainability of their careers, with a lack of vocational skills training, and an unclear career development path.
The new youth group has now caught the attention of decision makers, and their career development struggles are also noted by relevant government departments and institutions. Needless to say, the support of the government, especially through a variety of efforts implemented by youth league organizations at all levels, provides a more favorable economic and social environment for the new youth group's professional development. We hope to see this group play a bigger role in the new economy, with new jobs, new culture, new values, and new lifestyles.
The authors are from the Institute of Sociology at the Chinese Academy of Social Sciences.