China's Kerosene market from 1863 to 1937
CHANG XU
|
2021-05-27
|
Hits:
(Chinese Social Sciences Today)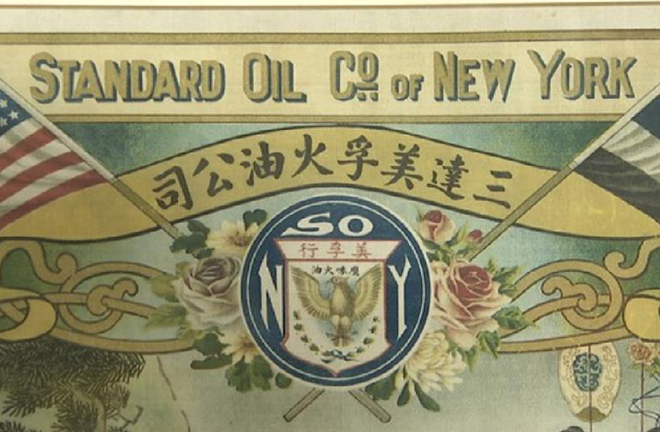 FILE PHOTO: Logo of the Standard Oil Company of New York, the predecessor of ExxonMobil
---
China is among the earliest nations to have discovered and exploited petroleum. However, its techniques in oil exploitation were primitive before the modern era.
Since the 1870s, yangwu pai (Qing government officials who advocated for China's Self-Strengthening Movement from 1861 to 1895) tried but failed to develop oilfields in Miaoli County of Taiwan Province; Yanchang County of Shaanxi Province; and Dushanzi District of Xinjiang Province.
Since the Revolution of 1911, famous Chinese statesman Sun Yat-sen wrote in The International Development of China that "China is known to be a very rich oil-bearing country. Oil springs are found in the provinces of Szechuen, Kansu, Sinkiang, and Shensi [sic] ... But the already known oil springs have never been worked and made use of, while the import of kerosene, gasoline, and crude oil from abroad is increasing every year."
The majority of the oil consumed in modern China can be divided into four categories: kerosene oil, lubricating oil, gasoline, and liquid fuel. Kerosene was also nicknamed yangyou, meaning foreign oil. It was mainly used for lighting, and was widely used in both urban areas and remote, rural places in China.
Chinese people in the early days mostly used vegetable oil to fuel their oil lamps. In 1863, 2,100 US gallons (about 7,949.4 liters) of kerosene was imported into China specially for the illumination of the concessions. Following that, kerosene's import volume shot up from 23 million US gallons in 1886 to 100 million US gallons in 1893.
A business report for Zhenjiang City, Jiangsu Province from 1882 to 1883 noted that in 1882, kerosene had become widely used in a fairly large area around treaty ports, and cheap kerosene oil lamps could be found in all villages, where kerosene oil lamps had enabled factories, students, shoemakers, grinders, tailors, carpenters and other laborers to work at night. One by one, kerosene had penetrated treaty ports, coastal cities, inland urban and rural areas. Kerosene had become a necessity for both production and daily life for all walks of life in China.
The economic and political privileges that the Qing government granted Western powers after the Opium Wars of 1839 to 1842 and 1856 to 1860 were not the only reason for China's skyrocketing kerosene import. Cheap as it was, kerosene was able to produce a clearer and brighter flame, while being cheaper than vegetable oil or candles. Also, the supply of vegetable oil was not stable due to harvest fluctuations, since oil crops may be consumed rather than pressed into oil in bad harvest seasons. What's more, at that time kerosene lamps could be attained freely or made cheaply. To promote kerosene in China's inland regions, Standard Oil designed glass kerosene lamps that were given to kerosene buyers for free. Observing these simple prototypes, Chinese people also began to produce homemade kerosene lamps.
While reducing costs, changes in the ways kerosene was transported and sold in China also resulted in the transformation of the kerosene trade landscape. Before the 1890s, kerosene was packaged in boxes, each containing two 5-gallon cans of kerosene. The products were then shipped to China's ports by steamers, and unloaded in warehouses, waiting to be sold. Thus, kerosene was shipped in smaller freight volumes with higher storage costs, shipping costs, and delivery costs.
In 1894, the Royal Dutch Shell brought three million gallons of kerosene to Shanghai in bulk, which marked the beginning of kerosene's export to China in bulk cargo. The kerosene was shipped to treaty ports in bulk, where it would be poured into an oil pool for storage, and later transported to other locations in oil tank trucks or by railway. A transport system gradually took shape, linking seaways, waterways, and railways. What's more, manufacturers for wooden oil containers and tin plates were built near the oil pool, making it more convenient for tinning and transportation.
This new method of transportation and sales of kerosene were both backed by the tax and managerial preferential policies issued by China's Imperial Maritime Customs Service. Local bureaucrats enacted regulations for managing guanzhan, i.e. bonded warehouses. It was stipulated that kerosene stored in a guanzhan should be charged with export tax once it leaves the warehouse, whereas kerosene stored in a non-guanzhan warehouse should be taxed for import duty once it arrived in the warehouse. In this way a guanzhan resembles a modern bonded zone.
Competitively priced and able to generate bright light, kerosene eventually gained a solid foothold in the Chinese market.
Standard Oil, the predecessor of ExxonMobil, was the first oil company to have entered China, and the American company monopolized the early kerosene market in China until Russia joined the race in 1888. According to classified statistics released by customs the following year, all but two ports (Beihai and Mengzi) saw kerosene imported from Russia. This shows how quickly Russia had made it into China's kerosene market. Sumatra and Borneo entered the market in 1893 and 1901 respectively, while Myanmar (Burma) started exporting kerosene to China in 1904.
Although American oil monopolized the early market, Russian and Sumatran kerosene rapidly attained a high degree of market penetration due to lower pricing, prompting the US to lower its price slightly when Russian kerosene first entered the market. American kerosene was marginally cheaper than its Russian counterpart in 1894, but soon resumed its earlier pricing model. 1901 and 1902 witnessed the fiercest competition between Sumatran and Russian oil, when Sumatra oil was on average 0.25 and 0.27 haikwan tael per gallon cheaper than the Russia oil, respectively.
American kerosene brands such as Devoe's Brilliant and Warden, were much finer than Russia's Anchor and Sumatra's Crown. Russian kerosene varied in quality, for instance, some contained too much sulphur and corroded the cans, so it could not be stored for too long. Consequently, after fleeting glory, Russian oil soon found that its market share was taken back by its American competitors. In some treaty ports, Russian oil was even canned in American oil tins to disguise its origin.
Sumatra offered slightly better quality kerosene with a lower price than Russia. Kerosene from Russia and Sumatra were mostly sold where price mattered more than quality in cities and villages beyond the ports. A trade report released by Hankow Customs in 1914 graded all the oil used in China, and observed that Sumatran oil and Standard oil were most favored for their reasonable price and quality.
In the modern era, the three most important oil companies in China's kerosene market were Standard Oil, Texaco, and the Asiatic Petroleum Company (APC), which is a British-Dutch joint venture. Standard Oil was the oldest and largest of these companies, while Texaco was the smallest and newest to the Chinese market.
In the beginning, all three operated in China with the help of foreign firms. At the end of the 19th century, they decided to establish foreign firms for themselves, and starting promoting their products with compradors. In the early 20th century, these three companies began establishing subsidiaries so as to take direct control over sales and distribution.
The nationwide sales network established and spread by Standard Oil, Texaco, and APC completely monopolized China's import and sales market.
Standard Oil tapped the market in inland and rural China by setting up oil lamp factories in China and giving out barn lanterns, table lamps, and lampshades for free. APC captured the market with big discounts. When Chinese people boycotted American goods in 1905, APC used the opportunity to increase its market share by lowering the price. When Texaco first entered the Chinese market, the other two companies united against the latecomer with price dumping. It took Texaco nearly two years to gain a foothold in China by dramatically lowering the price and launching advertisement campaigns all over China's print media, as well as distributing ad materials, calendars, and souvenirs for free.
Besides price wars, the giants also fought in hidden wars, where they battled over franchisers and big customers, and bribed their competitors' employees. Competition among the three giants was extreme, until they realized it was in their interests to share the market by working together to elbow out other smaller oil companies. They even agreed on their market shares in each district for each year. For instance, over the years, for Standard Oil, APC, and Texaco, the average share for their sales in north China stood consistently at about 40%, 25%, and 35% respectively. The companies also worked out specific measures to sustain this ratio. They continued to fight side by side to undermine other competitors.
China imported 263 million gallons of kerosene in 1928, up by a mere 11.4% when compared to the 236 million gallons in 1911, when kerosene import volume reached its peak before the First World War. This indicated that kerosene import during this period had largely stabilized. Meanwhile, since the three major oil companies spared no effort to maximize their sales in China, the final outcome reflected modern China's kerosene market at its largest size.
China's kerosene imports started to drop after the 1930s, which was largely due to increased oil prices after the Great Depression in 1929. During this crisis, China's currency, which was on the silver standard at the time, devaluated, causing oil imports to slide further. As a result, in China's vast urban regions, kerosene lost its price advantage over vegetable oil. In addition, electric lamps were invented and put into wider use, while the discovery of internal combustion engines also made gasoline more useful than kerosene. All of these combined to prevent kerosene trade from resuming its past glory.
Yangyou (foreign kerosene) was officially obsolete after the founding of the People's Republic of China, but made-in-China kerosene remained an important illumination method until the reform and opening up. Long gone were the days when foreign oil lit up innumerable households across China, but the word yangyou has stayed as a remembrance of the past.
Chang Xu is an assistant research fellow from the Institute of the Economics at the Chinese Academy of Social Sciences.