Industrial development vital to China's victory against poverty
YE JINGZHONG and PAN LU
|
2021-05-20
|
Hits:
(Chinese Social Sciences Today)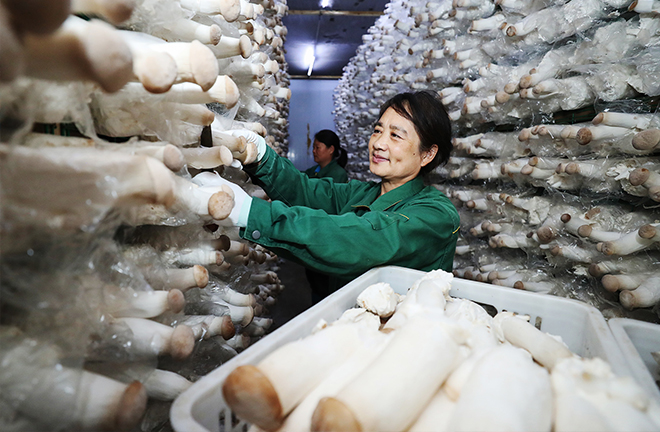 Farmers pick king oyster mushrooms at an edible fungi industrial park in Hexi Village, Heilin County, Lianyungang City, east China's Jiangsu Province, in August 2020. Photo: CFP
---
As the CPC is about to celebrate its centenary in 2021, China has accomplished its poverty alleviation target for the new era as scheduled, eradicating extreme poverty and regional poverty. Nearly 100 million impoverished people were lifted out of poverty over the past eight years. Among various targeted poverty alleviation measures, supporting the development of local industries, or industrial poverty alleviation, is fundamental to the nation's victory in the fight against poverty.
History of industrial poverty alleviation
From the PRC's founding in 1949 to 1978, poverty alleviation focused on dispensing relief funds and providing infrastructure construction job opportunities to help poor people address difficulties in production and life. Relief-based poverty alleviation played a big role in guaranteeing the basic livelihoods of poor people at that time, but it failed to fundamentally reduce poverty.
In the mid-1980s, China formulated a framework to relieve poverty through the development of productive forces, laying the institutional foundation for industry-backed poverty alleviation. Within the 21st century, the importance of industrial poverty alleviation and its poverty reduction effects have become increasingly prominent.
The 2011 government document Outline of Poverty Alleviation and Development in Rural Areas in China (2011-2020) included industrial poverty alleviation as one of the seven major measures to combat poverty. In 2015 and 2018, respectively, the CPC Central Committee and the State Council released the Decision on Winning the Battle against Extreme Poverty and the Guidelines on the Three-Year Action Plan to Win the Battle against Extreme Poverty, both of which regard industrial development as a major channel and long-term policy to steadily lift impoverished people out of poverty.
Statistics from the Chinese Ministry of Agricultural and Rural Affairs show that by the end of 2019, 92% of poverty-stricken households across China participated in industrial development, and 67% of those who have overcome poverty raised their incomes through local industries.
Since the 18th CPC National Congress, a more focused implementation of the national targeted poverty alleviation strategy has led to increases in the breadth, depth, and accuracy of industrial poverty alleviation. First, a wider range of industries have been involved in poverty alleviation, covering all categories in the primary, secondary, and tertiary sectors. Meanwhile, new businesses favorable to poverty alleviation have sprung up, such as agritourism, rural tourism, and resource-intensive industries like photovoltaics, which result from harnessing natural resources in impoverished areas.
Second, industrial chains have been extended. Industrial poverty alleviation emphasizes full-chain development featuring integration of the primary, secondary, and tertiary industries, providing guidance and socialized services for industrial development in the process of industrial development, and thereafter, building production and processing bases and expanding market channels through e-commerce and consumption.
Moreover, targets for related industries have been more accurate. While consolidating regional economic development, industrial poverty alleviation places greater focus on whether or not impoverished households benefited in a targeted fashion. Some poor counties and poor villages (where conditions permit) have established bases for leading industries and characteristic industries, garnering widespread participation of poor people who are able and willing to work.
In addition, industry's organizational systems have become more complete. While facilitating the self-growth of the poor, industrial poverty alleviation optimizes interest-binding mechanisms marked by the interactive development of new agricultural businesses and impoverished households, driving development for individuals through processes such as joint stock partnership and product order support.
Industrial poverty alleviation is an important innovation in the socialist system with Chinese characteristics and a significant outcome of Chinese anti-poverty theories. Based on the history of China's fight against poverty, industrial poverty alleviation can be defined in both a broad and narrow sense.
Broadly speaking, industrial poverty alleviation refers to reducing poverty by means of industrial development. This is a long-term practice of alleviating poverty through economic growth within the market mechanism, and it has been implemented since reform and opening up.
However, more than four decades later, many poverty governance objects in the critical stage are impoverished groups that were incapable of getting rid of poverty in the market economy. This requires the government to intervene and redress the market mechanism, thereby enabling impoverished groups to engage in the market economy and benefit from it. Therefore, industrial poverty alleviation, in the narrow sense, is an organizational and institutional arrangement. It means to establish interest-binding relationships between industrial organizations and the poor through government interventions in the market, in order to involve poor people in all links of industrialization and industrial chains.
From an operational perspective, industrial poverty alleviation contains two dimensions: developing, improving, consolidating, and upgrading industries to boost the overall economic growth of poverty-stricken areas; and integrating the poor in different links of the industrial chain through institutional design to accurately direct market dividends of industrial development towards poor groups. The first dimension can promote regional development which indirectly benefits the poor, whereas the second dimension encourages poor people to participate in industrial development and can create immediate benefits.
Industrial poverty alleviation with Chinese characteristics is committed to regulating market entities through policy interventions and institutional leverage, to attain the goal of shared development. It represents the government's social regulation of industrial development, and institutionalized social responsibility requirements for market entities. Thus industrial poverty alleviation can hardly be evaluated in light of cost-benefit mechanisms, but should be understood on the basis of poverty reduction theories and institutional innovations with Chinese characteristics.
In addition, industrial poverty alleviation with Chinese characteristics is an indispensable organic part of national development and the overall socioeconomic development of a region. It not only allows impoverished households to develop industries that they operate, but also guides industries to reduce poverty through institutional and policy design. Hence it is essential to interpret industrial poverty alleviation by considering the economy, society, as well as poverty alleviation and regional comprehensive development.
In practice, industrial poverty alleviation should solve two key issues: developing industries, and encouraging poor people to participate, which can be boiled down to organizational models of industrial poverty alleviation and forms of poor people's participation. Regarding these two issues, many innovative actions have been taken, with valuable experience accumulated for industrial poverty alleviation.
Organizational models of industrial poverty alleviation are the outcome of developing industry by combining poverty alleviation and socioeconomic development strategies from different regions. Based on impoverished household characteristics, industrial types, and market structures, a multi-dimensional organizational system, which closely binds impoverished people, has taken shape and generated remarkable effects in reducing poverty.
Individually, closely-knitted interest mechanisms have effectively ensured that impoverished households can increase their incomes and eliminate poverty, while different organizational models can help them gain access to industrial development.
On a community level, industrial poverty alleviation stresses the establishment and consolidation of a collective economy for poor villages, thus advancing the development of village-level collective economic organizations, and improving the provision of public services in villages.
Regionally, by upgrading industrial infrastructure and nurturing industries with distinctive local features and advantages, industrial poverty alleviation has fueled integration of the primary, secondary, and tertiary industries, thus spurring regional economic growth.
According to different types and features of poverty, industrial poverty alleviation has realized the full participation of China's impoverished population. In essence, poor people have participated in three forms of poverty alleviation industries. First, they become operational subjects in the market economy through technical and capital support, capacity building, and organizational guidance. Next, they become industrial workers through employment. In the third form, they become shareholders earning asset proceeds by investing in land or poverty alleviation funds.
Building a sustainable, long-term mechanism for industrial poverty alleviation is vital to cementing and extending the achievements of poverty alleviation. The development stage of industrial poverty alleviation varies regionally. Areas of extreme poverty and western regions which started poverty alleviation work late have a weaker foundation, but all regions are exploring practices for building a long-term industrial poverty alleviation mechanism.
These explorations in practice include: consolidating interest-binding mechanisms in industrial development; solidifying mechanisms for farmers to enhance their industrial development capacities; improving risk prevention and supervision mechanisms; and exploring effective mechanisms to transition from industrial poverty alleviation to industrial prosperity.
Following the accomplishment of the poverty alleviation target, the No.1 Central Document of 2021 urged efforts to continue consolidating previous outcomes and increasing industrial support to transition to rural vitalization in areas that have overcome poverty.
In the transition stage from poverty alleviation to rural vitalization, efforts should be made in three aspects to entrench industrial poverty alleviation, and leverage the positive benefits of an "effective market," an "active government" and an "organic society" in modern rural industrial systems.
In terms of the market mechanism, it is essential to improve the industrial structure and develop diverse rural industries suited to the low-income population. Market opportunities from rural industrial transformation should be utilized to extend industrial chains and absorb different types of rural populations, in order to foster industrial prosperity in rural areas.
As to the administrative mechanism, attention should be paid to optimizing the institutional environment for industrial development, providing more public services in the construction of the socialized service system, cultivating rural talent teams, and building regional public brands, thereby promoting lasting industrial development.
When it comes to the social mechanism, primary-level organizational and social construction should be strengthened to make low-income groups in rural areas more connected. Diversified social governance innovation is essential to remove barriers hindering low-income people from participating in socioeconomic development, to enhance their sense of gains in industrial development and the endogenous power of rural vitalization.
Ye Jingzhong and Pan Lu are professors from the College of Humanities and Development Studies at China Agricultural University.