Global digital governance: Challenges and China's role
MA SHUZHONG, HE GE and GUO JIWEN
|
2021-04-29
|
Hits:
(Chinese Social Sciences Today)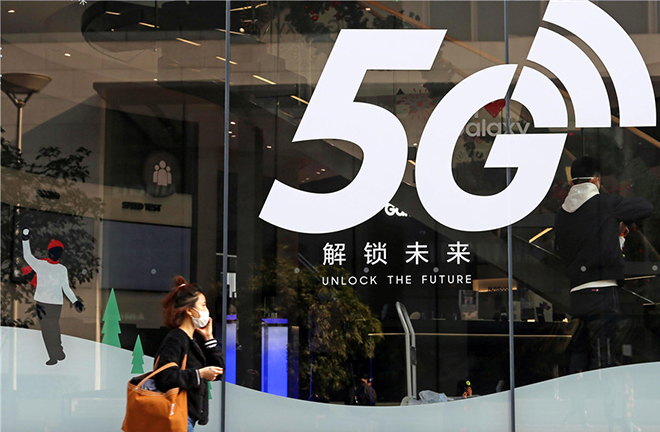 A woman walks past a sign promoting 5G services in Shanghai. Building digital infrastructure in developing nations will help bridge the global digital divide. Photo: CHINA DAILY
---
The digital economy's development has reshaped our global economic landscape, exerting great impact on the international political and economic system, and bringing profound changes to such spheres as technology, trade, finance, and security.
Digital technology governance
With the implementation of digital economic activities, global wealth has grown rapidly, but developmental inequality has become more severe. Developing countries have lagged far behind developed nations in the construction of digital infrastructure, the use of digital technology, and the acquisition, processing, and creation of digital resources, leading to an expansive digital divide across the globe. At the same time, the COVID-19 pandemic has dealt huge blows to economies all over the world, further aggravating the global digital divide.
At our present stage, the reality of the digital gap and the degree of its impact are different from the past, posing new challenges worldwide. On the one hand, the divide in access has gradually shifted from quantity to quality. Vertically, some developing countries have indeed improved their digital infrastructure and grasped the low end of digital technologies. Horizontally, however, great qualitative leaps have been achieved in developed nations as they continuously upgrade broadband technology, the second generation of the internet, and cloud computing. Their blockade on core technologies and the monopoly of international standards has stalled the development of digital technologies in developing countries, continuing to widen the quality gap.
On the other hand, gaps in use and capacity are increasingly evident. Digital technologies have been updating and iterating at a faster speed, yet citizens of developing nations fall far behind those from developed countries in terms of the breadth and depth of digital technology use, due to lower levels of education and the lack of digital skills training. Moreover, with the acceleration of digitalization in production and life, their abilities to acquire, process, and create digital resources are truly inadequate.
Regarding digital technology governance, China should continue advancing the construction of the Digital Silk Road, working to lift the level of digital infrastructure in developing countries while expanding overseas investments. Digital technology aid and preferential loans can be provided to help developing countries improve their digital infrastructure, thereby narrowing the access gap.
Also it is necessary to increase the supply of digital education resources and public goods to share China's experience in digital economy development. China can take the lead and forge a global public service platform on digital educational resources, in order to upgrade the digital fluency of people from developing countries, and make up for gaps in basic education and digital training by providing digital services, such as online courses and training.
The boom of digital trade has spawned growing governance demands, but rules for the field are up in the air. Currently, the World Trade Organization hasn't yet formulated multilateral agreements to regulate digital trade, leaving a vast legal vacuum. In addition, existing rules mostly tilt towards developed nations, failing to represent the interests of the majority of developing countries, including China. Inequality and imbalance are serious.
Due to the lack of multilateral digital trade agreements, many regional trade agreements have incorporated articles related to e-commerce, which has however exacerbated the fragmentation of global digital trade governance.
Although global governance in digital trade has picked up speed in recent years, big problems remain. For one, views on key issues are quite divided between developed and developing countries. Given differences in the development of digital technology and trade, the two blocs have divergent interest appeals, making it rather difficult to reach consensuses on many key issues.
Overall, developed economies pay more attention to creating an open digital trade environment, advocating for the free flow of cross-border data and valuing intellectual property protection and technological innovation. Meanwhile, developing countries attach more importance to enhancing e-commerce facilitation and their own developmental needs. They take cyber security and national security seriously, and are skeptical about opening up the internet.
Within developing nations, many issues have a lack of consensus. In negotiations over digital trade rules, these nations should be theoretically similar in development levels and digital trade stages, as well as propositions and appeals, but because of flawed governance systems, and insufficient communication and coordination, the voices of developing nations are scarce and scattered, so it is hard for them to form synergy and raise their voices in a negotiation. Consequently, developed countries have long occupied the dominant position.
As a representative of developing nations, China should seek common ground while shelving differences in digital trade negotiations, to properly handle conflicts and disputes with developed economies from the West, and safeguard interests of the majority of developing countries. Also it is crucial to strengthen communication with developing countries through regional cooperative mechanisms, such as the Belt and Road initiative and the Shanghai Cooperation Organization, to explore their common appeals, thereby building consensuses for digital trade negotiations.
Digital finance governance
Thriving digital finance has innovated financial products, while improving service quality and efficiency. Meanwhile, it has changed finance's operational mechanism, created new technological and operational risks, and might even trigger systemic financial crises. However, the traditional financial regulatory system can hardly adapt to the current situation of digital financial trade, which is breaking away from intermediaries and being decentralized. Neither can it circumvent various risks facing scattered digital financial markets. Therefore, tightening up digital financial regulation has become a significant global issue.
Since no international organization has established a set of mature and effective international regulatory rules targeting digital finance, many problems loom large in cross-border regulation. First, regulatory standards for digital finance vary greatly from country to country. Basically, developed nations are managing digital finance stringently, while some other countries are taking loose measures. Due to different regulatory attitudes between countries around the world, countries which hold service objects cannot ban overseas trading platforms that engage in cross-border digital finance illegally within its borders, through bilateral or multilateral cooperation. It is difficult to crack down on cross-border regulatory arbitrage, and cross risk infection is likely in the whole financial system.
What's more, unified multilateral regulations for digital finance are missing. Many cross-border digital finance businesses have service subjects in one country, yet registration, operation, and service objects in another. As there are no multilateral regulatory agreements like the Basel Accord, and the regulatory stance of such businesses should be bound up with multilateral cooperative agreements, the affixation of liabilities for violations has become extremely complicated. The jurisdiction question is grim in cross-border digital finance businesses, seriously affecting the efficiency of international financial regulation.
In this regard, China should step up international cooperation in digital finance regulation. Efforts can be made to intensify evaluation and risk monitoring of global financial science and technology development through international organizations like the World Bank and the International Monetary Foundation, to help solve regulatory arbitrage issues in cross-border digital finance. It is also essential to set up a mechanism for regulatory cooperation and information sharing, thus coordinating the regulatory requirements of participating nations to enhance the consistency of regulatory standards.
Digital security governance
The development of digital trade has challenged traditional international trade rules. On the core issue of cross-border data flow, different interest appeals between countries have never been reconciled, and the international digital security regulatory framework lags behind practices. Even today when international agreements are well-developed and international conventions are common, it is impractical to pass a universal convention for digital security governance. In this context, digital conflicts between countries have been building, making it hard to sustain the stability of international digital security.
In reality, the digital security governance situation is not so satisfactory. First, extraterritorial law enforcement on cross-border data flow is troublesome. Generally a country's digital security regulatory body ought to execute its power within the country's sovereignty. It has no extraterritorial regulatory permission. Thus if legal issues arise in cross-border data flow, there will be disputes and uncertainties concerning the extraterritorial force of domestic laws, the selection of conflict law, and overseas execution. All countries will have difficulties in reasonably and effectively regulating illegal cross-border data acts, increasing data security problems.
Additionally, difficulties abound in building a data governance system to fit the entire world. Negotiations over building the system might be very time consuming and incur huge costs. Several, and even a dozen years, are not enough to reach a consensus. Besides, each country has its own value orientation and interest appeals in terms of data governance, so it is difficult to build a unified system that satisfies all. Under such circumstances, every country governs data based on their own interests, which can easily cause friction and threaten global data security.
To promote global digital security governance, China should try to encourage countries around the world to recognize each other's data governance regulations and integrate pertinent models. Currently, typical models include the EU model, which is regionally based and built on the principle of assessing the adequacy of protection levels, and the APEC model, which is grounded on organizations and counts upon their self-regulation. The two models have functioned for a long time, and met the requirement for mutual recognition and integration. Advancing institutional integration between the two models can facilitate regional coordination of data flow regulations, and hopefully contribute to shaping global cross-border data regulation standards.
Ma Shuzhong, He Ge, and Guo Jiwen are from China Digital Trade Research Institute at Zhejiang University.