Hainan free trade port ushers in new opening up
ZHAO JINPING
|
2021-02-25
(Chinese Social Sciences Today)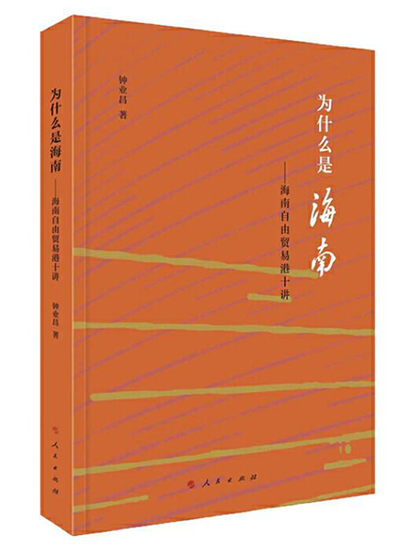 The Construction of Hainan Free Trade Port
---
On June 1, 2020, the State Council issued an overall plan for construction of the Hainan free trade port (FTP), making it the world's largest FTP in acreage and the unique one in China. According to the plan, Hainan was to build a FTP policy system that prioritizes the freedom and facilitation of trade and investment by 2025. It should be built into a new platform for an open economy by 2035. By the mid-21st century, a high-level FTP with strong international influence would be fully developed.
In the new journey of socialist modernization with Chinese characteristics, the Hainan FTP serves as a banner leading China's opening up, and shoulders the historical task of building an open gateway.
Written by Zhong Yechang, president of the Hainan Federation of Humanities and Social Sciences Circles, The Construction of Hainan Free Trade Port first analyzes global situations, domestic opening up trends, and features inherent in Hainan's development. Based on this, Zhong deeply analyzes the core principles and scientific connotations of the plan from ten angles: historical backgrounds, major significances, thorough planning, clear orientations, development goals, institutional priorities, institutional support, institutional guarantees, task arrangements, as well as organization and implementation. The author responds to the reasons for, the specific requirements for, and the construction methods for the Hainan FTP.
The book remains true to the historical timeline and historical responsibilities of the Hainan FTP. It covers remote offshore islands and the construction of a new platform for opening up. Then it moves from the front lines of national defense to building a major gateway opening to the Pacific and the Indian oceans, and finnaly from the country's largest special economic zone to the world's largest FTP.
The author summarizes the development history of Hainan over the past 70 years, as well as the history of Hainan's reform and opening up and the establishment of a provincial special economic zone for over 30 years. Hainan, a unique geographical region, has always played a leading role in China's reform and opening up, shouldering significant historical responsibilities and national strategy missions. Actually, Hainan prospers due to the reform and opening up.
The author proposed for the first time the concept of "port opening in Hainan," arguing that this event, which is taking place in an era of progress towards the Chinese nation's great rejuvenation, is fundamentally different from the "port opening in Qiongzhou," which took place in the mid-19th century when China's gate was forced to open by Western powers.
Zhao Jinping is the former director of the Research Department of Foreign Economic Relations at the Development Research Center of the State Council.
Edited by YANG LANLAN