Changing society, everlasting Chinese New Year
REN GUANHONG
|
2021-02-18
(Chinese Social Sciences Today)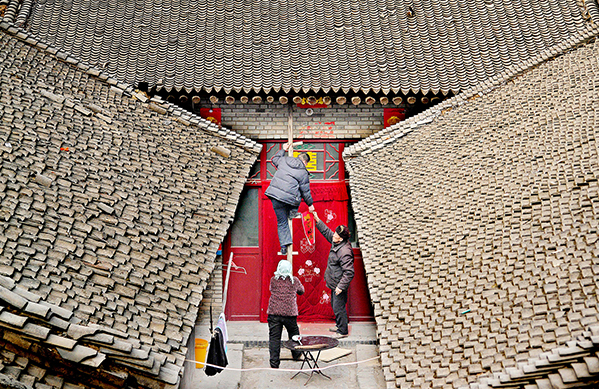 A family on the Loess Plateau in northwest China adorn a door with Spring Festival couplets in 2009 Photo: CFP
---
For many Chinese people, their memory of Spring Festival, or Chinese New Year, often started with a journey on a "green train." The "green train" was named for its green carriages. Mainly operated up to the 1990s, they were usually associated with a slow and rickety ride, smelly carriages, and people crammed against each other. During the 1990s, a journey from the northwestern city of Lanzhou to Xuzhou, near China's eastern coastline, was a nearly 45-hour ride in a green train.
The Spring Festival travel season, or chunyun in Chinese, started in the 1980s after migrant workers flocked into cities to find jobs amid China's urban development boom. Many of them had the time and money to go back home merely once a year, for the Spring Festival family reunion. During the chunyun season, every seat was taken, and people were packed so tightly in aisles that accessing the toilet was nearly impossible. However, the poor conditions in the carriages didn't put passengers in a bad mood, as they were looking forward to returning home.
Over the past 15 years, the slow, cheap green trains have been mostly replaced by bullet trains. According to China Railway Corp, the total length of high-speed rail lines in China was 37,900 km by the end of 2020. In the era of high-speed rails, only a few green trains still run in China's remote and mountainous areas. The high-speed trains have drastically shortened travelling times within China. Now a trip from Lanzhou to Xuzhou via bullet train only takes seven hours.
Interestingly, as people benefit more and more from increased efficiency during the travel season, some have started to long for the old days on iconic green trains. They complain that as high-speed rails have made going home much more common, the Spring Festival travel rush lacks a sense of ritual.
Same as the green trains, many traditions and customs are fading away or evolving significantly in modern society.
For centuries, fireworks and firecrackers were an integral part of the Lunar New Year experience. The deafening noise they produce was widely considered key to setting a festive mood.
In his story Zhufu (The New Year Sacrifice), the renowned Chinese writer Lu Xun (1881–1936) gave a vivid depiction of new-year traditions in a small Chinese town: "New Year's Eve of the old calendar seems, after all, more like the real New Year's Eve; for, to say nothing of the villages and towns, even in the air there is a feeling that New Year is coming. From the pale, lowering evening clouds issue frequent flashes of lightning, followed by a rumbling sound of firecrackers celebrating the departure of the Hearth God; while, nearer by, the firecrackers explode even more violently, and before the deafening report dies away the air is filled with a faint smell of powder" (trans. Yang Xianyi and Gladys Yang).
The "faint smell of powder" often reminded people of the Chinese New Year. However, concerns about fireworks' potential harm to the environment and the fire hazards they pose, have prevailed over their traditional popularity. "It was one thing to set off a string of explosives outside your house when China was still a largely rural, agricultural nation; it's quite another to do so outside a modern apartment building that's home to thousands of strangers," said Zhou Xing, an adviser at the China Folklore Society. In response to these concerns, many Chinese cities started to institute full or partial firework bans since the 1990s. Compared with the firestorm of controversy sparked by the firework bans when they were first imposed, today, more and more urban people seem to have adapted to a quiet Spring Festival.
Bai nian, an important new-year activity involving calling on one's relatives, friends, and neighbors, has recently been reshaped by information technology. Nowadays, while older generations still visit in person, young people tend to send each other e-greetings as their version of bai nian. Lunar New Year was also an occasion for kids to receive new clothes, which represented leaving the old behind and welcoming the new. This old tradition is losing its popularity. In the past, wearing new clothes was a special treat for children during the New Year because shopping for new clothes was not a regular activity. Many people still remember waking up early on the first day of the Lunar New Year and putting on their new clothes, which were solemnly laid out by their parents, next to their pillows before they fell asleep on lunar New Year's Eve. Today, however, children may not be thrilled with this tradition, as the elevated standard of living makes it possible for children to get new clothes anytime they wish.
Another tradition which fits awkwardly into the rhythms of modern life is eating food with high fat on Chinese New Year's Eve, also known as the "reunion dinner," the most important meal of the year for Chinese people. People used to regard "fatty" and "oily" as signs of prosperity in the past, as they couldn't afford meat and oil every day. Though the reunion dinners trigger people's childhood memories, where their large extended families would gather for a reunion dinner at their grandparents' place, and gorge on an abundance of homemade food, the new preference for healthy products has changed the dieting habit. "Green foods" and beverages with higher nutritional value and fewer chemical additives have made their way to the top of the shopping lists for the Spring Festival. During this holiday, media outlets also remind people to avoid overeating and food waste, and suggest that they eat healthier.
Watching CCTV's Spring Festival Gala has been an essential ritual for Chinese people all around the world since 1983. This televised variety show which broadcasts from 8 p.m. till midnight on Chinese New Year's Eve has the largest audience of any entertainment show in the world. The 2020 Spring Festival Gala set a new viewership record with more than 1.23 billion viewers at home and abroad, according to its broadcaster China Media Group (CMG). Despite its 37 years of history, it is said that the gala is losing its appeal, prompting TV producers to rack their brains to solve the problem. Some people think the gala's content in the past few years has become outdated, while regional broadcasters and online platforms are launching more and more entertaining shows for the Spring Festival.
People have more ways to celebrate the Chinese New Year than before. The travel season used to represent an exodus away from cities ahead of the festival and the post-holiday flood of workers into cities. In recent years, however, a reverse trend has emerged with increasing family gatherings occurring in big cities. More and more urban workers invite their parents to the cities where they work during the Spring Festival holiday. Moreover, instead of staying at home, which is the traditional way to celebrate Chinese New Year, travelling within the country or abroad with family members is becoming a popular option for the Spring Festival. Another interesting phenomenon is that some young people who work in big cities are reluctant to go home during the Spring Festival holiday, an occasion where they often feel confronted by imposing expectations from their parents and relatives about their jobs, personal relationships, and other intimate aspects of their lives. Modern lifestyles and mounting social pressures push young people to explore their own ways to celebrate the Spring Festival, such as travelling, gathering with friends, or staying at home to watch their favorite TV series.
Celebrating a traditional festival in a highly developed modern society makes people feel ambivalent about the Spring Festival. While people debate which traditions should be preserved and which should be changed, a more severe problem is lurking behind this controversy: many Spring Festival customs and traditions have retained a nostalgic place in history for several generations, because up until the 90s people experienced these rituals in their childhood. However, these traditions may be lost in the future, when people don't have these experiences any more.
Fortunately, even though the atmosphere of the Spring Festival is fading away as people move toward urbanized and modernized lifestyles, the spirit of the festival remains unchanged. This spirit is "reunion," which binds people together, strengthening their ties with the community, and offering them a sense of identity, belonging and rootedness. Family bonds have always been highly valued in China. The spirit of the Spring Festival, the reunion, does not change and can be relived in modernized ways. No matter what people do during the Spring Festival, they always choose to do it with their families.
The 2021 Spring Festival was particularly unique. With a COVID-19 rebound, many cities encouraged residents not to leave during the holiday. Tens of millions of Chinese who planned to return to their hometowns decided to stay in their cities, but they had a new way to "reunite" with their families.
A few days before Spring Festival, several young people shared photos of homemade food on social media platforms. These meals were mailed from their hometowns as the materials for the "reunion dinner." A young woman posted photos of several recipes on the internet, which were handwritten by her mother, teaching her how to cook a Spring Festival meal in detail.
A man showed photos of his fridge, which was stuffed with dumplings and cured meats. He said, "My mom cooked these and mailed them to me. She hoped that I would have a good Spring Festival dinner even though I was away from home. The flavor of Spring Festival is mom's cooking, and it will never change."
Edited by REN GUANHONG