China embracing new development pattern
MING HAIYING
|
2021-02-18
(Chinese Social Sciences Today)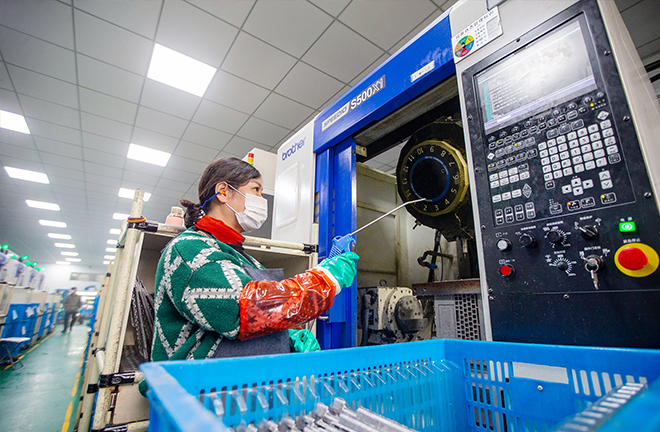 On Feb. 1, tech company workers at Hai'an High-tech Zone in Jiangsu Province make components for electronic products for domestic and international customers. Photo: CFP
---
Chinese President Xi Jinping delivered a special address via video link at the World Economic Forum's virtual Davos Agenda on Jan. 25.
"As China enters a new development stage, we will follow a new development philosophy and foster a new development paradigm with domestic circulation as the mainstay and domestic and international circulations reinforcing each other," Xi said.
Xi said that China will work with other countries to build an open, inclusive, clean and beautiful world that enjoys lasting peace, universal security, and common prosperity.
Li Zuojun, deputy director of the Resource and Environmental Policy Research Institute at the Development Research Center of the State Council, said that the COVID-19 pandemic has spread globally and trade protectionism has risen, affecting China's foreign trade, investment, and exchanges. Relying too heavily on international circulation will create great uncertainty in the future.
In the past decade or so, China's economic structure has shifted to rely more on domestic demand, and a foundation has been laid for domestic circulation, Li said.
Yao Shujie, deputy director of the Faculty of Social Sciences at Chongqing University, said that although international trade is still indispensable for China's economic development, it is difficult to maintain rapid growth through the previous strategy of long-term dependence on international trade and foreign investment to drive economic development, which is no longer applicable now and in the future.
China has a strong material base, human resources, industrial systems, and a technological innovation foundation to vigorously develop the domestic market and support long-term sustainable economic growth, Yao said. The huge domestic production and consumption capacity and ever-expanding middle-income groups are promising to facilitate domestic circulation.
Yu Zhen, deputy dean of the School of Economics and Management at Wuhan University, said that the core of the new development pattern is to promote the smooth flow and connectivity of economic activities, including the smooth flow of all links, industries, departments, and regions in China, and also connectivity between domestic and international economies.
Yao said that in light of the new development pattern of dual circulation, the new-era theoretical innovation and strategic path of economic development with endogenous growth at the core can help with China's economic recovery after the pandemic. It will also provide important theoretical and strategic support for China to enter the ranks of developed countries and achieve long-term sustainable growth.
Yao suggested relying on the huge market, as well as the complete industrial system and technological innovation system, developed over more than four decades of reform and opening up. It is also advisable to fully tap the endogenous driving force for balanced regional development, and balanced urban-rural development.
"Through technological innovation, we will eliminate technological bottlenecks, continuously improve international comparative advantages, and build a strong domestic industrial chain, supply chain, and technology chain," Yao said.
Li said that it is necessary to strengthen scientific and technological self-reliance and improve the modernization level of the industrial supply chain. It is important to accelerate the coordinated development of urban and rural areas, promote the new type of people-centered urbanization, and implement the rural vitalization strategy.
"Only by implementing a higher level of opening up can we truly fuel the mutual promotion of the domestic and international circulations under the severe new situation," said Li Xiao, dean of the School of Economics at Jilin University.
The core of the new round of high-level opening up is an adjustment of past practices which focused on market access, while prioritizing the reform of rules, systems, and institutions, Li Xiao continued. It is necessary to adapt to the global economy, international trade and investment, especially the industrial chain layout's pattern of increasingly regionalized and localized development. It is also important to adjust the mindset of regional economic cooperation, further expand the financial industry's opening, and build a developed, broad, and deep financial market.
The in-depth reform of rules and systems can propel China to a higher level of integration with regional market rules, so that we can truly participate in the reform of the international economic governance system. The reform will also be a powerful engine for a high-level domestic circulation, Li Xiao concluded.
Edited by JIANG HONG