Dunhuang: Spiritual highland for Gansu literature
MA FENYING
|
2020-09-17
|
Hits:
(Chinese Social Sciences Today)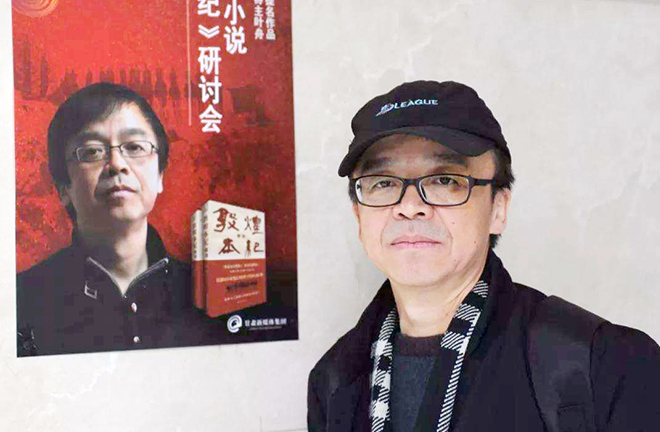 Ye Zhou, author of the novel Dunhuang Chronical (2018), poses with a poster for a seminar on his work. Photo: FILE
---
Dunhuang, a county-level city in northwest China's Gansu Province, was an important historic hub where Eastern and Western cultures met. Over thousands of years, people of different nations and ethnic groups gathered along the Silk Road, shaping the uniquely enticing Dunhuang culture and creating colorful Dunhuang stories.
Today, in the 21st century, telling Dunhuang stories well means continuing to explore the humanistic value and modern spirit encapsulated in Dunhuang culture while, in the work of writers and artists, striving to produce a spectrum of literary and artistic achievements that integrate the cultural elements of Dunhuang.
A review of literary development in contemporary Gansu reveals that Dunhuang is a very popular theme and a spiritual treasure trove for writers of the province. Dunhuang and Dunhuang culture have nourished the writers and literature of contemporary Gansu. In turn, their writing has been enriching Dunhuang culture.
Through its remarkable achievements, contemporary Gansu literature has given the province a place in the history of modern literary development, and it has also generated significant impact across the nation. With geographical connection and spiritual identification, Dunhuang has become a vital source of subject matter and narrative imagination. Such contemporary writers as Ye Zhou, Feng Yulei, Shao Zhenguo, Wang Jiada, Chen Qin and Huang Ying, all from Gansu Province, are dedicated to writing about Dunhuang.
"Dunhuang is the map of my poetry, the land where my texts settle down and the sky where my life opens to horizons," said Ye Zhou. Dunhuang has been the theme of his composition since the beginning of his literary journey. From his early poem collections like Grand Dunhuang (2000) and the Book of Songs on Dunhuang (2015) to the newly published voluminous fiction Dunhuang Chronicle (2018), Dunhuang has provided him with material and also become a spiritual resource for his literary creation.
Feng Yulei is another Gansu writer passionate about creating Dunhuang stories. From 1998 when the nonfiction Dunhuang in the Past 100 Years: A Legend of the Library Cave in Mogao Grottoes was published to Dunhuang: The Vast Land of Six Thousand or Far Away (2006), and on to the 2020 novel Dunhuang Besieged: Fantasy and Non-fantasy, Feng has been persistently writing about Dunhuang culture for more than two decades.
The novel Dunhuang: The Vast Land of Six Thousand or Far Away reproduces a century of vicissitudes in Dunhuang through local narratives. Feng exceeds at placing Dunhuang stories in a broad historical vision. His works inject vitality into the historical city and reconstruct its culture.
Works about Dunhuang by contemporary Gansu writers also include Shao Zhenguo's novel Crescent Spring (2012), Chen Qin's Flying Apsara Pairs (2001), Huang Ying's Wake Up in Dunhuang (1995) and Wang Jiada's reportage Love in Dunhuang (1996). Dunhuang and Dunhuang culture have furnished Gansu writers with inexhaustible inspiration and subject matter. Dunhuang culture nourishes the spiritual world of contemporary Gansu writers, fostering their writing style while also setting the background of Gansu literature.
Dunhuang is the spiritual highland of Ye Zhou, Feng Yulei and Wang Jiada. "All my love, writing and sentiments about Dunhuang must have been formed before this life," said Ye Zhou. "As a son of the Hexi Corridor and the Silk Road, I might be predestined to write about Dunhuang."
However, Dunhuang has also served as a spiritual highland for those Gansu writers who have not made Dunhuang the direct object of their writing. In the works of Ma Busheng, Xue Mo and Xu Zhaoshou, we can also feel the Dunhuang spirit in their blood. Benevolence and multicultural integration are at the core of this cultural spirit.
Born in Liangzhou in central Gansu, Xue Mo has his own spiritual pursuits. All of his novels, be it early works such as Desert Rites (2000), White Tiger Pass (2008) and Desert Hunters (2009) or the later "Trilogy for the Soul" and the 2014 book Wild Fox Ridge, are movingly humanistic.
To Xue Mo, literature is purposeless and beyond utilitarianism, but this doesn't mean that literature is useless. Instead, it is so useful that it can impact the soul of humanity. The deep humanistic concern conveyed by Xue Mo in his works, his peace with the world and compassion toward the whole human race, reflects the spirit of Dunhuang culture including virtuosity and goodness.
From Very Diary (2002), a light novel about youth, to The Wasteland Asking (2014) which centers on intellectuals, and further to the 2017 long fiction Kumarajiva, we can sense Xu Zhaoshou's return to the Dunhuang spirit.
"The great northwest of China is not only the origin of Chinese mythology, but also where cultures from Western Regions and the Chinese civilization communicated and blended," said Chen Sihe, a professor of Chinese literature at Fudan University. "It is the lifeline of today's cultural rejuvenation."
Xu Zhaoshou's recent writing has been exploring this lifeline and is maturing. If The Wasteland Asking is an excellent work for its examination of the spiritual world of modern intellectuals, then Kumarajiva is a masterpiece for its probing of ancient cultural traditions, Chen said.
From source materials to writing techniques, Kumarajiva embodies the author's conscious approach to the Dunhuang spirit. By narrating the life experience of Kumarajiva, an eminent monk on an unrelenting quest for Buddhist doctrines, the novel unveils to us the power of perseverance and faith, while leaving the door a crack open to goodness. His portrayal of Kumarajiva is not only a return to traditional Chinese culture, but also a homage to Dunhuang as a spiritual highland.
Ma Busheng is committed to writing about ordinary people in Longdong, Gansu's easternmost city, with his favorite technique of traditional historical biography, depicting their lives and emotions, ups and downs to represent the landscape and history of the era.
For example, the "Longdong Trilogy," namely Blue-White Salt (2008), Marriage in the 1950s (2011) and Codetta (2016), and the "Rivers and Lakes (Jianghu) Series" such as Wild Ghost Tribe (2018) and Swordsmen's Escape (2018), display salient historical biography features and chivalry-dominated traditional Chinese fiction, containing great beauty and goodness marked by bravery and righteousness. The great beauty and goodness mirror the cultural spirit and vision of the Chinese nation, while directly reflecting Dunhuang's spirit.
Over thousands of years, civilizations from all over the world have converged and integrated in Dunhuang, forming the unique cultural spirit of this historical city. As Gansu writers live on the vast cultural field, through a long period of inheritance, the Dunhuang spirit has entered their hearts. They have drawn themselves closer to this cultural field consciously and unconsciously. Dunhuang is a holy place in their hearts and also a spiritual highland where their personalities can shine through literature.
Enriching Dunhuang culture
Contemporary Gansu literature and Dunhuang culture are involved in a two-way interaction. While Dunhuang and Dunhuang culture nurture Gansu literature, contemporary Gansu writers, by writing Dunhuang stories, have become inheritors of Dunhuang culture, carrying it forward and enriching it.
Through Dunhuang Chronicle, a novel of 1.09 million Chinese characters, Ye Zhou writes the biography of the great city and blends his cultural roots deeply with his understanding of Dunhuang culture. In the book, the Suo family comprises several generations of self-sacrificial and dedicative Dunhuang locals. Suo Chang, head of the family in this generation, is eventually enlightened after struggling through the twists and turns of misery. He cherishes the ambition to open up a cave in Mogao Grottoes, also known as Thousand Buddha Caves, for the Suo clan and the Yi Village where they are based, in order to enshrine and worship gods, Buddha and heroes in Heaven and Earth.
Another protagonist, Kong Zhichen, the upright and talented daughter of famous doctor Kong Xianghe, who lives at the foot of the Yanzhi Mountain, finally devotes herself to transcribing documents and Buddhist scriptures in a secret temple for 17 years, protecting the treasure of Dunhuang in her own way.
With their passion and youth, Dunhuang teenagers represented by Hu Fanyi carve out and guard a road on the "Rust Belt of Hexi," creating a passage connecting Dunhuang to the outside while preserving the dignity of the city.
Under his pen, Ye Zhou brings the Dunhuang spirit back to life through his characters and stories. Through the vivid characters, he interprets the modern Dunhuang spirit of "dedication to the desert, embracing responsibility and forging ahead." Feng Yulei's Dunhuang series shifts from reality to imagery. He was not only writing about Dunhuang, but also constructing and providing for Dunhuang culture. Other contemporary Gansu writers like Xue Mo, Ma Busheng, Xu Zhaoshou, Wang Jiada and Yi Zhou have also enriched the Dunhuang spirit in their own distinctive ways.
Through their unceasing literary creation, Dunhuang culture has been fused into their stories and is developing onwards.
To promote Dunhuang culture globally, it is necessary to tell Dunhuang stories well. This requires writers and artists to consciously take up the responsibility as tellers of Dunhuang stories and inheritors of Dunhuang culture and continue writing about Dunhuang culture under new historical circumstances. Creating literary works for Dunhuang and Dunhuang culture is not only carrying forward Dunhuang culture, but also infusing Dunhuang into the broad context of globalization. Since contemporary Gansu writers have grown up and lived in the field of Dunhuang culture, they are more obligated to serve as the main forces for writing about Dunhuang and Dunhuang culture.
Ma Fenying is an associate professor from the College of Chinese Language and Literature at Northwest Normal University.