5G fuels deeper media convergence
WU YI'AN
|
2020-09-17
(Chinese Social Sciences Today)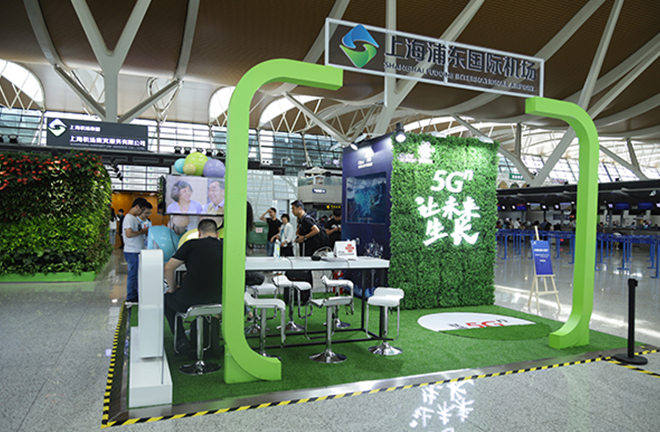 A 5G experience venue set up in Shanghai Pudong International Airport Photo: SHANGHAI AIRPORT
---
Mobile internet technology has reached a huge breakthrough with 5G. The advent of the 5G era has profoundly affected news production and dissemination, promoting a new wave of digital revolution. In this context, the media industry should actively grasp new opportunities, fully utilize 5G technology for improving dissemination and advance media convergence with distinctive Chinese characteristics.
Media convergence means a revolution in the modes of information dissemination, mindset, organization and institutional mechanisms, said Zhi Tingrong, dean of the School of Journalism and Communication at Jinan University. Featuring low latency and extensive connections, 5G makes high-speed and large-capacity transmission possible. It also helps facilitate more diverse data sources and more targeted information dissemination. The development and maturity of 5G technology has been promoting deeper media convergence and reconstruction of the media industry ecology, intensifying the trend of intelligent, mobile and embodied communication.
Zhi added that the coming of the 5G era will directly or indirectly push industries adjacent to the media industry, such as those related to the internet of things, to participate in the process of information dissemination. This will bring new vitality and also challenges to the media industry.
Encouraging widespread connection between people and people, people and things, and things and things, 5G makes the internet of everything a reality, said Yang Binyan, secretary general of the Public Opinion Research Laboratory at the Chinese Academy of Social Sciences. Media convergence involves integrating the production and publishing of media content, and furthermore it means integrating operation services. As it develops the media content production system, 5G technology will provide technical support for new experiences, new products and new services. Such market entities as 5G technology companies, 5G terminal product suppliers and even 5G experience venues will be encouraged to enter the media industry directly or indirectly. This is the most significant change facing media industry business models.
Shao Peng, vice dean of the School of Humanities at Zhejiang University of Technology, said that the embedding of 5G technology in all sections of the media industrial chain influences the production and distribution of media content. The rapid upgrading of information and communication technologies in the 5G era will empower the media industry in the form of "Smart Plus," further intensifying competition in the media industry and strengthening an increasingly segmented market. In this competitive process, platform media will have greater advantages. Media communication models are experiencing a shift from mass media and audience-segmented media to the convergence of mass media.
In recent years, significant breakthroughs have been made in media convergence, Yang said. The development of AI journalism; AI production, editing and broadcasting systems; and AI news anchors fully reflects the application of "5G + media." Currently, central and local media are accelerating the development of new technologies, new models and new mechanisms such as 5G convergence media and AI smart media.
China's New Infrastructure projects will promptly propel the spread of 5G technology across the country. Media agencies should step up the promotion of media convergence, closely follow national policies and seize opportunities created by the development of 5G and AI technologies, Yang suggested.
China's media convergence has evolved from its earlier development stages of "Mobile First" and "Weibo, WeChat and Mobile News Clients" to the new stage of "platform media," Shao said, adding that the biggest challenge facing the media industry is not how to apply new technologies but how to fulfill the media functions of "being on the spot" and "serving localities." In this sense, "being on the spot" means providing more accurate news reports in a timelier manner. To a certain extent, 5G can provide powerful technical support, helping news media get their hands on first-hand news materials and report new spots with minimal delay. Despite this, this function depends more on human awareness than on technical support.
"Serving localities" means that news media should work effectively to serve local areas and meet local audiences' needs for information, thereby consolidating the status of the ideological and cultural mainstream, Shao continued. This is the fundamental objective of promoting media convergence in technological development.
edited by YANG LANLAN