China expands competitiveness in global trade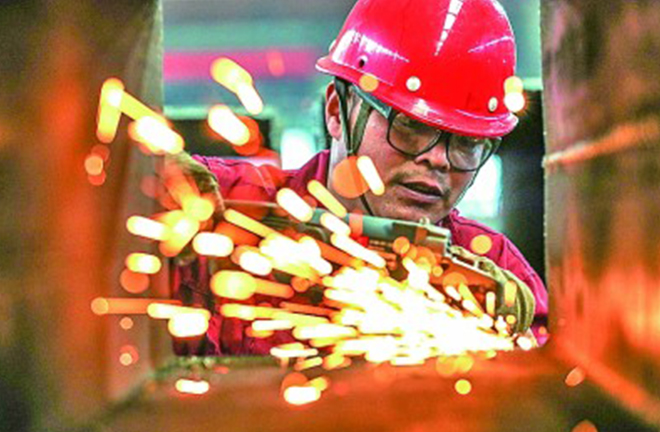 A welder working at a steel component factory in Huzhou, Zhejiang Province. Photo: Wang Zheng/GUANGMING
---
Chinese President Xi Jinping has been emphasizing the construction of an open world economy and support for economic globalization. China has maintained this support amidst the global spread of COVID-19 and the great uncertainty facing world economic development. Foreign trade concerns not only China's economic development but also the stability of the global supply and industrial chains.
China's foreign trade outperformed expectations in the first half of 2020, the State Council Information Office announced at a recent conference. However, boosting economic growth is a major issue. Three scholars contribute advice regarding this predicament, seeking to bring governments and companies closer, to cooperatively tackle difficulties facing foreign trade. These scholars include Gu Xueming, president of the Chinese Academy of International Trade and Economic Cooperation, Sang Baichuan, president of the Institute of International Economy at the University of International Business and Economics and Yu Miaojie, vice president of the National School of Development at Peking University.
Guangming Think Tank: Since the outbreak of COVID-19, what is the overall performance of China's foreign trade?
Gu Xueming: Chinese President Xi Jinping emphasized the need for unbroken industry chains and supply chains to ensure the smooth operation of global trade networks, and stabilize international market shares. From a realistic perspective, China's foreign trade outperformed expectations in the first half of 2020. Regarding trade goods, the value of imports and exports during this period totaled RMB 14.24 trillion, a year-on-year decrease of 3.2%. China's exports surged, the market quickly responded to demand for epidemic prevention supplies and "stay-at-home economy" products. We have seen declines in exports of mechanical and electrical products, but reduced exports of these labor-intensive products were lower than the decrease in general export.
In fact, import cargo volume in the first half of 2020 was 1.56 billion tons, a growth of 8.3%. In terms of service trade, from January to May, imports and exports of China's knowledge-intensive service amounted to RMB 809.55 billion, an increase of 8.7%. It accounted for 43.3% of the total service imports and exports, an increase of 9.3 percentage points.
In the future, our confidence stems from the following facts. First, China's institutional dividends are still taking effect, though many advantages are fully manifested. The growth of foreign trade shows strong resilience and immense potential. Second, the country's comprehensive competitive advantage in foreign trade continues to expand thanks to its comprehensive industrial systems, capacity to develop supporting sectors and an intact infrastructure system. China has built a highly comprehensive supply chain, service chain and value chain, centered on existing industrial chains. Third, a series of targeted policies are stabilizing foreign trade. There has been increased protection for small, medium and micro enterprises as well as labor-intensive enterprises. Also, the country has aided large-scale companies, which build foreign trade, and are solving development problems. These policy measures have helped build a foundation for stable foreign trade.
Sang Baichuan: Although foreign trade faces tremendous pressure, China is ready to provide stability. China's policy toolkit is solid and effective, accurately targeting assistance for enterprises in need. New forms of foreign trade, such as cross-border e-commerce and market procurement, are developing rapidly. We haven't seen substantial damage to the China's economic fundamentals. Demand and supply remain effective and strong. Going forward, a more proactive fiscal policy, monetary policy, investment policy and other combined measures will play a major role in stabilizing the macroeconomy.
Yu Miaojie: China's exemplary performance in foreign trade in the first half of 2020 is due to the swift implementation of stabilizing measures to foreign trade, foreign capital and foreign investment. Many other countries faced production stoppage to prevent and control the pandemic, while the export volume of domestic consumer products, such as mobile phones and laptops, continues to grow. Labor-intensive products, such as shoes and hats, will perform well in the second half of 2020. After the pandemic dies down, China is expected to move up the global value chain, and its central position in East Asian production networks will consolidate further.
Guangming Think Tank: China has many favorable policies which promote economic development. How should enterprises make good use of them and become more self-reliant?
Yu Miaojie: Companies that operate in foreign trade zones will benefit by focusing on products with competitive advantages. They must make better use of the China's favorable policies by making timely declarations and utilizing trade hedging policies. Small and medium-sized businesses must increase capital flow, especially cash flow. Manufacturers need to export products to more destinations, specialize products and tap into the unmet potential in China's domestic market. Enterprises dedicated to processing trade should incrementally shift production patterns to begin "processing trade plus general trade" or "global trade plus domestic trade."
Gu Xueming: In times of hardship, export companies must seek opportunities in crisis and be strategic when targeting market shares. We must actively explore the international market. Technology makes companies more flexible, using cloud negotiation, cloud display, cloud signing and innovative digital methods to solidify cooperative relationships between upstream and downstream industrial chains. Sales channels have room to expand, further exploring the domestic market. Companies can apply technologies, such as big data and industrial internet, and develop products targeting domestic consumer demand, promoting a rebound in consumption. By developing partnerships with e-commerce platforms, and utilizing new business models such as online and live-streaming sales, development can be integrated between the online and offline sectors.
Sang Baichuan: Import and Export companies must strengthen communication with the Council for the Promotion of International Trade, China Export & Credit Insurance Corporation and commercial departments to access targeted aid. These businesses need to diversify markets, disperse trade risks and cushion themselves from fluctuations in traditional trade markets, such as the United States. New models for global operation create cross border e-commerce, so that Chinese companies can enter targeted markets in foreign countries, engaging in global online sales and purchasing parts and raw materials. In this way, companies can respond to changes in the international market in real time.
Guangming Think Tank: China is gaining pace, resuming pre-pandemic levels of production. What does this mean for stability of the global supply chain? How can we hone and upgrade China's industrial structure?
Sang Baichuan: The spread of the pandemic greatly damages the global supply chain. China's trade of goods accounts for about 12% of the world's total. Accelerated resumption of production and rapid restoration of supply capacity in China strengthens the global supply chain.
China is at a critical juncture of structural economic transformation. The short-term impact of the pandemic will not reverse China's long-term transformation. Temporary adjustment of the supply chain actually ensures its stability and reliability in the long run, so China cannot separate itself from the global supply chain. As the manufacturing industry transforms, we must stay open-minded, build economic and technological cooperation with countries around the world, and enhance China's position in the global supply chain. To transform itself into a powerful service industry nation, China must speed up the opening up of infrastructure sectors such as electricity, civil aviation, railways, postal services and municipal utilities, pushing for liberalization and facilitation of trade and investment, and upgrading industrial structures through open cooperation.
Gu Xueming: In the long run, the pandemic will force a digital transformation and upgrade industries throughout China. It will foster digital integration and innovative development of primary, secondary and tertiary industries, forming a production system that covers manufacturing, sales, marketing and logistics. We must create new economic growth momentum, build new business models, make marketing models more intelligent, improve the synergy efficiency of the industrial chain and keep up the good work expanding industrial development.
This article was translated from Guangming Daily.