Experts revisit China's economic and social roadmap
ZHONG ZHE
|
2020-09-09
(Chinese Social Sciences Today)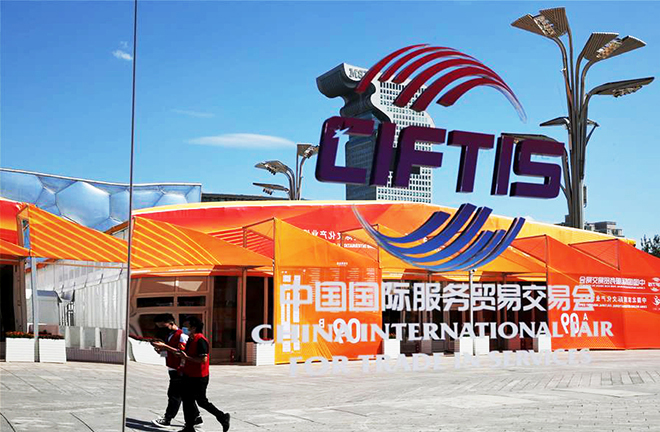 The China International Fair for Trade in Services takes place Sept. 4–9 in Beijing. Photo: Pan Siwei/XINHUA
---
China's development is entering a new stage. This is the latest assessment made by Xi Jinping, general secretary of the Communist Party of China Central Committee, on the prospects of the world's second-largest economy as it prepares economic and social development plans for the next five years.
The next Five-Year plan, the 14th in a row, is now very much in the spotlight. The plan period (2021–2025) will mark the first five years of China's new journey toward fully building a modern socialist country and marching toward the second centenary goal, according to Xi, who delivered his comments recently at a symposium attended by experts on economic and social work.
First introduced in May this year, the new development pattern known as "dual circulation," which prioritizes the domestic market as a foundation while letting domestic and foreign markets boost each other, has been placed high on the authorities' agenda.
Describing the new pattern as a "strategic choice," Xi said it is by no means a closed domestic loop but an open dual circulation that involves both the domestic and foreign markets.
The deployment and requirements of this new development pattern are determined by the domestic and international circumstances facing China's economic development as the country is about to enter the 14th Five-Year Plan period, said Cai Fang, vice president of the Chinese Academy of Social Sciences (CASS).
The world economy is undergoing many changes, especially after the outbreak of the COVID-19 pandemic, Cai continued. The tendency of inward development in some countries has risen, and there is trade friction between China and the US. Globalization will encounter stronger obstacles, and there will be more uncertainties in the international environment. At the same time, China is entering a new stage of development; China's huge total population has more purchasing power as its middle-income group grows with enormous market potential. In light of these new realities, it is crucial to develop a new development pattern.
Zhu Min, dean of the National Financial Research Institute at Tsinghua University, said that the vision of the new development pattern is based on China's internal reality while embracing globalization and adapting to the changes in both the international and domestic circumstances. Relying on the domestic market as an economic bedrock while fully integrating with the global market—this is of great significance to the development of both the Chinese and global economy.
The scale, quality and efficiency of China's domestic circulation continue to improve, and the new development pattern is a necessary choice in order to adapt to the country's new competitive advantages, said Jiang Xiaojuan, dean of the School of Public Policy and Management at Tsinghua University and a professor at the University of the Chinese Academy of Social Sciences. As an economy accounting for a large proportion of global economic growth, China's domestic development shapes the international environment to a certain extent. It is necessary to continue to expand domestic demand, boost imports and exports, promote the two-way flow of capital, and create a sound international environment for all countries.
Facing the complicated international and domestic situation, it is important to build a new development pattern from different dimensions. Justin Yifu Lin, honorary dean of the National School of Development at Peking University, suggested focusing on expanding domestic demand and making production, distribution, circulation and consumption more dependent on the domestic market. It is also necessary to improve the adaptability of the supply system to domestic demand, facilitating a dynamic balance between demand-driven supply and supply-creating demand.
Lin also suggested further opening up to the outside world and promoting the construction of the Belt and Road, thus embedding China's innovation chain, industrial chain and supply chain into the corresponding global chains.
"At present, China is in the stage of moving from a middle-income to high-income country. This is a crucial turning point in the country's economic development," said Zheng Yongnian, director of the Advanced Institute of Global and Contemporary China Studies at the Chinese University of Hong Kong, Shenzhen.
Zheng said that it is necessary to untangle relationships between inner circulation and outer circulation and to balance between the two. China needs to fully tap into the potential of domestic consumption and expand domestic demand, while drafting policies which encourage export-oriented enterprises and thus facilitate external circulation. In the future, deep structural reforms are needed, while maintaining economic development and social stability. This kind of reform involves not only the economic system but also innovation with the social system and social governance.
Lin said that China is facing a series of new challenges, and uncertainty will increase in the future. Global trade will continue to stand in the shadow of US trade protectionism and unilateralism. In addition, the problem of unbalanced and inadequate development still exists in China, and there is the arduous task of strengthening innovation capacity and technological research in key areas. However, with its solid material foundation, abundant human resources, vast market, great development resilience and long-term trend of sound economic growth, China's economy will continue to be the global economy's stabilizer.
Wang Changlin, president of the Academy of Macroeconomic Research of the National Development and Reform Commission, said that China still has a lot of room for industrialization and urbanization, with outstanding advantages in market scale, industrial systems, talent and human resources, and infrastructure. These all provide favorable conditions for the country's transition to a high-quality stage.
However, Wang said that as industrialization and urbanization have entered a period of optimization and quality improvement, we must also clearly see the imbalances in product structure, demand structure, structure of production factors and regional structure.
Fan Gang, vice chairman of the China Society of Economic Reform, said that China is achieving the goals of eradicating poverty and expanding employment during the 13th Five-Year Plan period, laying a solid foundation for expanding domestic market demand.
Despite its decisive progress in poverty alleviation, China still needs to focus on increasing the employment rate and income level of low-income groups. Demand from these segments of the population will be the basis for stable expansion of the domestic market, Fan said. It is necessary to continue to improve social security mechanisms, promote the integration of public services in urban and rural areas, and expand consumption.
During the 14th Five-Year Plan period, Fan said that China must extend institutional reform to smooth the circulation of capital, income, materials and information.
Wang said that the 14th Five-Year Plan period is a key stage in the profound transformation of China's economic and social development. It is necessary to accurately seize this period of strategic opportunity and turn crises into opportunities, striving to push China's economy forward.
Entering the new stage of development, China still needs to lead and promote the mutual and common opening up of all countries alongside its own opening up, said Zhang Yuyan, director of the Institute of World Economics and Politics at CASS.
He suggested that China should actively participate in global governance reforms and regional economic and trade cooperation, improve competition rules, and make the international economic governance system more equitable and reasonable. China's active participation in the reform and improvement of global economic governance not only reflects the country's commitment and responsibility to the world as its second largest economy, but also demonstrates the country's willingness and determination to, at a higher level of opening up, participate in the reform of global economic governance.
At present, support for trade financing and exports should be strengthened, and the negative impact of the pandemic on investment and trade should be addressed through international cooperation, Zhu said.
In the long run, Zhu said that the country needs to continue to improve the environment for business, increase the protection of intellectual property rights, and constantly attract foreign capital into China's internal circulation system. At the same time, it is important to boost scientific research and cultivate more basic industries and key industrial clusters. Through accelerated construction of new infrastructure centered around 5G and artificial intelligence, the digital transformation of the industrial chain can be achieved.
Fan said that it is necessary to improve the internet financial management system, releasing digital finance so it can play its full role in expanding consumer credit. The country needs to encourage the structured development of e-commerce platforms to reduce transaction and logistics costs in all stages.
In addition, Fan suggested giving full play to the supporting role of infrastructure construction and New Infrastructure to maintain steady growth of domestic demand, thereby laying a solid foundation for long-term development.
Fan also suggested progressively advancing urbanization and ratcheting up the construction of the Beijing-Tianjin-Hebei metropolitan cluster, the urban agglomeration in the Yangtze River Delta and the Guangdong-Hong Kong-Macao Greater Bay Area, so that they can play their roles in the dual circulation.
Lu Ming, a professor with Shanghai Jiao Tong University, said that in light of the new development pattern, social scientists should take time to analyze the nation's economic progress. Much value can come from further research aimed at solving China's practical problems, summarizing China's experience, theories and development laws, putting forward important policy recommendations for national development and deepening reform based on academic research.
edited by YANG LANLAN