China, Mongolia and Russia need to cooperate on intellectual property
YANG JIAN
|
2020-08-26
(Chinese Social Sciences Today)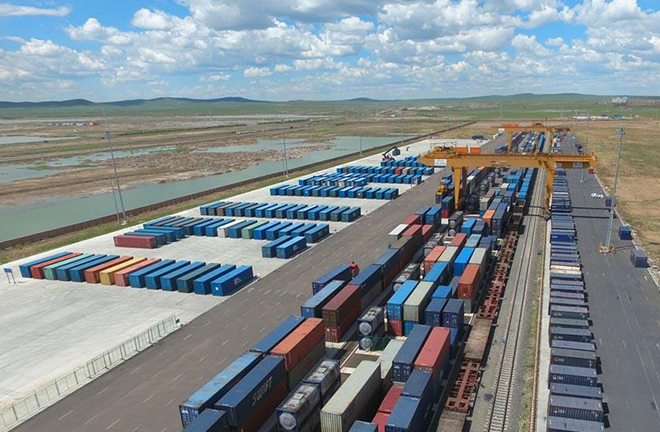 The container trucks in the Manzhouli Port along the China-Mongolia-Russia Economic Corridor Photo: FILE
---
As an intangible property right, intellectual property is a carrier of scientific and technological innovation. As scientific and technological innovation has entered a new active stage in today's world, intellectual property is playing an increasingly important role in international competition. In the process of deepening the integration of trade and investment between China and two key countries along the "Belt and Road" (B&R), Russia and Mongolia, international cooperation on intellectual property is crucial.
Aiming at aligning the initiatives of the Silk Road Economic Belt, the Russia-led Eurasian Economic Union and the Mongolia-led "Steppe Road" Program, the three countries signed the Outline for Building the China-Mongolia-Russia Economic Corridor and formally clarified matters concerning intellectual property cooperation.
For Russia, this will create opportunities to develop energy and transport infrastructure in the Far East and Siberia. For Mongolia, this will solve the problem of imbalances mineral development in its eastern and western regions. For China, the technologies can be effectively utilized to accelerate regional economic development. At the China-Russia Science and Technology Innovation Fair in 2019, China and Russia signed more than 20 strategic cooperation agreements focusing on high-end and new technologies cooperation.
In the same year, China and Mongolia signed the Cooperative Plan for Aligning the B&R Initiative and "Steppe Road" Program, which is significant for deepening the two countries' international cooperation on various sectors including intellectual property.
Intellectual property cooperation is an indispensable part of international economic and trade cooperation. The role of intellectual property can be played to support and guide the scientific and technological innovation and industrial development of the three countries. The joint construction of the B&R brings great opportunities for deepening and expanding economic cooperation in northeast Asia. To expand trade and investment as well as enhance infrastructure connectivity, cooperation on intellectual property is essential.
The suggestion is to gradually remove investment and trade barriers, create a sound business environment within the region, and actively establish free trade zones. In constructing free trade zones, the tripartite intellectual property protection mechanism should comply with the rules of the WTO and TRIPS (Agreement on Trade-Related Aspects of Intellectual Property Rights).
By seeking common ground while preserving differences and strengthening cooperation, a market environment that conforms not only to the interests of China, Mongolia and Russia but also to international rules can be created. The three countries share long borders, and many ports are important hubs of intellectual property trade featuring high-end and new technologies. In July 2020, China and Mongolia officially launched the "Convenient Passage" program at border crossings, which is a measure to deepen bilateral economic and trade cooperation. The comparative advantages of related cities in the three countries can be utilized as a sub-regional cooperation mechanism, and the construction of port cities at the borders should be continued. These cities can become scientific and technological exchange centers or bridges for international intellectual property trade between neighboring countries.
Yang Jian is an associate professor from the Center for Russian Language Literature and Culture Studies at Heilongjiang University.