China taps its low-carbon development potential
LUO LAIJUN, SHI WEIWEI
|
2020-06-10
|
Hits:
(Chinese Social Sciences Today)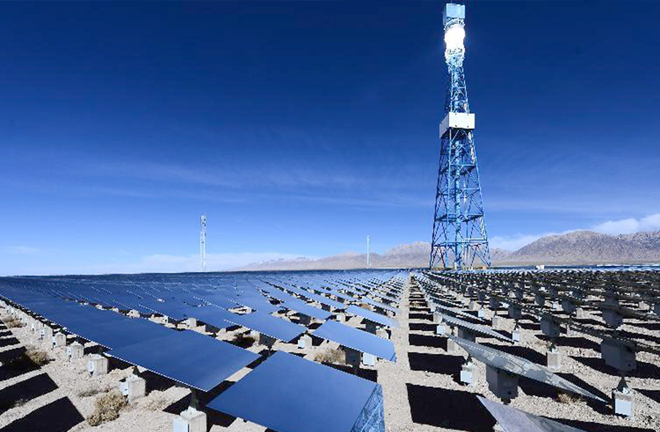 The solar thermal power station in Qaidam Basin in Qinghai Province Photo: XINHUA
---
In order to cope with global climate change, the concept and model of low-carbon development emerged, and the concepts of low-carbon technology, low-carbon industry and low-carbon economy developed along with it. As a sustainable development model characterized by low-energy consumption, low pollution and low emission, low-carbon development is an important direction for high-quality macroeconomic development in China. It will bring about a change in people's consumption patterns and help to cultivate and shape a green, clean and environmentally friendly low-carbon lifestyle.

At present in China, there are still many "non low-carbon" phenomena in consumption. For example, the consumption of high-carbon resources such as coal in the production process is still high, and plastic bags and disposable chopsticks are widely used in daily life.

The Chinese government actively promotes reform centered around low-carbon development, and it has taken measures to adjust the industrial structure, optimize the energy structure, save energy and improve energy efficiency, and build the carbon emission trading market. Remarkable results have been achieved. In 2017, China's carbon intensity was reduced by about 46% compared with that in 2005, and the target of "reducing carbon intensity by 40–45% by 2020" was achieved ahead of schedule.

In terms of the adjustment of industrial structure, the low-carbon industry has received unprecedented attention and achieved gratifying development. Strategic emerging industries have been growing steadily; high-tech manufacturing and new-energy vehicles have achieved rapid growth. Moreover, low-carbon development has also provided an important underpinning for reducing overcapacity in coal, steel, chemicals and other sectors.

In terms of energy structure optimization, China controlled the coal consumption in a strict way in recent years. The National Development and Reform Commission (NDRC) actively implemented key projects such as the energy-conservation reform of the coal-fired boiler, waste-heat warming, shallow-ground energy use in such key areas as the Beijing-Tianjin-Hebei Region, Yangtze River Delta and the Pearl River Delta. In this way, clean use of fossil energy has been strengthened; green development and clean and efficient use of coal have entered into a new stage; the application of advanced technologies for energy conservation and emission reduction has been promoted; and the quality of oil products has been upgraded. Increasing efforts have been made to integrate renewable energy into the grid, and the electricity output for installed renewable energy, hydropower, wind power and solar power has witnessed rapid growth.

The construction of the carbon emission trading market and the pilot carbon market has completed preliminary development. At present, regional carbon emission trading markets with advanced elements and distinctive features have formed in Beijing, Tianjin, Shanghai and other places, and they are operating steadily with remarkable results.

Today's industrial revolution centered around the low-carbon industry is flourishing. With its unique advantages and huge market, it has become a hot issue in global economics. Europe, the US, Japan and other developed countries have formulated policies and taken measures to vigorously develop the industry. China should also seize the current industrial opportunities to vigorously develop the low-carbon industry.

With the acceleration of industrialization and urbanization, the national economy's demand for energy is increasing. Sectors of machinery manufacturing, steel, building materials and heavy chemicals will show a long-term trend of steep growth. However, China is rich in coal but deficient in oil and gas. Without sufficient development of clean energy, serious problems such as a widening gap between energy supply and demand will arise, which would bring difficulties to low-carbon development. In order to maximize the potential of low-carbon development, the following four points should be considered.

First, in terms of energy conservation and energy efficiency, it is necessary to continue to promote energy-saving technologies and products, accelerate the development of circular economy, and intensify efforts to promote energy-saving and green development in the areas of construction and transportation. Furthermore, we must control the greenhouse gas emissions of industrial, agricultural and waste disposal sectors. Relevant departments should strengthen the statistical accounting system and improve the basic statistical system for greenhouse gas emissions.

Second, we should increase the research and development as well as application of low-carbon technology. China has attached great importance to this and has conducted concrete and detailed work revolving around it. For example, NDRC issued a document focusing on the promotion of 27 low-carbon technologies on the national level in the fields of non-fossil energy, fuel and raw material substitution, non-carbon dioxide emission reduction in the industrial process, and CCUS (Carbon Capture, Utilization and Storage) carbon sinks. But in addition to this, basic research and top-level design of low-carbon development should be strengthened, especially for key low-carbon technology and industry, we should deeply explore its evolution path, risks and challenges, application prospects, and other important issues.

The third is to participate in and strengthen international exchanges and cooperation on low-carbon development. The Chinese Government has always actively participated in relevant negotiations on the follow-up to the Paris Agreement to promote a fair, equitable and mutually beneficial global climate governance system. In the future, cooperation with multilateral institutions, such as the World Bank, the Asian Development Bank and the United Nations Development Program could also be strengthened. China should play a more active and constructive role in the international negotiations on climate change and advance dialogue, exchange and practical cooperation with relevant countries, especially developed countries in the field of climate change and green and low-carbon development.
Luo Laijun and Shi Weiwei are respectively from the Research Institute of Changjiang Economic Belt and School of Economics at Renmin University of China.
edited by BAI LE