Consumption shift returns intangible cultural heritage back into daily life
XU GANLI
|
2020-06-10
(Chinese Social Sciences Today)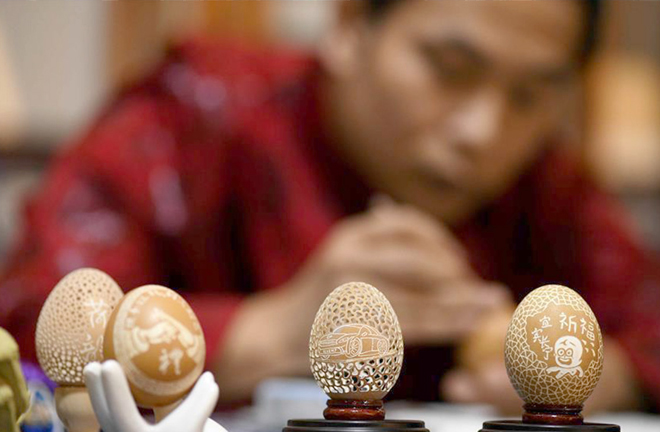 Craftsman Zhang Xiaohe makes an egg carving at an intangible cultural heritage center in Shijiangzhuang, Hebei Province, on April 17, 2020. Photo: XINHUA
---
June 13 marks Cultural and Natural Heritage Day in China. As scheduled, over 3,700 events will be staged across the country, mainly in youth-friendly online formats, to promote intangible cultural heritage. Since the Intangible Cultural Heritage Law was adopted in 2011, the protection of intangible cultural heritage has achieved remarkable results.

However, given that a huge number of items are in need of protection, the effort faces the dilemma of sustainable development. In its origins, intangible cultural heritage was closely related to people's daily lives, and people passed it down from generation to generation. Therefore, if this transmission through daily life can be continued in the contemporary era, it would be the best way to ensure its development.

At the same time, it is also a reality that many items are no longer essential in modern daily life. Does that mean that the fate of intangible cultural heritage is sealed and there is nothing to be done? When it comes to intangible cultural heritage in daily life, today's changes in consumer demand have a silver lining.
New possibilities
Take Chinese traditional handicrafts as an example. As the aesthetics of everyday life continue to move toward the center of this age, there will be less and less of a boundary between contemporary art and life, meaning that almost all the contents and objects of everyday life can become works of art equally in pursuit of aesthetics. As a symbol of traditional culture, handicrafts are gradually becoming an important cultural resource introducing a new Chinese lifestyle for consumption.

This phenomenon shows that after achieving material abundance, as people continue to pursue a better life, deep structural changes in consumption demand have ensued. This has provided an excellent opportunity for the transformation and upgrading of the traditional handicraft industry as well as the introduction of intangible cultural heritage into daily life.

Therefore, we should examine the supply and demand problems hidden in the current market, taking into account people's desire for a better life, to revitalize the traditional handicraft industry.
To this end, we dig into the 2018 and 2019 Research Report on Chinese Traditional Craft Brands published by the Chinese industry magazine Handicrafts. We will underline the problems in the traditional handicraft intangible cultural heritage industry and then propose possible solutions.
Problems in handicraft industry
To start with, the industry is torn by imbalanced supply and demand, with a prominent surge in demand for items with daily use. According to the 2018 report, the collection of ornamental goods ranks first among the types of products that handicraft practitioners present to the market, accounting for 17.05%.

However, in terms of consumers' purchase intentions, elaborately carved arts and crafts decorations only account for 4.26%, whereas the purchase intention for daily necessities such as tea sets, shoes, hats and stationery is as high as 33.33%. Whether an item has collection value and room for appreciation only makes up 6.2% of the factors that prompt consumers to purchase.

It can be seen that the supply-demand imbalance is evident, and the return of handicrafts to daily life is at large the trend. With the growth of disposable income and the desire for a better life, people buy handicrafts not only for the purpose of giving gifts and maintaining and appreciating their value, but also for their own daily use.

Second, the emphasis on design is far from enough. According to the 2018 report, 23.39% of consumers value novelty and style when buying handicrafts. In the eyes of consumers, the lack of originality and creativity and the flood of duplicates are the most serious problems with handicraft products, 26.10% and 21.64% of consumers identifying these problems respectively. Today, consumers increasingly emphasize product design and personalized and eye-catching products.

From the perspective of the supply side, only 9.08% of craftsmen think that the lack of design concepts that keep pace with the times is an issue. Some 16.33% of handicraft practitioners believe that it is one of the defining qualities of craftsmen to pursue novel designs and models. As high as 46.15% of craftsmen never calculate the proportion of design expenses in their prices, and 33.85% of craftsmen report that their design expenses account for less than 30% of the total cost.

As for researchers, 17.21% of the respondents believe that the biggest problem in the development of handicrafts is that the inheritors lack designs that cater to modern aesthetics. On the whole, handicraft practitioners have not given enough attention to design, and they haven't fully decoded the demand of consumers, thus resulting in the imbalance between supply and demand in this respect.

Next, the popularization of handicraft culture needs to be strengthened. The different attention that practitioners and consumers attach to design is somewhat a reflection of the lack of public awareness of craftsmanship. Judging from the 2018 data, craft practitioners including inheritors (26.61%), masters of arts and crafts (28.31%), craft businessmen (22.73%) and the ordinary handicraftsman (25.77%) all prioritize exquisite craftsmanship, second only to the importance of cultural heritage and the wisdom of creation.

On the side of consumers, craftsmanship is not at the top of their list when they purchase handicrafts. The pursuit of individuality and beauty is far greater than that of craftsmanship.

As we all know, craftsmanship is the pillar to support the development of handicrafts, and creativity and design are icing on the cake. Though the overall development of handicrafts in China has shown a trend of revival in recent years, and the proportion of handicrafts in the market consumption has been increasing year by year, the public still lacks an accurate and profound understanding of the craft culture, especially an understanding of craftsmanship. If we cannot enhance people's knowledge of traditional crafts, sustainable development of the industry is far-fetched.

Finally, branding is insufficient, and the core value of the product needs to be further improved. According to the 2019 report, 20.15% of consumers believe that visual merchandizing should be an essential element of traditional craft brands, which is often ignored by practitioners. Only 5.06% of practitioners care for visual merchandizing.

At the same time, some 63.25% of the existing traditional craft brands had been established for less than 5 years, and 74.36% had no product patents, lacking practical and technical patents in particular, signaling the low core value of the brands.
Going forward
Going forward, we need to highlight Chinese lifestyle aesthetics and return handicrafts to everyday life.

Craftsmen and handicraft businessmen are encouraged to develop daily necessities, especially to improve product quality and practical functions, so as to meet contemporary people's pursuit of Chinese lifestyle aesthetics. Handicraft products can make use of the carriers of popular culture, such as animation, film and television works, to realize their interconnection with modern leisure and entertainment and become a new fashion. In addition, the leading and exemplary role of public figures could be better utilized to introduce quality Chinese lifestyle aesthetics to the whole society.

Consumers' pursuit of individuality and beauty makes the role of design increasingly important in the production chain. Therefore, on the basis of respecting tradition, we need to further explore ways to combine traditional skills with modern concepts, so that handicrafts can enter the market in a form that people are more willing to accept.

In this aspect, the training of modern talent is essential. Contemporary craftsmen need to develop profound insight into both traditional craft culture and modern Chinese aesthetics. With the help of colleges and universities, we can organize trainings for inheritors, artists and other relevant practitioners, helping them systematically obtain design knowledge through continuous education to improve their aesthetic level.

In the meantime, we need to intensify promotion and education to raise public awareness. Introducing handicraft culture to the public cannot be a one-off and superficial endeavor. It is not possible to expect the public to understand our extensive and profound craft culture in a short time, so the effort must be a long-term investment.

We can give full play to the leading role of museums, art galleries, libraries, art galleries and other venues and integrate the protection of intangible cultural heritage into the process of building a new type of urbanization and rural revitalization. Public spaces such as subways, squares, shopping malls and online platforms could be better facilitated to make intangible cultural heritage reach a wider crowd. The stories of representative inheritors are also vivid accounts of the craftsmanship and important sources that could enlighten the public.

At the same time, public education about handicrafts should be enhanced, so that the public will not only understand common crafts and skills, but also have some degree of professional knowledge, thus truly grasping the traditional Chinese culture.

On the whole, the development of traditional craft brands in China is still in its infancy, and practitioners should be encouraged to strengthen brand building from various aspects to promote handicrafts in daily life. While focusing on product quality and innovation, practitioners should also stress the expansion of sales channels, promotion efforts and the provision of diversified services. Visual merchandising such as product appearance, packaging and brand logos should be valued to satisfy the public's consumption psychology of "seeking difference." Moreover, we need to strengthen patent protection and increase the development of practical, technology-based products in order to enhance the core value of handicraft brands.
Xu Ganli is a professor from the Institute of Folklore Studies at East China Normal University.
edited by YANG XUE