Joint efforts needed to build 'Health Silk Road' amid virus fights
ZHENG XUEPING and MI JUN
|
2020-03-24
|
Hits:
(Chinese Social Sciences Today)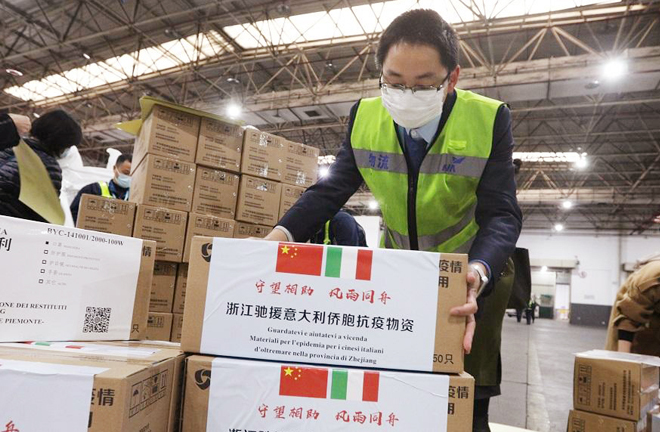 Workers load 4,556 packs of disaster-relief materials, donated by people from all walks of life in Zhejiang Province, onto a chartered cargo plane to epidemic-hit Italy at Hangzhou Xiaoshan International Airport on March 11. Photo: CHINA DAILY
Many countries and regions along the Belt and Road (B&R) have recently reported confirmed cases of COVID-19. In order to safeguard regional and global public health security and minimize the negative impact of the epidemic on B&R projects, countries and regions along the routes need to work together to tackle the challenges.
On the premise of curbing the spread of the epidemic and protecting the health of personnel, it is necessary to strengthen information sharing and technological cooperation and to ensure as much as possible the supply of materials and the normal operation of all projects. Moreover, we must further the construction of an international public health cooperation mechanism and jointly build a "Health Silk Road."
Since the onset of the outbreak, many international organizations, countries and regions, including Russia, Cambodia, Pakistan, Mongolia, South Korea and Japan, have supported China in various ways. They have not only donated medical supplies, but also vowed to strengthen B&R cooperation with China.
While China has spared no effort in containing COVID-19 across the nation, it has also contributed to the global fight against the epidemic by strengthening communication and coordination with the WHO and the international community, timely sharing genome sequence data, reporting the status of the epidemic to relevant countries and regions, and communicating China's experience in the fight against the virus.
As of March 11, China has published seven editions of a COVID-19 diagnosis and treatment plan and six guidelines for virus prevention and control, all of which have been translated into multiple foreign languages.
Technical exchanges have been held between China and other countries and organizations through teleconferences and other means to share China's anti-epidemic experience. Meanwhile, China has sent teams of medical experts to Iran, Iraq, Italy and other countries to help prevent and control the epidemic. China has also provided some countries with detection kits and donated anti-epidemic supplies through the Red Cross and other channels.
At the same time, China has decided to donate $20 million to the WHO in support of worldwide cooperation combating the COVID-19 outbreak.
China's local governments and non-governmental organizations have also been reaching out to some hard-hit countries, donating masks, protective clothing and medical equipment.
At present, China is working hard to resume and expand the production of health care, medical and other anti-epidemic commodities to meet its own and global needs, as well as to ensure that supply chains and B&R construction return to normal.
China's efforts in this fight have been widely acclaimed. World bodies such as the UN and WHO have commended China's effective response as having "bought the world time." Tedros Adhanom Ghebreyesus, director-general of the WHO, noted that China's strong actions have limited the spread of the virus, both domestically and abroad, thus setting a new standard for global efforts against the epidemic.
On March 12, Antonio Guterres, secretary-general of the UN, spoke with Chinese President Xi Jinping over the phone. He said the UN thanked China for helping countries currently having difficulty in their fight against COVID-19 and praised China's sharing of experience in epidemic prevention and control with developing countries and its provision of valuable assistance such as medical supplies, vaccines and medicines.
Foreign experts have lauded China's timely release of the new coronavirus genome sequence, an act allowing many pharmaceutical and vaccine development agencies to develop drugs and vaccines more quickly.
Russia's Rossiyskaya Gazeta newspaper published an editorial saying that China and Russia are friends that have shared many highs and lows and that Russia gives its firm support to China. The editorial stressed that the COVID-19 epidemic will not reduce the momentum of the sustained growth of China-Russia economic and trade cooperation and that both sides can explore new fields of cooperation amid the outbreak. South Africa's Pretoria News also called for greater unity in the fight against the epidemic.
With the spread of the COVID-19 epidemic in countries along the B&R, it is of great necessity, importance and urgency to strengthen the cooperation among relevant parties in the fight against the virus and in the public health sector.
In some countries along the B&R, where the epidemic is relatively severe, the public health infrastructure is fragile, the epidemic prevention capacity is insufficient and virus containment is under great pressure. These countries are in urgent need of epidemic prevention knowledge and capacity, protective materials, medical equipment, medicines, and, more importantly, the help of relevant experts.
Some B&R projects have been affected by the spread of the epidemic. For one, the restriction on the flow of people affects the normal operation of projects. In order to control the spread of the epidemic, a number of countries along the B&R have announced restrictions on the entry of people, materials and vehicles, which have disrupted the normal operation of some projects. For example, some core projects of the high-speed Jakarta-Bandung railway project in Indonesia have been halted because more than 100 senior engineers and workers could not return in time.
Similarly, the Payra coal-fired power plant in Bangladesh, which was due to start commercial operation in early February, has also been put on hold due to the large number of employees who cannot return on time. In addition, a number of exhibitions, personnel training programs, and research and negotiation for new cooperation have been canceled or postponed.
Second, delays in international shipments have disrupted the supply of components and normal production of Chinese automobile factories in Russia, Belarus, Brazil, Ethiopia and other countries.
The clothing and footwear industry, as a pillar industry in Cambodia, has suffered a raw materials shortage due to the outbreak. The same has happened with the supply of mobile phone components and some pharmaceutical ingredients in India. Furthermore, after the outbreak, customers in some countries have asked for delayed deliveries, canceled orders or even filed claims.
The slow flow of goods and products has taken a toll on the normal operation of enterprises in some countries along the B&R. In turn, China has seen a dip in exports due to suspended and reduced production, restricted export and transportation, and strict inspection standards.
In order to cushion the impact of the epidemic on the B&R initiative, China needs to strengthen cooperation with countries along the routes in epidemic prevention and control, the resumption of production, and the restoration of supply chains. Even more, China must focus on the future, build a long-term international public health cooperation mechanism and a Health Silk Road, so as to promote a community of shared future for mankind.
To start with, as international cooperation in the fight against the epidemic enters a critical stage, it is necessary for China to enhance cooperation with the Belt and Road News Network, the Belt and Road Journalists Network, and the news agencies and media outlets of various countries in order to timely communicate information and facts via a range of local platforms, clarify and refute false information, and facilitate trust among governments and peoples.
In addition, Chinese enterprises should assist local governments and medical and health departments in screening personnel and reporting case checks in all the projects under construction or in operation. They should efficiently establish emergency response mechanisms, so that production and product supply can be resumed and restored as soon as possible.
Earlier this month, China pushed the fast delivery of the first batch of 63 containers of garment and footwear raw materials to Cambodia. At present, some factories there have partially suspended operations due to a shortage of raw materials, affecting almost 20,000 workers.
In order to overcome insufficient personnel, the recruitment of local staff and local training can be appropriately arranged to meet the needs of project operation. Business exchanges and activities can be conducted in countries along the B&R via online training, video conferencing and e-commerce. Relevant domestic departments should improve services to support the resumption of production, strengthen communication and cooperation, and speed up the inspection and release of goods entering and leaving Chinese borders.
At the same time, credit and insurance institutions should help Chinese enterprises cope with contracts incompleted due to force majeure. The Belt and Road Inter-Bank Regular Cooperation Mechanism can be made full use of to provide financial support for enterprises involved in the B&R initiative.
Finally, we need to deepen international public health cooperation and build a Health Silk Road, which would be conducive to achieving the goals listed in the 2030 Agenda for Sustainable Development, such as eliminating AIDS, tuberculosis, malaria and neglected tropical diseases along with the prevention and treatment of hepatitis, waterborne diseases and other infectious diseases.
In the process of promoting connectivity among countries along the B&R, we need to step up medical and healthcare cooperation, improve epidemic prevention capacities and raise public health levels, ensuring the well-being of the people.
Therefore, in addition to short-term aid, Chinese enterprises should also engage in the long-term prevention and control of infectious diseases and the construction of health infrastructure in countries along the B&R. At best, the Chinese government, medical institutions and enterprises can establish an integrated and collaborative framework with its B&R counterparts that implements preventative screening and detection as well as effective treatment, thus lifting up the capacity to respond to major public health emergencies along the routes.
In sum, the containment of the epidemic requires the concerted efforts of the international community. It is the right time to build a Health Silk Road alongside the construction of a prosperous green Silk Road.
Zheng Xueping is from the School of Economic Management at Southwest University of Science and Technology and Mi Jun is from the School of Economics at Sichuan University.
edited by YANG XUE