Migrant workers key to rural revitalization
LU YILONG
|
2019-10-31
|
Hits:
(Chinese Social Sciences Today)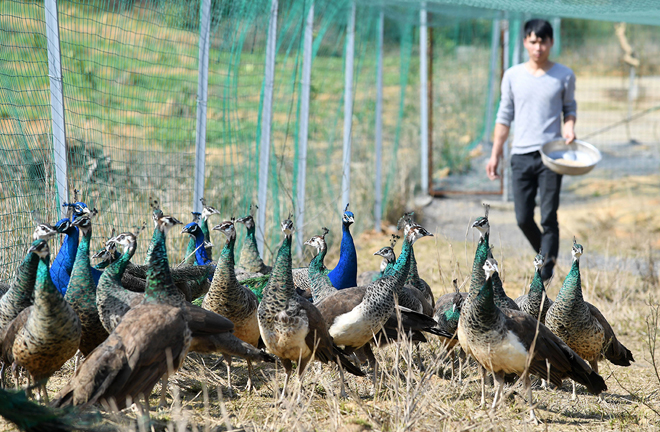 A returned migrant worker feed peacocks in the peacock lot that he founded in a village in Xinyu, Jiangxi Province. Returned migrant workers have constituted an importance force to rural revitalization. Photo: FILE
---
Migrant workers are in some ways a unique Chinese characteristic. This issue is inseparable from distinct social systems, urban-rural relations and the relationship between industry and agriculture in China.
According to the definition given by the National Bureau of Statistics (NBS), "migrant workers" refers to laborers whose household registration, or hukou, remains in a rural area, and who engage in non-agricultural sectors in urban areas in their native province or have left home to work in other cities for more than six months.
The hukou identity of migrant workers reflects features of the Chinese household registration system and related social institutions, while their occupational practices mirror the transformation of the relationships between urban and rural areas and between industry and agriculture since the reform and opening up.
Data from the NBS show that China had 288 million migrant workers in 2018. Of them, 170 million left home to work in other cities and 110 million had employment in urban areas in their native province. The huge group is of vital importance to Chinese society. Be it in rural or urban society, migrant workers have been playing a special role. As China's national rural revitalization strategy continues, attention must be paid to the significance of the group.
Significance of migrant workers
A prevailing view holds that the exodus of migrant workers has hollowed out the countryside or led it to decline, and due to the outflow of the population, rural socioeconomic development has lacked endogenous momentum.
In fact, the movement of migrant workers is a result of the interplay between social and economic restructuring and state systems. But the massive migrant population flow hasn't exerted only negative social impacts—it has a bright side as well.
From the micro perspective, the flow of the migrant population is actually an effective strategy for the rural labor force to adapt to social changes. On the macro level, it has eased the tension between cities and the countryside, and between industrialization and the development of agriculture, rural areas and farmers, bringing into being more flexible urban-rural and industry-agriculture relations. In other words, migrant workers are not leading the countryside to decline. On the contrary, they have endowed rural areas with new opportunities and possibilities in the broad context of modernization and marketization.
At present, poverty alleviation in the countryside has entered a critical period. Local governments are actively taking various targeted poverty alleviation measures, in a big push to realize the national strategic goals of lifting the entire rural population out of poverty and building a moderately prosperous society by 2020.
When it comes to rural poverty alleviation, the key is to help concentrated destitute areas rid themselves of poverty. Current measures, such as relocation, paired support, and poverty relief through industries and projects, might achieve remarkable results for anti-poverty goals in a short period of time. However, in the long run, it is essential to create a more favorable environment for local governments to gain more market opportunities, thereby solving the problem of lifting concentrated poor areas out of poverty.
Against the backdrop of marketization and urbanization, leaving home to work is one effective way for the rural labor force to obtain new opportunities and development. Rural families can overcome poverty as long as their labor force leaves home to work.
According to monitoring data, migrant workers are able to earn approximately 3,200 yuan on average each month. If a four-member family has an outward laborer, their family net income per capita will apparently exceed the poverty line. Therefore, rural workers have been playing a crucial role in the poverty alleviation of the countryside.
Similarly, the migration of the rural labor force should be valued in rural revitalization. On the surface, that migrant workers leave home to work seems to affect rural development and prosperity. But it's not true. Migrant workers have dual social roles. Although they work and live in towns and cities, contributing greatly to urban construction and the operation of urban society, they are members of rural society and will still make tremendous and positive contributions to rural economies and construction.
Regarding rural revitalization, national support is vital, but main forces in rural society are fundamental. As mobile as they are, migrant workers remain the main force of rural society.
With a fuller and more balanced development of the group, migrant workers will inject new vitality and bring new opportunities to the growth of rural society. Particularly, returned migrant workers who have built up financial strength will play a predominant role in enlivening the rural market and revitalizing industries in the countryside.
Migrant workers have been viewed differently. In the past, the migration was regarded as shortsighted, and more recently they have been accused of hollowing out the countryside. The views on the flow of the population have been essentially negative.
It is an objective fact and general trend that migrant workers flow out of agriculture and rural areas, but their employment in non-agricultural sectors has in fact contributed to the curved development of the countryside, because their increasing incomes have dramatically changed the landscape of rural areas.
While villages seem to hollow out, we can also see houses built one after another and great numbers of cars during the Spring Festival in rural areas. All these signify the growing strength of the rural economy due to the movement and development of migrant workers.
The mobility of migrant workers and their non-agricultural engagement require government support. Rural revitalization is not about retaining the rural labor force in the countryside. Priority should be given to ensuring the full employment of the workforce. Hence promoting and guaranteeing the smooth employment of migrant workers in non-agricultural sectors is a feasible and transitional path to lift the countryside out of poverty and realize rural revitalization.
To help migrants be better employed, the government should strengthen the construction of the job information platform for migrant workers and increase public investments to serve the group during their employment.
Moreover, migrant workers should be offered flexible and preferential policy support. For example, the government can loosen restrictions on some positions and forms of employment for migrant workers, or encourage employers to employ migrants, thus expanding employment channels and job opportunities for the special group.
In addition, migrant workers should be offered incentive and support for starting businesses. From a long-term perspective, rural revitalization needs to rely not merely on agricultural modernization but also on industrial integration, so guiding and motivating the rural labor force to work and start businesses outside of agriculture is especially important. The government can beef up support in capital, information, technology and infrastructure to stimulate the creativity of migrant workers and open new channels for their non-agricultural employment.
Wage arrears are a prominent problem many migrant workers face. Causes of the problem are complicated, including structural causes, institutional reasons and special factors. Diverse regulations, policies and measures have been implemented to solve the problem. Though somewhat relieved, it still looms large and constitutes a detriment to the development of migrant workers.
According to the monitoring of disputes at the primary level, wage arrears are one of the major causes of social conflict. Prior to the Spring Festival every year, a great many migrant workers will petition for help because of failing to get paid on time. Some places even see mass disturbances due to the problem. Wage arrears are not minor. The problem might be a source of social risk jeopardizing harmony and stability.
Since the employment of migrant workers is informal, diverse and complicated, wage arrears are sophisticated. It is difficult to find the sole root cause. In this issue, the government should play the leading role and build a co-governance mechanism.
For one thing, it should constantly improve laws and regulations regarding the labor market and employment and intensify law enforcement and supervision. For another, migrant workers, labor unions, social organizations and law enforcement agencies can be guided to jointly participate in the prevention and solution of the problem to gradually foster an ordered, fair and rational employment environment for migrant workers.
Additionally, rural insurance mechanisms can be introduced to cope with the risk of wage arrears and ensure workers' unpaid wages get compensated on time.
During the implementation of the rural revitalization strategy in the new era, it is vital to face up to the reality that migrant workers remain a general trend, to view the flow of the population positively, to provide them with favorable services, support and guarantees, and to effectively solve related problems to give full play to migrants' unique role.
Lu Yilong is a professor from the Center for Studies of Sociological Theory and Method at Renmin University of China.
edited by CHEN MIRONG