B&R drives growth of Pacific Island countries
ZHAO SHAOFENG and YU LEI
|
2019-08-08
|
Hits:
(Chinese Social Sciences Today)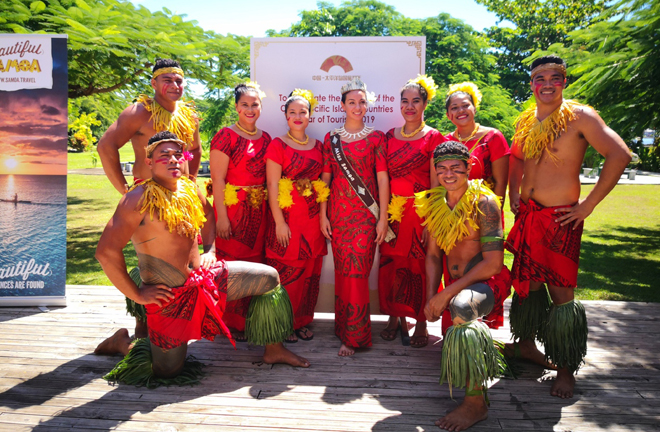 On April 1, 2019, the China-Pacific Island Countries Year of Tourism kicked off in Apia, capital of Samoa, promoting tourism in the Pacific Islands and strengthening the region's ties with China. Photo: XINHUA
---
Since the beginning of the 21st century, Pacific Island countries have been hoping for leapfrog socioeconomic growth by means of emerging technologies. However, to the present day, the governments of many Pacific Island nations have still failed to formulate satisfactory plans for socioeconomic development. Be it local governments, politicians, government officials or enterprises, media outlets, community leaders or ordinary people, the longing for modernization has been real. They hope the international community, particularly developed and emerging nations, can help them achieve comprehensive, balanced and sustainable development.
While disappointed by developed countries, governments and peoples of the Pacific Islands have started to cast their eyes to Asia and emerging developing nations, hoping to borrow from their development funds, especially from their successful experiences with economic and social development, to substantially develop their nations and improve their people's quality of life.
The government of Papua New Guinea, for example, has turned its attention to neighboring emerging countries in Asia, China in particular, and proposed the "Look North Policy." Meanwhile, other Pacific Island countries have been thinking the same way, expecting emerging Asian countries, including China, to provide aid and contribute modernization experience, capital and technology to help them realize national prosperity. This year, Peter O'Neill, prime minister of Papua New Guinea, and high-level representatives of other Pacific Island countries attended the Second Belt and Road Forum for International Cooperation held in April in Beijing.
The Pacific Island countries combined have a land area of only 550,000 square kilometers, but their sea area is vast. The oceanic exclusive economic zones of the 14 countries of the Pacific Islands cover 22 million square kilometers. They essentially constitute a large maritime country. Therefore, these countries rely heavily on the sea in economic development. The sea has become essential for their realization of the UN Sustainable Development Goals of the 2030 Agenda.
In June 2017, Samoan Prime Minister Tuilaepa Sailele Malielegaoi put forward the concept "Blue Pacific" at the World Ocean Conference, which won unanimous recognition from the governments of Pacific Island countries. Blue Pacific emphasizes the marine characteristics, geography and resources of Pacific Island countries to advance sustainable economic development, cope with climate change and enhance their economic recovery capacities.
Green development is a principle guiding China's economic development and also a crucial concept of the Belt and Road (B&R) initiative. When it comes to green development, China has accumulated considerable successful experience. Data from the International Energy Agency shows that the wind power generated by China accounted for one third of the world's total, and 60% of global solar panels were produced in China.
Adhering to green, sustainable development is the greatest point of agreement between China and Pacific Island countries. And China's valuable experience in wind, tidal and solar energy is being implemented in those countries.
Boosting growth of Pacific Islands
Paying close attention to relations with the Pacific Islands, Chinese President Xi Jinping met with leaders of the Pacific Island countries that had established diplomatic ties with China in Nadi of Fiji and Port Moresby of Papua New Guinea in November 2016 and November 2018, respectively.
Before attending the First Belt and Road Forum for International Cooperation, Fijian Prime Minister Frank Bainimarama said in a media interview that the B&R has provided new developmental opportunities for the South Pacific region. Concerning regional growth and South-South Cooperation, the initiative means infrastructure construction, which is vital to Fiji, Bainimarama said, adding that the B&R will not just aid Fiji's development but also that of the entire South Pacific.
In March 2018, on the occasion of the 20th anniversary of the diplomatic relations between China and Tonga, King George Tupou VI witnessed the signing of bilateral cooperative agreements on such fields as financial technology, human capital development and education during his visit to China.
In 2018, China lifted its relationships with eight Pacific Island countries to comprehensive strategic partnerships based on mutual respect and common development. The elevation of bilateral relations has given a boost to these countries' economic growth.
China has provided a host of construction aid projects for such Pacific Island countries as Papua New Guinea, Fiji, Samoa and Tonga and undertaken a number of bidding projects. The construction speed and quality of Chinese engineers have been highly praised by the governments and peoples of the countries.
Moreover, hospitals, schools and houses that China has helped to build, along with cooperation in education, healthcare, agriculture and fishing, have significantly improved local living conditions. According to the Chinese Ministry of Commerce, the newly signed contracts of projects undertaken by Chinese enterprises in the Pacific Islands amounted to $2.71 billion in 2017, with a turnover of $970 million completed.
China has also contributed in tourism. Most of the 14 Pacific Island countries depend mainly on fishing resources in the oceanic exclusive economic zones, except for Papua New Guinea, Fiji and the Solomon Islands, which have a large territory and abundant mineral resources. Hence tourism has become an important pillar supporting the growth of most Pacific Island countries.
According to a report released by the World Tourism and Travel Council, tourism represented 40.3% of Fiji's economic aggregate in 2017. It created a total of 118,500 jobs, directly and indirectly, accounting for 36.5% of national total employment. The yield of tourism in Vanuatu occupied 46.1% of the country's economic aggregate. As many as 30,000 people were directly and indirectly employed in the industry, taking up 39.3% of the nation's total employment.
Statistics by the South Pacific Tourism Organization show that a total of 120,000 Chinese traveled to Pacific Island countries and regions in 2017.
On April 1, 2019, the China-Pacific Island Countries Year of Tourism kicked off in Apia, capital of Samoa, further promoting tourism in the Pacific Islands and strengthening ties between China and countries in the region. The Year of Tourism, a concrete cooperation project within the B&R framework, will further deepen bilateral cultural communication and people-to-people exchange.
Although the Pacific Islands are away from the center of world trade, the region is subject to profound influence from global financial crises and economic upheavals. Reaching out to major countries inside and outside the South Pacific is an important channel for Pacific Island nations to integrate into world economic growth.
Most countries on the Pacific Islands grow at a rate of about 2%. Due to the volatile international market and natural disasters, their economic development has been quite unstable. Take the Cook Islands as an example. Their GDP grew by 8.8% in 2016, and the rate dropped to 3.5% in 2017.
In 2018, Papua New Guinea reported to the World Trade Organization that its economy grew 5.2% annually on average from 2010 to 2018. In 2014, its real GDP growth reached a peak of 15.4% and slowed down thereafter. In 2018, the rate stood at 2.2% because of low commodity prices, serious drought and violent earthquakes.
Most Pacific Island countries have tremendous promise in tourism, employment and economic growth, but low development levels and unstable economic growth have posed hinderances.
Since the implementation of the B&R initiative in 2013, the trade volume between China and the Pacific Islands has been climbing. The bilateral trade volume jumped from $4.51 billion in 2012 to $8.2 billion in 2017.
The China-Pacific Island Countries Economic Development & Cooperation Forum to be held in the latter half of 2019 will provide more opportunities and a broader platform for bilateral cooperation.
In recent years, Pacific Island countries have been increasingly willing to develop independently and participate equally in global and regional affairs. China has offered them aid second only to that from Australia. Through the aid of capital contributions with no political conditions attached, China has won high praise from governments, politicians, observers and academics of the Pacific Islands.
Papua New Guinea, Fiji, Tonga and Samoa are at the forefront of the Pacific Island nations in terms of cooperation on the B&R initiative. Among others, Papua New Guinea and Fiji have signed memorandums of understanding with China on the B&R and garnered support from the Asia Infrastructure Investment Bank and the Silk Road Fund.
In 2017, China made direct investments of $160 million in the Pacific Islands, covering fields such as agriculture and fishing, tourism and infrastructure construction.
In April 2019, at the Seminar on the Belt and Road Initiative and New Opportunities With Pacific Island Countries held at Beijing Foreign Studies University, both Manasa Tagicakibau, the Fijian ambassador to China, and Carlson D. Apis, the Micronesian ambassador, fully acknowledged the big role of the B&R initiative in advancing the development plans of their own countries, setting themselves against major countries inside and outside the South Pacific in discrediting Chinese aid for the sake of their own geo-strategies.
To sum up, the B&R has become a significant engine in driving the economic growth of Pacific Island countries. The cooperation between China and these countries shows promise.
Zhao Shaofeng is a professor and Yu Lei is a chief research fellow from the Research Center for Pacific Island Countries at Liaocheng University in Shandong Province.
edited by CHEN MIRONG