Small-town youth reconstruct their role and identity through new media
QIN CHAOSEN
|
2019-07-11
|
Hits:
(Chinese Social Sciences Today)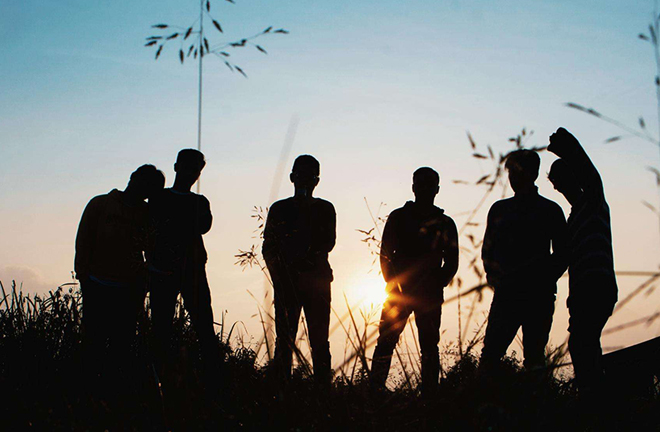 Small-town youth, who live between big cities and the countryside, have constituted a very important link in the country's drive to build an olive-shaped society. Photo: FILE
---
In recent years, young people living in smaller cities and towns, dubbed small-town youth, have become a hot topic for public discussion. The latest data released by the National Bureau of Statistics shows that the rate of urbanization in China was 59.58% in 2018. Small-town youth, who live between big cities and the countryside, have constituted a very important link in the country's drive to build an olive-shaped society, so growing attention has been paid to them.
Media features
Small-town youth were first discovered by film theorists who addressed the group as small-town audiences. In China, they have been brought into the spotlight due to a variety of new media, mostly video-sharing platforms like Kuaishou, Huoshan and Tik Tok.

In his book Mass Media Revolution, American scholar J. Charles Sterin noted that the history of mass media comprises a series of technology-driven revolutions, in which each media revolution has given rise to dramatic social, cultural and political reforms, generating significant influence on our lives.

As a medium, instrument, form or institution for communication, new media is the context and conditions in which we live, and it has increasingly become an indispensable part of humanity. It not only bears on people's cognition, but also brings about various circles and subcultural groups, such as small-town youth.

Youth in prefecture-level cities or counties both rely on and influence new media in their daily lives. They post short videos on such platforms as Tik Tok and Kuaishou, where they also learn about life tips and household hacks; they buy virtual gifts and send them to live-streamers in online chat rooms; and they are loyal consumers of a string of cultural products like TV dramas, films, variety shows and web series.

In the world of mobile internet, small-town youth are audiences as well as protagonists, providing diverse cultural material for the cyber space. Communication among themselves features internet slang, and they have been exporting their culture.
Reconstruction of the group
Revolutionizing the kinship-based interpersonal communication of small-town youth, new media has also brought into being a new model of communication different from the one based on social contract: a model of interpersonal and group communication in multiple spaces of new media.
In this light, Pinduoduo, an e-commerce platform allowing users to participate in group buying deals, provides a typical model for social networking among young people in small cities and towns.

These youths forward group buying links to friends and groups in their WeChat and QQ accounts, inviting other users to form a group for purchase or to click a link to help them get a discount. This is the predominant model of communication among small-town youth.

The model depends on their kinship and social network, characterized by mutual help between relatives and friends. Since it extends to the cyber space, it is not a simple shopping behavior. It has become a way of entertainment, a way for the existence of the group.

The networking model is quite different from that in big cities where the "Pinduoduo" model is considered rude. People in big cities tend to keep a certain distance in interpersonal relations, getting along with each other in the spirit of a social contract.

As British sociologist Zygmunt Bauman pointed out in his 2013 work Globalization: The Human Consequences, "Not togetherness, but avoidance and separation have become major survival strategies in the contemporary megalopolis."

Small-town youth have taken the initiative in new media networking. Though at different ages and educational levels, they communicate in the same physical space. However, the communication goes on in different languages and with different content, as if the identical space is split into different ones, each with its logic of language, rule and order.

Moreover, youth in small cities and towns have a "self" as seen by others on new media or a "real self" they intend to be seen on those platforms. Even if they are familiar with each other in real life, individuals who become reacquainted on new media may see a different side of each other and begin communicating in a new way.

New media communication has strengthened the organizational ability of small-town youth while complicating their self-identity. The social group has become closer through interaction on new media, but only while being reconstructed by new media.

In a large number, small-town youth are no longer only attached to various kinship networks, no longer simply individuals in physical spaces: they are now members of a wide range of subcultural groups created by new media.

Subcultural groups, or sub-groups as called by Hu Baijing, a professor of communications at Renmin University of China, are information, relationship or action communities. In other words, they are communities relying on new media information sharing, reconstructing interactive relations, and participating in public and social actions.

These groups, which existed before new media emerged, are capable of uniting rapidly, directing their collective attention and combining their voices to pursue diverse interests. Many of their members have received some degree of education, mastered new media skills, and learned how to organize and mobilize.

However, self-identity inside the groups is rather complex. Through a research survey on the mental and behavioral characteristics of small-town youth, Zhao Xia and Sun Hongyan, scholars from China Youth & Children Research Center, found that a high portion of youth in small cities and towns think they are at the middle and low strata of society.

They can break away from their physical space and environment and enter the vaster cyber space, but compared with their peers in big cities, their locations' backward economic development and inferior cultural accumulation have imposed on them a strong sense of lack.

They are perplexed by their own social and economic status and unable to present a uniform image as a group. In the cyber space, their anxiety has been compounded by many stereotypes, such as "shamate," a Chinese transliteration of the word "smart" yet meaning exactly the opposite, used to describe those who dress in an exaggerated fashion; "shenchou," literally "appreciating ugliness," dressing counter to aesthetic sensibility; and "stupid tax," when someone's ignorance causes them to spend extra money.
Information cocoons
The new model of communication and the formation of the small-town youth subculture has raised new requirements for governance in small cities and towns. Primary-level organizations are accustomed to responding to the activity of traditional groups with a set of routine governance mechanisms, but they have difficulty reaching small-town youth who communicate primarily via new media.

News and information content platforms like Jinri Toutiao push information to small-town youth according to their group characteristics. The homogenized information results in numerous information cocoons, but it is difficult for the outside to learn about what the cocoons are like. Administrators at all levels should think about how to grasp the group characteristics of small-town youth and guide the youth to better contribute to social development.

Most group activities of small-town youth are carried out on the internet, so their daily association and social cognition are subject to influence from the cyber world. In this era, different forms of new media, such as mobile phone media, mobile digital media and online media have successively fit into small towns, removing barriers from the original linear, top-down information system. In theory these platforms can provide massive, undifferentiated information. The undifferentiated information transmission has stripped primary-level administrative bodies of their prior advantage in controlling information sources. Small-town youth in the internet age are good at learning from and expressing themselves within the cyber space, and they will take the initiative to assert claims and make comments on rights and policies that directly or indirectly concern them.

Administrative departments at all levels, particularly primary-level governments, should be aware of new trends when communicating with youths, discern what information is inside the cocoons, acquaint themselves with small-town subcultures, actively respond to subculture issues, and communicate with them in a discourse system and managerial model acceptable to the youth, in efforts to break through potential restrictions of information cocoons.

To sum up, all groups involved should make an effort to adapt to new social trends of this sort. Small-town youth and primary-level administrative organs alike should follow the logic of the internet to view "others" with a more open, inclusive and interactive mentality. Youth in small cities and towns should proactively improve their representation on new media to better showcase their group image. Primary-level administrators, on the other side, should open dialogue with these subcultures and seriously reply to their claims, thereby motivating them to make positive contributions to social development.
Qin Chaosen is from the School of Communication at East China University of Political Sciences and Law.
edited by CHEN MIRONG