China-Russia trade cooperation reaches new high
LI JIANMIN
|
2019-06-20
(Chinese Social Sciences Today)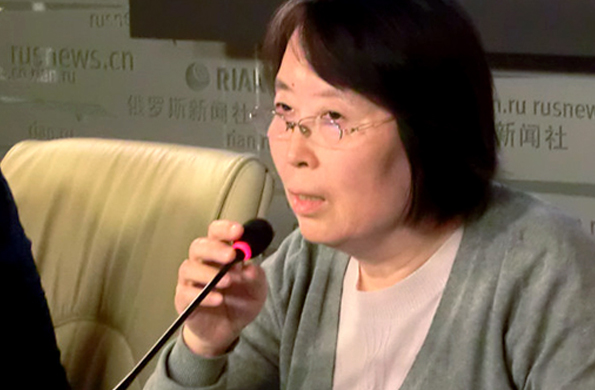 The year 2019 marks the 70th anniversary of the founding of the People's Republic of China, and it also marks the 70th anniversary of the establishment of diplomatic ties between China and Russia. The China-Russia comprehensive strategic partnership of coordination, after 70 years of development, is now at their "best time in history."

Economic and trade cooperation is a significant part of China-Russia ties as well as an important guarantee for the common prosperity and development of the two countries. Looking ahead, the economic and trade cooperation between China and Russia will face massive development opportunities as well as a number of challenges. It is necessary for the two countries to innovate ideas and tap potential to transform their unprecedented high-level bilateral political relations into practical cooperation. Thus, the quality and quantity of economic and trade cooperation between China and Russia can be improved and the cooperation can be guided toward balanced development.
Various cooperation fields
China-Russia practical cooperation covers fields including economic and trade, investment, finance, energy, technology, agriculture and infrastructure construction, and local cooperation. The bilateral economic and trade cooperation scope has continued to expand in recent years, and the cooperation level continues to be enhanced. China has been Russia's largest trade partner for nine consecutive years. In 2018, the China-Russia trade volume reached a record high, for the first time exceeding 100 billion US dollars and increasing by 27.1 percent. The growth rate ranked first among China's top 10 trading partners.

Russia has been China's largest crude oil supplier from 2016 to 2018. In 2018, Russia exported 71.49 million tons of crude oil to China, an increase of 20 percent on the previous year. This accounts for 15 percent of Russia's crude oil export as well as China's crude oil import. To some extent, China and Russia are interdependent in terms of energy.

Agriculture is a new highlight in China-Russia cooperation. China became the largest importer of Russian food in 2017. Food and agricultural materials became the third largest category of products that Russia exported to China in 2018, the trade volume of which amounted to 5.23 billion US dollars. In addition to trade of agricultural products, cooperation in such aspects as agricultural development has also been actively carried out.

China-Russia service trade volume was 17.59 billion US dollars in 2018. China-Russia cross-border e-commerce was over 5 billion dollars, making China Russia's largest trade partner in e-commerce. The construction of railway and road bridges across the boundary river connecting the two countries will bring Northeast China and the Russian Far East closer together, which will contribute to the sustainable development of China-Russia economy and trade.Breakthroughs have also been made in production capacity cooperation. As the economic relations of the two countries draw closer, financial cooperation grows. The renminbi has been included in Russia's basket of reserve currencies.

In general, after 20 years of development, China and Russia have become highly complementary and interdependent economic partners. China-Russia economic and trade cooperation has a bright future.
Opportunities, challenges
The world is now undergoing a great change, and the transformation of the international system is accelerating. The world economy is in a period of deep adjustment, and the development trends and policies of major economies continue to differ from each other. In the face of this change in the international environment, China-Russia economic and trade cooperation must adapt. The external environment is bringing increasing uncertainty and obstruction.

In the face of this great change, China-Russia economic and trade cooperation faces both opportunities and challenges. The two joint statements and 23 agreements or MOU signed during Chinese President Xi Jinping's recent state visit to Russia give us a glimpse of the future fields and opportunities of cooperation.

First, cooperation in energy fields will remain as the leading force of China-Russia cooperation. Energy cooperation is the most important, fruitful and extensive area of China-Russia cooperation. Currently, China-Russia energy cooperation covers the entire industrial chain, upstream, midstream and downstream. In the large oil and gas cooperation projects, China and Russia each take what they need. It is a win-win cooperation that is unlikely to significantly change.

Second, the potential of China-Russia agricultural cooperation will be further explored. Agricultural cooperation between the two countries is entering a new phase of investment programs, industrial upgrading and rapid development. China-US trade friction provides new opportunities for China-Russia agriculture cooperation. Six of the 23 cooperation agreements are related to agricultural products. In the next five years, China is expected to import 10 million tons of soybeans from Russia, rising from about 0.85 million tons in 2018. The two parties will cooperate on the basis of expanding investment.

Third, there is great room for innovation cooperation among medium and small-sized enterprises from both countries. These enterprises show advantages in technological innovation, production capacity cooperation, e-commerce, employment opportunities, and reducing production and operation costs. They also provide supporting services for large enterprises.

Lastly, the service trade will deepen China-Russia economic and trade cooperation. China-Russia service trade in the form of finance, e-commerce, tourism, transportation and project contracting are developing rapidly. They have become necessary factors for deepening bilateral economic and trade cooperation and for transforming and upgrading the economies of both countries. As large projects and the development of multilateral cooperation under the framework of the Belt and Road initiative are carried out, China-Russia service trade will continue to grow quickly.

Deepening economic, trade ties
President Xi pointed out that international cooperation cannot be achieved without sincere partners with mutual trust and common goals. He said that Russia is China's largest neighboring country and China's comprehensive strategic partner of coordination as well as China's priority cooperation partner in all areas. Strategically led by the leaders of the two nations, China-Russia relations have entered a new era. In order to promote a sustainable growth of China-Russia economic and trade cooperation, it is important to uphold top-level design, expand scope, plan scientifically and coordinate development strategies.

First, China and Russia should strengthen strategic mutual trust. In the face of anti-globalization, trade protectionism, unilateralism and the uncertain international environment, China and Russia should work together and help each other.

Although China-Russia ties are at their highest level in history, all kinds of potential constraining factors have not yet been eliminated. The future of China-Russia ties still requires the careful maintenance and design of both nations. The two countries should focus on the medium- and long-term strategic needs of both countries. China and Russia should adapt to the dynamic change of the international and regional situations and the domestic reform and development processes of both countries. By applying a new mentality, methods and paths to promoting the deep development of bilateral ties, China and Russia may form a deeper, mutually-beneficial and win-win situation.

Second, the two nations should optimize their cooperation model. By taking advantage of mature mechanisms for high-level exchange in economic and trade and other fields, China and Russia can strengthen the alignment of respective development strategies and increase the level and predictability of bilateral institutional planning. This will release the internal momentum for practical cooperation between the two nations. While promoting the implementation of big strategic projects and consolidating cooperation in traditional fields, China and Russia should explore potential fields of cooperation and expand cooperation in new growing fields including trade of agricultural products, e-commerce, local cooperation and the development of the Arctic area. This will help elevate the quality of China-Russia cooperation.

Third, upholding the principle of equal cooperation, harmony in diversity and seeking a consensus while preserving differences, China and Russia should deepen their cooperation in the fields where consensus has been reached. China and Russia are in a complicated interdependent relationship. Due to asymmetrical economic volumes and international influences, the two countries have different interests in many cases. Companies should be the major actors in future cooperation between the two countries. The cooperation should be market-oriented and following international rules and the principle of mutual benefit and reciprocity. The two parties should pursue the balance of their interests through cooperation in various fields. Only by being mutually complementary and through mutual compromise can China-Russia economic and trade cooperation be more resilient.

Fourth, China and Russia should dedicate more efforts to investment cooperation by developing an innovative and improved mechanism for investment and financing. Against the backdrop of increasing investment and financial risk, the parties should multiply their channels for financing. By developing industrial investment funds and regional equity and bond markets and by actively seeking credit financing from international financial organizations, China and Russia can establish multi-tiered and multi-channeled financing systems.

Last of all, the two parties should improve their investment and business environment and strengthen the alignment of the rules for regulating the market. This will help form a favorable investment environment that is capable of protecting the interests of the investors. Both parties should also create a good environment for trade and business cooperation by elevating the facilitation of trade and investment and by expanding market access to each other's entities.
Li Jianmin is a research fellow from the Institute of Russian, Eastern European and Central Asian Studies at the Chinese Academy of Social Sciences.
edited by CHEN ALONG