Ancient sports reflect social transformation
WU ZHAOLU
|
2019-01-24
(Chinese Social Sciences Today)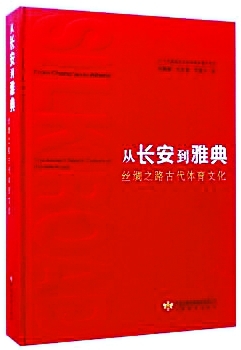 From Chang'an to Athens: The Ancient Sports Culture of the Silk Road
---
From Chang'an to Athens: The Ancient Sports Culture of the Silk Road is co-authored by three eminent scholars in physical education. Sun Qilin is a professor at Shanghai Jiaotong University. He has served four times as the chief referee of table tennis events in the Olympics. Doctor Mao Lijuan is the vice-president of the Shanghai University of Sport. Li Chongshen is the director of the Institute of Silk Road Culture at the Lanzhou University of Technology and an expert in the history of sports.

For a long time, few scholars from home and abroad have studied ancient sports that were played along the Silk Road. Even today, studying the history of sports along the Silk Road by comprehensively using unearthed cultural relics and archaeological materials is rare. The authors of this book examine, verify, analyze and study large numbers of unearthed literature and cultural relics that indicate different sports in recent years. In addition, they conduct a comprehensive collection of the materials in countries along the Silk Road including ancient Persia, India, Egypt, Turkey, Greece, ancient Rome and Arabic countries. Their efforts will contribute to exploring the origins of sports and discovering previously ignored cultural relics.

The authors have visited various ancient relics, buildings, museums, frescos of palaces and grottoes in areas such as China, Central Asia, South Asia and West Asia. They have investigated the customs and practices of various countries and ethnic groups and gained a large amount of information about ancient sports in different countries.

The authors in this book expand the studies of sports history from the traditional history of Chinese sports to the reestablishment of a historical connection in the field of sports. This reestablishment is based on cross-cultural and cross-border studies which greatly broaden the scope of sports history studies. The authors also explore the birth and forming of sports from a multi-perspective and multi-disciplinary viewpoint of anthropology, somatology, sociology, ontology, history science and archaeology. They propose that the birth of human sports culture is closely related to offering sacrifices, hunting, ceremonies, physical behavior and common cultures.

In order to share the achievements of research with broader readers and make academic achievements accessible to the public, the authors use illustrated pictures to disseminate traditional sports culture and to demonstrate the history of the development of sports. By using easy language and rich visual materials of cultural relics both from China and countries along the Silk Road, the authors provide readers with a relatively systematic introduction to the formation, development, communication and integration of Chinese and Western sports culture in past millenia. They also make a proper assessment of sports culture in the countries along the road connecting China to Athens and Rome.
(edited by CHEN ALONG)