Literature beneficial to revealing poetic beauty of Chinese gardens
LU HANG
|
2019-01-24
(Chinese Social Sciences Today)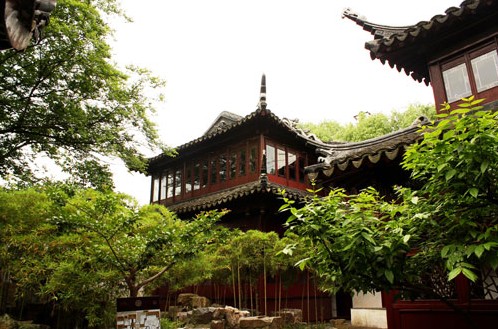 The "Couple's Glow Mansion" at the Ou Garden (Couple's Retreat Garden) in Suzhou was named after a verse by Du Fu (712-770), a famous poet in the Tang Dynasty (618-907). Photo: FILE
---
In the history of Chinese art, literature and art are inseparably interconnected with garden art and landscaping. The conception and design of a garden reveals its creator's literary and poetic mind. Classic Chinese literature has had a profound and lasting influence on the ideas of garden design. It is of great importance to explore the relationship between classic Chinese literature and Chinese gardens, as well as the cultural connotations of Chinese gardens.

Recently, the first academic symposium on Chinese Garden Literature was held in Xi'an, western China's Shaanxi Province. Participants at the symposium shared their opinions about the relationship between the art of garden landscaping and literature from the unique perspective of Chinese gardens and classical Chinese literature.

Chinese garden design stresses the naturalistic charm of a garden that follows the law of nature. Meanwhile, it also values the poetic realization of artistic concepts. The poetic beauty of gardens is described in many classical Chinese literary works. Li Hao, director of the Center of Chinese Cultural Studies, suggested that Chinese gardens are deeply rooted in traditional Chinese fine culture, and they are vivid portraits of an internal national ethos. The study of the relationship between Chinese gardens and classical literature will help better pass down and develop the best of traditional Chinese culture. The classical Chinese garden arts pursues the naturalistic spiritual realm as its ultimate goal. It pursues an aesthetic beauty showing that a garden was made by humanity while still looking like an artistic work by nature. China's garden landscape contains rich cultural meanings, and literary works elevate the artistic concepts of Chinese gardens, Li said.

Pursuing artistic concepts is one of the characteristics of Chinese literature and arts. The designs and settings of classical Chinese gardens usually pursue poetic beauty. Cao Lindi, a professor of literature at Soochow University, said the integration of garden sceneries and literary works enables gardens to radiate poetic and picturesque beauty. The themes and designs of classical Chinese gardens originate from poems and prose. Hence, they are carriers of a humanistic spirit. For example, the "Couple's Glow Mansion" at the Ou Garden (Couple's Retreat Garden) in Suzhou, was named after a verse by Du Fu (712-770), which reads "When will we lean by chamber curtains, and let the moon light the two of us, our tear stains dried."

Wang Yi, a research fellow from the Institute of Philosophy at the Chinese Academy of Social Sciences, said that visual imagery and the appreciation of natural beauty are key elements of Chinese gardens. To design a big picture that can manifest the mountains and waters of nature within the limited space of a garden, it often requires association and imagination that transcends time and space. Classical Chinese gardens use poems, prose and inscribed tablets to broaden these artistic concepts, Wang said.

The Tang and Song dynasties were prosperous ages for Chinese garden literature. Guo Jie, a professor of literature from Shenzhen University, suggested that Chinese gardens have a close relationship with literature as embodied precisely in garden literature. Whether designing, building, naming or singing the praise of a garden, it all has something to do with garden literature. In ancient China, there were several books on the designing and building of gardens including Yuanye (The Art of Garden-building), Treatise on Superfluous Things and Flower Borders. These are classics of Chinese garden-building theory as well as great achievements of the garden arts' association with literature, Guo said.

Li suggested that through multi-disciplinary studies, a comprehensive study can be conducted by analyzing the garden literature materials of different times. On the basis of large numbers of literary texts, garden literature may gain an equally important position beside the literature of mountains and water and countryside literature. A new branch of garden literature may take shape in the discipline of ancient Chinese literature, and Chinese scholars' understanding and study of naturalistic literature may, in this way, be carried forward to a new stage.
(edited by CHEN ALONG)