China plays active role in addressing climate change
DING HE
|
2019-01-18
(Chinese Social Sciences Today)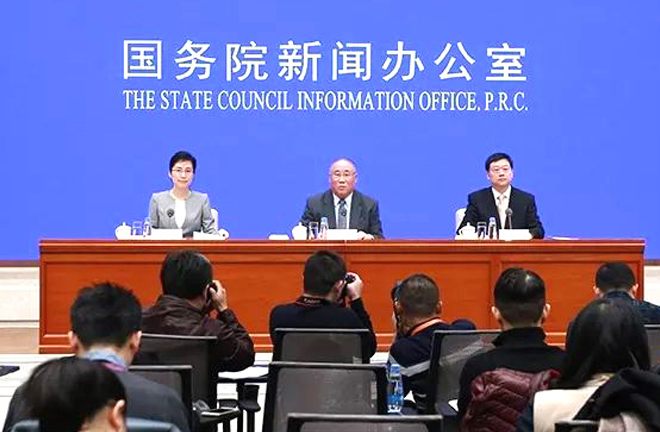 The State Council Information Office holds the press conference of China's Policies and Actions for Addressing Climate Change (2018). Photo: SCIO
---
Recently, at the press conference of China's Policies and Actions for Addressing Climate Change (2018), Xie Zhenhua, China's Special Representative for Climate Change Affairs, pointed out that China's carbon intensity decreased by about 46 percent in 2017 compared with 2005, three years ahead of schedule. Compared with America's withdrawal from the Paris Agreement in 2017 and Brazil's abandonment of hosting the 2019 Climate Change Conference, China has been always committed to addressing climate change and assumed its responsibility as a major country.

Zhang Zhihua, a professor of Shandong University, said that China has taken measures to mitigate global climate change mainly in four aspects. First, promote the transformation and upgrading of the industrial structure, which is to foster strategic emerging industries with high technology, high added value and low carbon emissions. Second, optimize the energy structure for a clean heating pattern with natural gas, shallow geothermal energy and electric power. Specifically, we have expanded the production and use of biofuel ethanol, and vigorously developed renewable energy power generation such as hydropower, wind power and solar power. We have promoted demonstration projects of large-scale carbon dioxide capture, utilization and storage. Third, promote energy-saving technologies and products, especially in fields of construction and transportation, and build carbon emission trading markets. Fourth, improve the climate change response system. For example, we have taken more legalized and more standardized climate change measures and perfected the greenhouse gas statistical accounting system.

Qi Shaozhou, a professor at the Economics and Management School of Wuhan University, said that China's policies on energy conservation, emission reduction and climate change can be divided into two categories. The first is the administrative imperative policy or the non-market policy, such as the new energy subsidy policy and the carbon intensity reduction policy. The second is market-oriented policies, such as the plan to build a national carbon emission trading market. It indicates that China is transforming its climate change policy from being based solely on non-market policies to the combination of market and non-market polices.

China is actively building a platform for international cooperation in the field of global climate governance. Zhang said that China has had a series of institutional meetings on climate change cooperation with developed countries. It has also established the South-South Cooperation fund to deal with climate change by giving out energy-saving and low-carbon products and holding climate change seminars. Its goal is to improve the ability to address climate change of the least developed countries and of the developing countries in landlocked areas and small islands.
​(edited by YANG LANLAN)