Chinese film and TV works win overseas popularity
ZHU XINMEI
|
2019-01-03
(Chinese Social Sciences Today)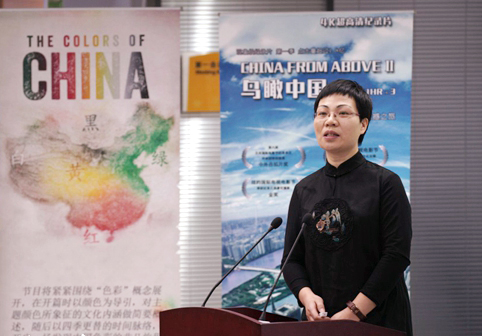 Chinese film and TV works have continued to go global in 2018, a highlight of Chinese culture's overseas communication. As the Imageries of China broadcast initiative planned and guided by the National Radio and Television Administration took place in Portugal, the Philippines and Panama, a number of high-quality Chinese films and TV series have been aired on screen through the local mainstream TV stations in the three countries. With positive feedback, this initiative effectively enhanced the communication and cooperation between China and these countries.
The launching ceremony of Imageries of China was held on Sept. 6, 2018, in Lisbon, Portugal. This was the first station of the activity's global tour and the Portuguese government highly valued it.

The Chinese TV series Legend of Entrepreneurship hit the Panamanian national broadcaster SERTV on Dec. 2. Subsequently, a large number of excellent Chinese film and TV works were aired on SERTV during its prime-time slot. To achieve the optimal broadcasting effect, all the programs have been packaged to adapt to the native needs of Panama. Translated into the native official language Spanish, the works cover a wide range of themes in diverse forms, receiving numerous viewers.

With an increasing role in cementing the public opinion and social foundation, film and TV works provide an important channel for people from China and other countries to mutually understand each other and strengthen friendship. Since 2018, several outstanding Chinese TV series have gone popular in the Philippines, continuously hitting new record-high audience ratings and popularity of discussion. ABS-CBN, the most influential private media in the Philippines took the initiative to contact domestic film and TV organizations in China such as the Huace Group, showing a willingness to further expand commercial cooperation with China. On Aug. 13, 2018, the Chinese TV series Feather Flies to the Sky, the first Chinese film and TV work that has been translated into Filipino, was aired on PTV4 in the Philippines. The show, which shows China's reform and opening up as well as the good feelings between the characters, has attracted a large number of viewers. Within three months after its premiere, it has achieved an average audience rating of 15 percent and a favorability rating of nearly 85 percent. PTV was nominated as the Philippines' best national TV station thanks to the continuing popularity of Chinese TV series.

In recent years, the National Radio and Television Administration of China launched some key dubbed projects such as the China-Africa Film & TV Cooperation Project, the Silk Road Film and TV Bridge Project and the Translation Program of Contemporary Works, which have guided film and TV organizations nationwide to translate nearly 1,600 outstanding works into 36 languages, which have been broadcast across over 100 countries and regions. These works reflect the contemporary Chinese society and people's lives, opening a window through which foreign viewers can come to understand and know about China. The positive values and worldviews conveyed in these film and TV programs, while striking a chord with foreign viewers, foster exchange and mutual learning between Chinese and foreign civilizations and identification between their peoples.
This article was edited and translated from Guangming Daily. Zhu Xinmei is the deputy director and a research fellow of the International Institute of the Radio, Film and Television Development Research Center affiliated with the National Radio and Television Administration.
​(edited by BAI LE)