Traditional Chinese culture pursues universal harmony
ZHANG XINGUO
|
2019-01-03
(Chinese Social Sciences Today)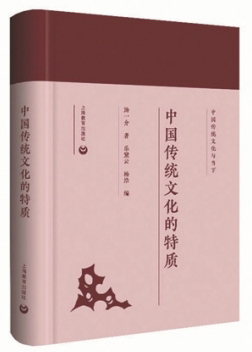 Traits of Traditional Chinese Culture
---
The Chinese civilization that has been passed down through Confucian studies is reflected in the concrete works of generations of scholars with a sense of mission. This can be seen in their exegeses of Confucian works and elaboration on the key points of debate. Tang Yijie was an exemplary scholar with this sense of mission. Tang (1927-2014) was a prominent contemporary Chinese philosopher. The book Traits of Traditional Chinese Culture well demonstrates Tang's academic practices in passing on, further developing and engaging in innovation within Chinese philosophy and culture via ideas and means of hermeneutics.

Generally speaking, hermeneutics refers to the particular discipline of developing new thought by explaining the tradition in Western philosophy and culture. This is the background and preconditions behind which Tang proposed the establishment of Chinese hermeneutics in order to explain and further develop traditional Chinese culture.

If we summarize Tang's explanation of the traits of traditional Chinese culture, its connotation would be "the pursuit for universal harmony." The establishment of Chinese hermeneutics includes Tang's methodological achievement in explaining the traits of traditional Chinese culture.

This new edited book contains four parts. The first one explores the modern value of traditional Chinese culture from a global perspective. The second elaborates on the issues of truth, kindness and beauty in traditional Chinese culture through the explanation of ideas including "the harmony between the nature and humanity," "the unity of knowing and doing" and "the feeling-and-scene-oneness." The third part explains the theoretical system of traditional Chinese philosophy by elaborating on the possible contributions which Chinese culture may have on human society in the 21st century. The last part is to demonstrate the contemporary value of traditional Chinese culture by explaining the values of filial piety as familial ethics. All these parts show the methodological values of Tang's proposal of establishing Chinese hermeneutics. As a matter of fact, such academic goals as "contemporary meaning," "contemporary values" and "theoretical system" can only be achieved by rigid hermeneutic works.

In terms of cultivating himself and conducting research, Tang, for all his life, upheld the principle of "Confront difficulty in work and a decent person won't shirk from his responsibility." Faced with the dreadfully difficult problem of explaining traditional Chinese classics, rather than simply resorting to some philological efforts, Tang proposed establishing a systemic modern discipline to address this problem. It is closely related to his long-standing academic pursuit of combining Chinese and Western thought as well as ancient and contemporary thought.
​(edited by CHEN ALONG)